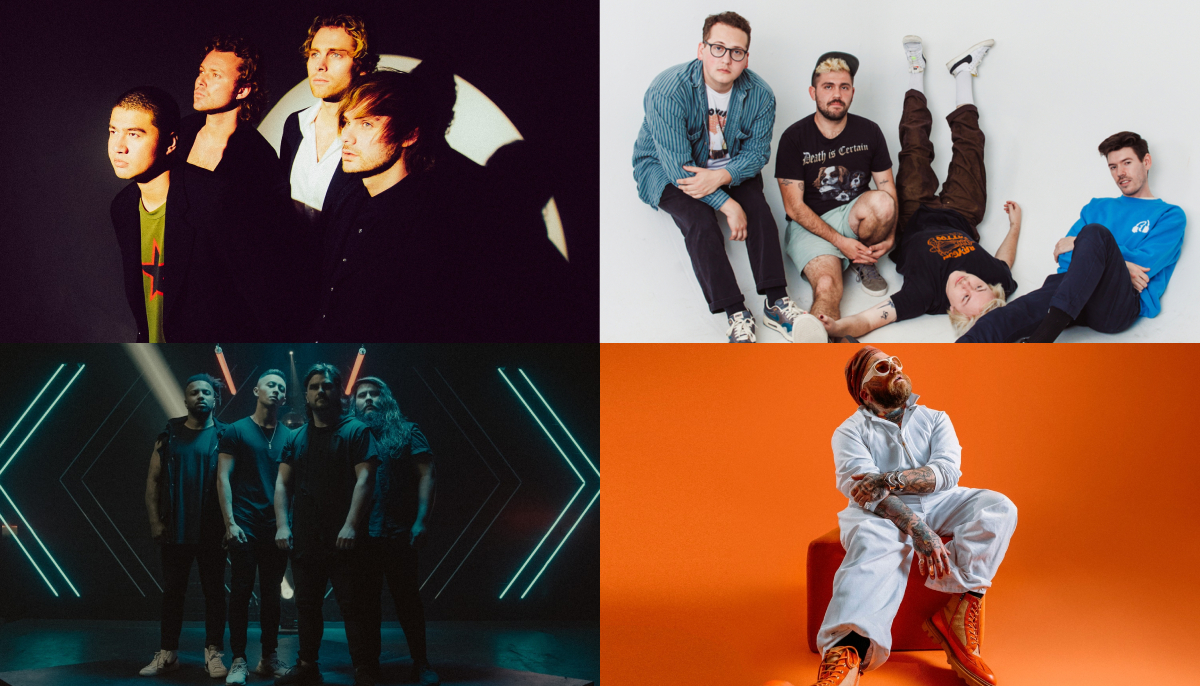 As the end of another month bleeds into the start of the next, there's a lot to contemplate. We're over halfway through 2023 now. What has been your highlight? What's been your favorite song? Album? Show? Discovery? We have all done so much, but there is still so much more for us to do. And whilst you think about the possibilities that the future has, you can listen to idobi Radio. Three channels – idobi, howl and anthm – brimming with brand-new alternative music to inspire and ignite you.

And here's just a smattering of what we have on offer from this week…

5 Seconds of Summer – Bad Omens
There are few bands that have landed their reinvention in the way that 5 Seconds Of Summer have continued to do. Becoming one of the most famous pop bands in the world, and doing all of it from such pop-punk roots, is an achievement in itself. But to be doing with such stirring tracks such as "Bad Omens", bristling with atmospheric synths and rousing melodies, makes it even more special. Long may their reign continue.

Of Virtue – Cut Me Open
Of Virtue are storming headfirst into the release of their new album Omen which will be arriving this Autumn. And with tracks like "Cut Me Open" at their disposal, they are in a great position. Jumping from stirring post-hardcore to crushing metalcore with the flick of the wrist, they have incredible control over their sound and style. Slick, savage and sensationally dramatic, now is the perfect time to join their gang.

Z. Smith – all or nothing
As the pop-punk revival continues, we now indulging in the many different genre strands that exist from the core sound. Take Z. Smith's latest hit, "All Or Nothing", which fuses modern production with easycore intensity. Trap beats, heart-eyed refrains and bludgeoning breakdowns, it's an infectious combination that should be handled with care. The possibilities are endless, and artists experimenting with their whole heart like this is a very good reason why that's able to happen.

To The Grave – Shock Tactics [1000V]
Heavy music is always more powerful when it has a message attached to it. And when your music and messages are as volatile as To The Grave, it sticks with you even longer. "Shock Tactic [1000V}" is another chance for the band to show precisely what is happening in the meat industry and why it is so diabolically evil. Matched with their guttural brand of deathcore, they are fighting the good fight for a more empathetic and just world, one breakdown at a time.

The Deep End – All I Have Is You
The Deep End are the sort of band that hate labels. Experimenting with hard rock, rap, metal and pop-punk in equal measure, you never know what you'll get. But in the case of "All I Have Is You", they have crafted a song that would be at home in the scene of 2008 as much as on alternative radio in 2023. Thoughtfully cute lyrics, blinking synths and complex guitars all equate to a song that fizzes and bangs in all the right ways. They are keeping you on your toes, basically.

lowheaven – Cancer Sleep
Catharsis comes in many forms. In the case of lowheaven, it comes in many different sounds. Preparing to release their new album collapse at the end of July, the first taste, "Cancer Sleep", is an extraordinary construction. Blackened death metal one minute, sweeping post-hardcore the next, all held together by a bludgeoning hardcore soul, it is profoundly affecting and utterly deprived. You need to hear it. Now.

As Friends Rust – Positive Mental Platitude
As Friends Rust are about as legendary as it gets. Plying their trade on and off for the last 30 years, delivering thoughtful post-hardcore all the way, their latest adventure comes in the form of new album Any Joy. "Positive Mental Platitude" is set to appear on it and is as rousing as it is raw, delivering soul-searching rhythms alongside pensive lyricism. It's a track that feels familiar but fresh, vital but vicious. Ultimately, it is the sound of five friends finding new ways to speak to each other, and that's about as special as it gets.

Teddy Swims – Lose Control
Teddy Swims has one of those voices that deserves to be heard by as many people as possible. Soulful, powerful and undeniable, he is a star through and through. Just listen to "Lose Control", a beautifully smooth piece of RnB, where Teddy lets his caramel tones run amok. As catchy as anything on the mainstream radio right now and more spine-tingling than anything else you hear today, this is a song that you will lose yourself in time and time again.

Annisokay – Calamity
Annisokay continue to be one of Germany's most interesting and intricate exports. Taking metalcore and post-hardcore into dramatic and dense new directions, their upcoming EP Abyss Pt 1 is set to kick off a new era of expansion. "Calamity" will appear on it and is a neon-stained rager pulsing with energy and electricity. From the banshee howls to the crystalline melodies, it's another big step toward superstardom for the band.

Sad Park – Death
It's hard not to smile whilst listening to Sad Park, even when they are being brutally honest. "Death" is precisely about that. The fear of the end, of losing everyone you have ever loved and what happens on the other side. The message feels all the more potent when set against such a gorgeous emo soundtrack. But the band are having so much fun playing it that you can't help but feel a sense of joy and comfort. Perhaps it's in knowing you aren't alone in your fears. Perhaps it's just the silliness of their music videos. Whatever it is, it's vital for the scene and beyond.