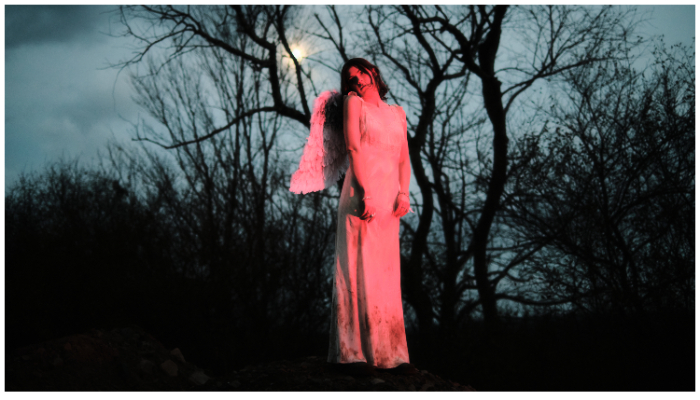 Anna Shoemaker, the young New York transplant, has released her confessional new single, "I Think I." "I Think I" follows the release of "Holly" which Anna issued in January and sparked a "viral TikTok moment" garnering more than 1.7 million views on her platform. "I Think I" and "Holly" are two of the five enchanting tracks that make up her eagerly-anticipated EP Hey Anna which is expected to drop in June 2023 via +1 Records. Hey Anna marks the young musician's first project since 2022's full-length Everything is Fine (I'm Only on Fire). You can presave Hey Anna here.
Shifting gears from the sweet softness and vulnerability that Anna brought to "Holly," her latest release invokes a scream-worthy delivery from her past pain that she literally and metaphorically buries in order to build on her truest self. At the root of "I Think I," Anna is giving herself the grace and patience to find who she is and accept herself. Whereas past songs she's written were to "get through the thick of things," she explains, the full collection that makes up Hey Anna allows for vulnerability, reflection, and the ability to "take ownership of my past while giving myself forgiveness and grace in the process."
Check out the video for "I Think I" below.
"My grandma has an angel for everything imaginable," Anna exclusively shares with idobi. "Need a parking spot? Need a good grade on a test? Need to get rid of that sore throat? She has an angel for you. Growing up around this makes you realize you need to become your own guardian. When we were writing this song I didn't get to the studio in a particularly good headspace, and these verses about being messy and hard on myself started pouring out. The 'I think I loved you for a while' is me singing to me, truthfully. It's okay to be whoever you are, whether that's anxious or overwhelmingly happy—you just have to accept yourself—the acceptance manifests in wings!"
"This is the first song I wrote after I released my first body of work," Anna continues. "Like a lot of my songs, this song is what I want to scream out loud. It's about self-acceptance and knowing in your bones that you will be okay, especially when you're spiraling. It's about promising to do your best and holding yourself to a standard… even if your best that day means just feeding your cat and sitting on the fire escape of your apartment in a T-Shirt and underwear."
In addition to her forthcoming EP, Anna is also honing in on her live performances with a number of shows lined up to promote her new collection. Leading up to the release of Hey Anna, she will be performing alongside dba James before headlining in New York City at Nublu. You can check out the full list of performance dates below and get tickets to see her live here.
PERFORMANCE DATES:
April 20—Heaven Can Wait—New York, NY ^
May 20—Subterranean Downstairs—Chicago, IL *
May 25—Nublu—New York, NY *
^ special guest with dba James
* Headline show