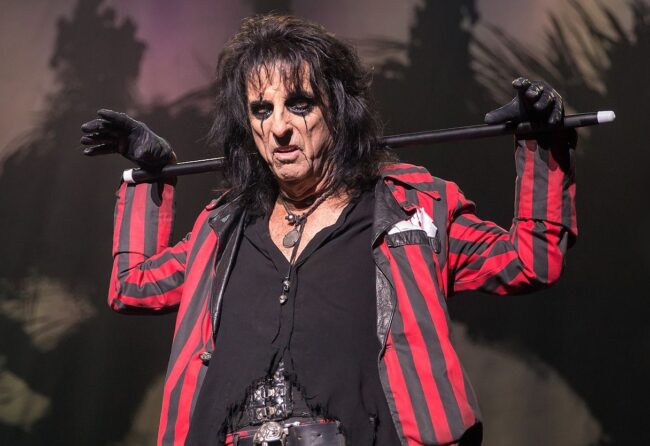 "Don't ever meet your heroes," they say. "They'll only disappoint you."
Well, I've been writing about music and interviewing some of my favorite artists for 25 years now, and that has very much not been the case. In general, the bigger the artist and the greater the stature, the nicer they prove to be in person. That has been the case with everyone from Black Sabbath, Deep Purple, Iggy Pop, the New York Dolls, Depeche Mode and Bryan Ferry, to Green Day, The Offspring, Dolly Parton and Demi Lovato. Until last week, I would have said it about Alice Cooper too.

Alice has always been a gentleman to me. I've interviewed him at least three times, as a solo artist and more recently as a member of the Hollywood Vampires. And when I wrote a book about Iggy & the Stooges, he was good enough to pen the foreword. I can't say I "know" him, but I sure like him.
But he let me down, he let all of us down, with his dumb-as-fuck anti-trans comments. Then he hammered in on it by spouting crap about "wokeness," something that is only really a thing to the most ignorant.
"I'm understanding that there are cases of transgender, but I'm afraid that it's also a fad, and I'm afraid there's a lot of people claiming to be this just because they want to be that," Cooper said in an interview with Stereogum. "I find it wrong when you've got a six-year-old kid who has no idea. He just wants to play, and you're confusing him telling him, 'Yeah, you're a boy, but you could be a girl if you want to be.'"
Oh, for fuck's sake!
What Cooper has done there is really damage the trans community by echoing bullshit conservative talking points without actually knowing anything. The great "trans panic" among right-wing knuckleheads that liberals are in favor of genital mutilation on children, that trans people are groomers—it all has more to do with what's going on in their own minds than any semblance of reality. It's really, really fucking gross.
"If you have these genitals, you're a boy. If you have those genitals, you're a girl," Cooper continued. "There's a difference between 'I am a male who is a female,' or 'I'm a female that's a male' and wanting to be a female. You were born a male. Okay, so that's a fact. You have these things here. Now, the difference is you want to be a female. Okay, that's something you can do later on if you want to. But you're not a male born a female."
Cooper has no idea what he's talking about, but he's talking with authority in a very loud voice because of who he is. People listen and believe him. He's Archie Bunker, grumbling bigoted nonsense on his living room sofa. But people are paying attention. It's dangerous.
As it turns out, words have consequences. Vampyre Cosmetics ended its collaboration with Cooper and said, "We stand with all members of the LGBTQIA+ community and believe everyone should have access to healthcare."
In case there's any doubt that Cooper was talking crap, Ted Nugent agreed with him. So, y'know…
He's not the only one, though. At a recent concert in Atlantic City, Carlos Santana said from the stage, "When God made you and me, before we came out of the womb, you know who you are and what you are. Later on, when you grow out of it, you see things, and you start believing that you could be something that sounds good, but you know it ain't right. Because a woman is a woman and a man is a man. That's it. Whatever you wanna do in the closet, that's your business. I'm OK with that."
Oh, you're ok with that, are you Carlos? Well, whoopie-fuck! When word got around, and decent people roundly condemned Santana, he swiftly backtracked.
"I am sorry for my insensitive comments," he said in a statement. "They don't reflect that I want to honor and respect all person's ideals and beliefs. I realize that what I said hurt people, and that was not my intent. I sincerely apologize to the transgender community and everyone I offended."
Thankfully, it appears to be, by and large, the elderly rockers who are saying this sort of shit. At the recent CY Fest, a punk rock festival in Los Angeles, there was a table handing out literature from Crimethinc.com, an organization described on their website as "a rebel alliance—a decentralized network pledged to anonymous collective action—a breakout from the prisons of our age. We strive to reinvent our lives and our world according to the principles of self-determination and mutual aid."
They gave men a sticker which read (in part), "For every fascist who plans to attack drag queen story hour, there are three anti-fascists ready to defend it… For every cop who is paid to enforce transphobic legislation, there are a hundred gender outlaws determined to defy them… For every politician who tries to prohibit talking about gender in school, there are a thousand students charting their own paths beyond the binary."
There are also lines about protecting women's rights and worker's rights on there. Because apparently, you can generally trust the punks. Rest assured, as long as we keep an eye out, the days of the transphobes, bigots, fascists and generally ignorant are coming to an end. They'll cling on for dear life, but even they know that they're in the final spasms of their miserable existences. Fuck 'em!
Still, the Alice Cooper thing stings.