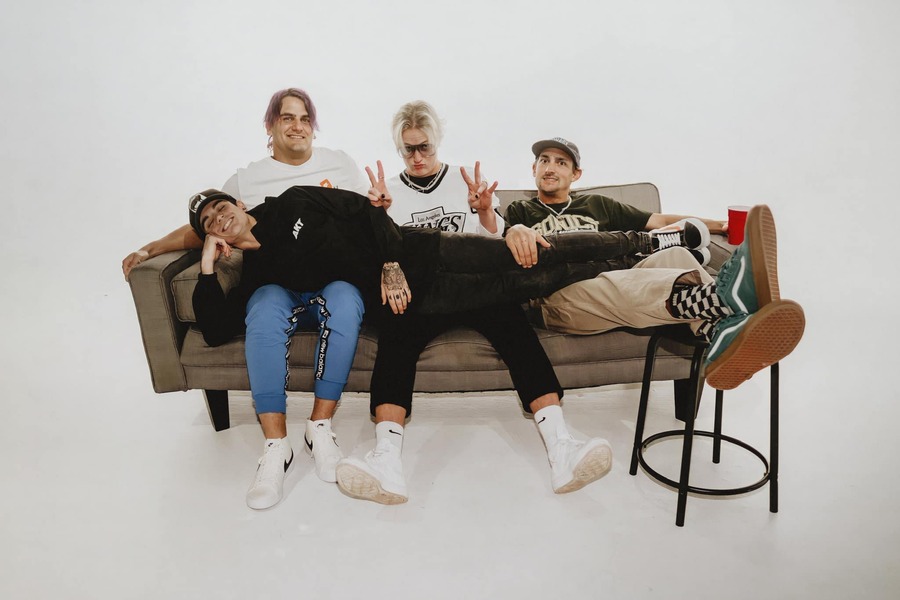 408 fans, rejoice! Their cheeky new single "Break Up With Your Girlfriend" is officially available on all streaming platforms. Exclusively premiering on idobi Radio's Gone Fishkin, the track is reminiscent of 90's radio pop-rock: A time when Third Eye Blind and Matchbox Twenty were taking over the airwaves. Its bouncy arrangement and infectious vocal melodies juxtapose the more melancholy themes of the song. "Break Up With Your Girlfriend" is about questioning whether or not your significant other is the right one for you and concluding that someone else could be your true puzzle piece. 
408 shares the deeper meaning behind the sassy song in a statement. "Things aren't always greener on the other side, but then why does it always seem like it is?" the band reflects. "That is the dichotomy of this track and why it is needed to be talked about. Life isn't always easy to navigate, it's important to us as a band to highlight a sensitive subject of questioning if you are even with the right person in life."
In an exclusive interview with Mike "Fish" Fishkin, the band gave listeners the origin story of the track. Inspired by Third Eye Blind's "Semi-Charmed Life," the song was born on a weekend trip to Music City.
"'Break Up With Your Girlfriend' was cool because we took a trip to Nashville and wrote with some top-tier writers, Nick Bailey and Kyle Fishman," the band shares. "That was probably the most natural, easiest [song] to come out of our heads."
The single marks 408's first release as members of the Big Noise Music Group family. Announcing the signing of their worldwide record deal earlier this month, the up-and-coming act is now a part of the same roster as world-dominating arists such as The Used, MOD SUN, and Escape The Fate. John Cohen, President of Big Noise Music, expressed his enthusiasm for the group to join the Big Noise family, saying "We're super excited to sign 408, a true DIY band that has been grinding on their own for some time and proving they deserve a solid record deal. Welcome to the Big Noise family!"
If you want to hear "Break Up With Your Girlfriend" live, 408 is gearing up to open for pop-punk powerhouse group, Magnolia Park, on their North American run. The pop-punk band is on the entire tour, from October 5 in Houston, TX, through October 28 in Sauget, IL. Marking their second time performing alongside Magnolia Park, the run will also feature TX2 and poptropicaslutz! as opening acts. Check out the dates below and grab your tickets here. 
Tour Dates:
Oct. 5—Houston, TX @ White Oak Music Hall
Oct. 6—San Antonio, TX @ The Rock Box
Oct. 7—Oklahoma City, OK @ Beer City Music Hall
Oct. 9—Albuquerque, NM @ Launchpad
Oct. 10— Phoenix, AZ @ The Rebel Lounge
Oct. 12—Los Angeles, CA @ Teragram Ballroom
Oct. 13—San Diego, CA @ SOMA
Oct. 14—Berkeley, CA @ Cornerstone
Oct. 16—Seattle, WA @ El Corazon
Oct. 17—Portland, OR @ Hawthorne Theater
Oct. 19—Roseville, CA @ Goldfields Trading Post
Oct. 20—Anaheim, CA @ Chain Reaction
Oct. 21-10/22—Las Vegas, NV @ When We Were Young 2023* MP only
Oct. 23—Salt Lake City, UT @ The Complex
Oct. 25—Denver, CO @ Marquis Theater
Oct. 27—Des Moines, IA @ Woolys
Oct. 28—Sauget, IL @ Pops
Oct. 29—Cincinnati, OH @ Bogarts