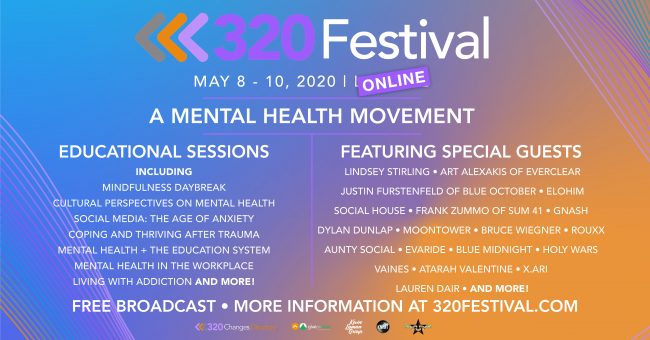 Focused on opening the dialogue around mental health, 320 Festival is going online to bring music listeners an event stacked with musicians, panels, and non-profits.
In light of COVID-19, the first priority was keeping fans safe—so the festival had to be moved from its Los Angeles venue. Instead, it'll be broadcasted right to your living room.
320 Festival will air on May 8 – May 10 on Facebook Live, YouTube Live, and on Roku/Apple TV with KNEKT.TV. With only an internet connection you can jump into the crowd, catch sets from acts like Lindsey Stirling and Bruce Weigner, and listen in to panel discussions on mental health.
From coping with trauma to navigating social media, there's something for everyone to learn. Taking care of our mental health is more important than ever in the midst of a pandemic, so tune in and take away a toolbox of resources to keep your head above water.