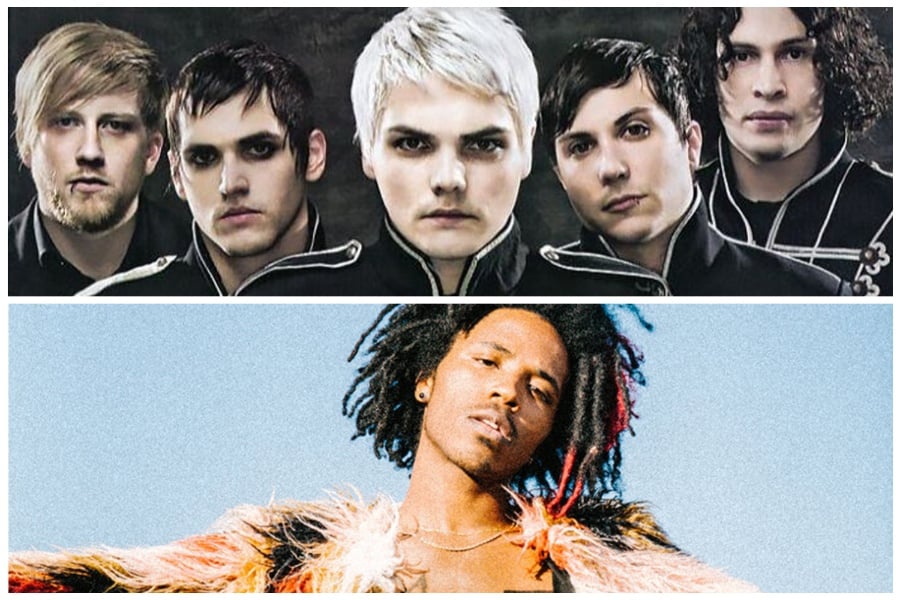 Mother's Day is fast approaching, meaning it's time to prep your brunches, order nice flowers, and make a sick playlist for your mom, grandma, older sister, and/or whoever had a hand in making you the rockstar you are today. While we can't order an Edible Arrangement for you, we have handpicked our favorite tracks that honor all forms of motherhood and womanhood.
Stereotypically, pop-punkers and modern rockers are associated with hating their hometowns and hurling all their angst at their parents. From twenty one pilots' breakout single "House Of Gold" all the way to Miley Cyrus' 2019 feminist anthem "Mother's Daughter," these 12 tracks put moms in the spotlight.
1. "House Of Gold" – twenty one pilots (2011)
First appearing on a special edition the duo's 2011 self-released LP Regional At Best, "House Of Gold" became widely acclaimed when it reappeared on their Fueled By Ramen debut record Vessel, with its accompanying music video. Not only did this twenty one pilots track inspire a whole new generation of ukulele players, but it also details lead singer Tyler Joseph's hopes for being able to take care of his mom in the future. Dedicated to his mom Kelly, he sings, "I will make you queen of everything you see/I'll put you on the map/I'll cure you of disease." Believe it or not, this song was Joseph's first go at playing ukulele. In a track-by-track explanation, he shares, "Obviously at the time, I was thinking about my mother and it's really nice to say I wrote a song for my mom." Knowing how far TOP has come since this 2011 release, it's fair to say that both members' moms will get comfy metaphorical houses of gold.
2. "Mama" by My Chemical Romance (2006)
If you and your mom are emos at your core, you'll know My Chemical Romance's song "Mama" by heart. While this The Black Parade track is an earnest driven rock song, the lyrics follow a melancholy fictional narrative. As lead singer Gerard Way mournfully howls, "Oh well now, Mama, we're all gonna die," he sings from the perspective of a soldier at war knowing his death is imminent. Aside from the famous bridge cameo from Liza Minelli, Way and guitarist Frank Iero recruited their own mothers to offer haunting vocals for the song's closing. While it might not be the most heartfelt tune to represent your personal parent-child relationship, it is still a banger you can enjoy together.
3. "Mean It" – K.Flay (2017)
You may know K.Flay from her edgy, genre-defying tracks "High Enough" and "Blood In The Cut," which have amassed viral fame. However, aside from these hits, her album Every Where Is Some Where houses the powerful, yet unassuming "Mean It." The vulnerable gem outlines the love of family and the nuances that it comes with. Opening with the lyrics, "I was born next to my mother/She sang me to sleep" parallel the bittersweet final verse, "Hope to die next to my daughter/Let her sing to me sleep." This raw narrative of life's cyclical nature drew something brand new out of the singer during her writing process. "I remember I was crying while I wrote it, which is pretty unusual for me," K.Flay shared.
4. "My Mother & I" – Lucy Dacus (2019)
Solo singer-songwriter and one-third of boygenius, Lucy Dacus is no stranger to digging deep to share her life stories, especially when it comes to "My Mother & I." The poetic, acoustic song serves as an ode to the beautiful relationship Dacus shares with her adoptive mother and honors Tauruses everywhere—the star sign the two share. "We—daughters, and all children—easily inherit the shame and fear of our mothers, but also the pride, self-assurance, and lessons of love," Dacus said. Appropriately, this track is part of Dacus' holiday song series in honor of Mother's Day, which was preceded by her Valentine's Day release "La Vie En Rose." 
5. "More" – Halsey (2020)
Halsey's (she/they), not a woman, Halsey's a god. On top of that, they're a mom to baby Ender. This is especially beautiful in the context of the artist's 2020 song "More" from Manic. In one of their most vulnerable pieces to date, Halsey details how they hope for a child and loves the thought of them. In various interviews and social media posts, the "Without Me" singer shared their struggles with endometriosis, which currently impacts their health, and could have affected Halsey's fertility. They sing, "And when you decide it's your time to arrive/I've loved you for all of my life." If you're a prospective momma, this one's for you. 
6. "Money" – DE'WAYNE (2021)
In "Money," Hopeless Records artist DE'WAYNE isn't seeking cash for the sake of having mansions, cars, and other material possessions, he only wants enough to truly live. In an Alternative Press interview, he shares that it's "a true, genuine story of my life that I had to go through because it's always been a weird situation for me [and] my family. I just need enough to live. I just need enough to survive." In the bridge, DE'WAYNE sings, "Close friends come, then they drift away/Hope my mama's still proud of me." With his songwriting skills, amazing fashion sense, and financial responsibility, surely his whole family is super proud.
7. "Mother's Daughter" – Miley Cyrus (2019)
Miley Cyrus' "Mother's Daughter" doesn't only highlight her own parent-child relationship, it serves as a feminist and queer anthem, too. Just like today, abortion rights and women's/LGBTQIA+ healthcare were being questioned and stripped away across various legislatures when the song came out. "Don't fuck with my freedom/I came up to get me some/I'm nasty, I'm evil/Must be something in the water/Or that I'm my mother's daughter," she exclaims in her lyrics. Her visuals feature a vibrant array of people, including trans and non-binary individuals, a mother breastfeeding her child, and even her own mom, Tish Cyrus, who was dressed to the nines in Chanel.
8. "Mother" – IDLES (2017)
IDLES' lead singer Joseph Talbot didn't beat around the bush when it came to their 2017 post-punk track "Mother." He sings, "Sexual violence doesn't start and end with rape/It starts in our books and behind our school gates/Men are scared women will laugh in their face/Whereas women are scared it's their lives men will take." Exploring this disparity in genders across a patriarchal society, Talbot encourages listeners to really think about how "womanhood" contains multitudes. In a 2017 Music & Riots Magazine interview, he says, "'Mother' was a song that explored the roles of my mother and, in turn, of women in my life. The lyric you plucked was inspired by a Margaret Atwood quote which opened my mind to sexual violence and led me to think of my mother's past relationships and her vulnerability as a woman beyond her as a mum."
9. "Mother Mother" – The Veronicas (2005)
The Veronicas, identical twin sisters hailing from Brisbane, are the musicians behind early-aughts faves such as "Untouched" and "4ever." However, they also have the perfect song to add to your playlist with their cover of Tracy Bonham's "Mother Mother." The track centers on having a loving relationship with one's mom, and acting like all is fine when talking on the phone, even if it's not, so as to not cause any worry at home. Whether you're going through your rebellious phase in college, or just like to keep your adult decisions to yourself, it's likely a lot of us can relate to this sentiment of loving your mom and sparing the details. 
10. "Mother" – Motherlover (2022)
Did you know that actor KJ Apa, famous for playing Archie Andrews on 'Riverdale,' is also a rad musician? Teaming up with fellow actor/musician Hart Denton, the two came together in 2021 to form the indie rock act Motherlover. Appropriately, they shared "Mother" in 2022 about their own adoration for their mommas, with accompanying home movie visuals. These little glimpses into the mom-baby bond parallel all the adorable photos KJ shares as an adult with his mom Tessa. Forever besties! The band hauntingly bellow, "Mother love, I need more/Mother love, when I need you, there you are." If you're a fan of this song, be sure to check out their songs "Swivel" and "Atmosphere."
11. "Hold Me Like You Used To" – Zoe Wees (2021)
If you are missing your mom, whether she's here physically or just in spirit, Zoe Wees' "Hold Me Like You Used To" will put all your feelings into words. "This is a song about losing someone you really love and feel close to," Wees shares on the track. "It's dedicated to my great-grandmother, who sadly passed away. She was such a strong woman and the funniest person I knew, and I can still feel her great energy. She is my inspiration, and I know she is still here." Overall, "Hold Me Like You Used To" serves as a reminder that all women in your family foster growth and can help mold you into the person you want to be. It's more than okay to mourn such deep losses of mothers, grandmothers, and great-grandmothers. 
12. "The Best Day (Taylor's Version)" – Taylor Swift (2021)
Taylor Swift's "The Best Day", dedicated to her mom, might just leave you with tears streaming down your face. Over bright acoustic guitar strums, Swift invites listeners to watch her grow up from the ages of 3-13 where seemingly little moments spent with her mom end up being some of the most impactful. "And I love you for giving me your eyes/ For staying back and watching me shine/ And I didn't know if you knew, so I'm taking this chance to say/That I had the best day with you today." Andrea Swift is always on tour with her daughter. In fact, during Taylor's Fearless tour, had to drop it from the setlist because her mom would burst into tears every time she heard it. In all fairness, this song makes most people cry.