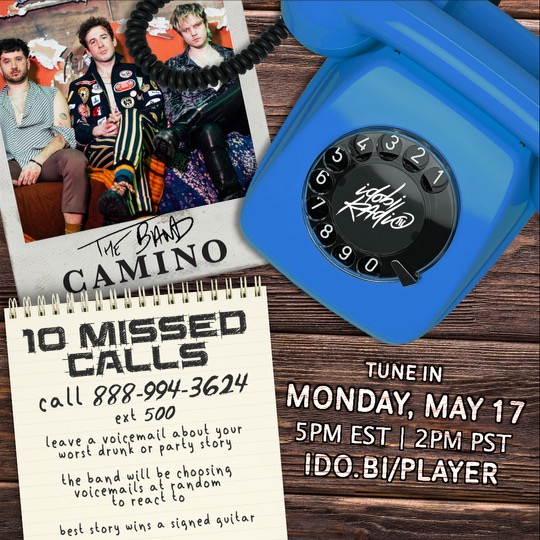 Enter to Win:
Your drunken shenanigans could finally be good for something! Drunk or not we want to hear about a time when you were partying and everything went sideways. Call in right now to leave a message about your wildest party story and you could win an Epiphone guitar signed by The Band CAMINO.*
Tune in for the shenanigans:
Then tune-in Monday May 17 at 5pm ET / 2pm PT to hear all the stories, hang with the band, and find out if your party story wins a signed Epiphone guitar.
The Band CAMINO will play music, listen to your calls, and score them on a scale of 1–10 (in honor of ten missed calls). Then they'll pick their favorite call at the end! And we can all sing along with "1 Last Cigarette" and "Sorry Mom" one more time.
Don't forget:
Call our partyline voicemail at 1-888-99-IDOBI ext. 500 to leave The Band CAMINO your crazy party story.
HOW TO ENTER:
1. Call 1-888-99-IDOBI ext. 500 (it's free)
2. Say: "This is [Your NAME] on idobi and this is my party story"
3. Share your crazy story.
4. Then end with your NAME, your PHONE NUMBER, and your SOCIAL MEDIA HANDLES
WHEN TO LISTEN:
Monday, May 17, 2021 at 5PM ET / 2PM PT on idobi Radio
* You must be a resident of the US or Canada to enter to win the Epiphone guitar. But feel free to call in from anywhere and leave a message for the band!