Actually: 6.5 / Grade C+
Basically:  A little fight, a whole lot of fantasy, and a bubbly bit of
wish fulfillment.
I didn't want to watch Hollywood. It's not that I don't think Ryan Murphy and Janet Mock, or any of the other creatives behind the series, are magnificent. We all know they are. But a post WWII Hollywood featuring a cast of: people of color, queer folx, and women characters—many of them at intersections of those designations—nah, man. I've read the history books and the biographies; I've watched the black & white movies. 1945-ish was not a good time for us. It was full of three kinds of doors: ones at the back, closed ones, and ones leading into closets kept locked. In the words of Shirley Bassey, I was determined to "sidestep the little bits of history repeating". Yeah, I watched the show anyway (it's kind of my job). And I kept watching.  
Sometimes you just want to win…
Hollywood is an alternate history version of what might've been if our world had included an Archie, the brilliant black gay writer from Memphis played by Jeremy Pope. Or if we'd had a Camille, embodied by Laura Harrier, a gorgeous black wannabe starlet who's stuck playing the help. Or if there'd been a Raymond, charmingly portrayed by Darren Criss, a part Filipino writer/director who easily passes for white—even if he doesn't want to. Or if we'd grown up watching Jack on the silver screen (David Corenswet), a square jawed G.I. who'll do anything to make it big.
Which things would change if four people and their studio exec guardian angels took over a moment in time and made it theirs? What might've been if they refused to let the Hollywood powers-that-be crush their dreams—and got away with it?
Photo credit: Saeed Adyani / Netflix
If only.
If only.
If only.
Well, in seven soapy episodes they dream a little dream, one that prominently features reality but doesn't let it get in the way. It's a sex fueled, fucked up, and forthright taste of Hollywood wish fulfillment. It's giddy. This is not the la la land we know, although the two run in parallels. It's still the tinseltown that blocked, real life stars, Anna May Wong (Michelle Krusiec) and Hattie McDaniel (Queen Latifah) from their deserved greatness as leading ladies. Meanwhile, it forced Rock Hudson (Jake Picking) to hide the men he loved so he could be the guy we adored. This is the town where twenty-four year old Peg Entwistle tragically jumped from the H in the Hollywood sign—for reasons many argue about but we know contained despair. Each of their backstories form parts of the foundation of this series. It's still the city in the hills but Murphy, Ian Brennan, Mock, and others dared to build a fantasy around a moment in time that wasn't the best for the people at its heart. They'll likely be maligned as misguided, some will say the story's denouement is too easy, too perfect. But isn't that the point of a fantasy? It's supposed to make you feel better, isn't it?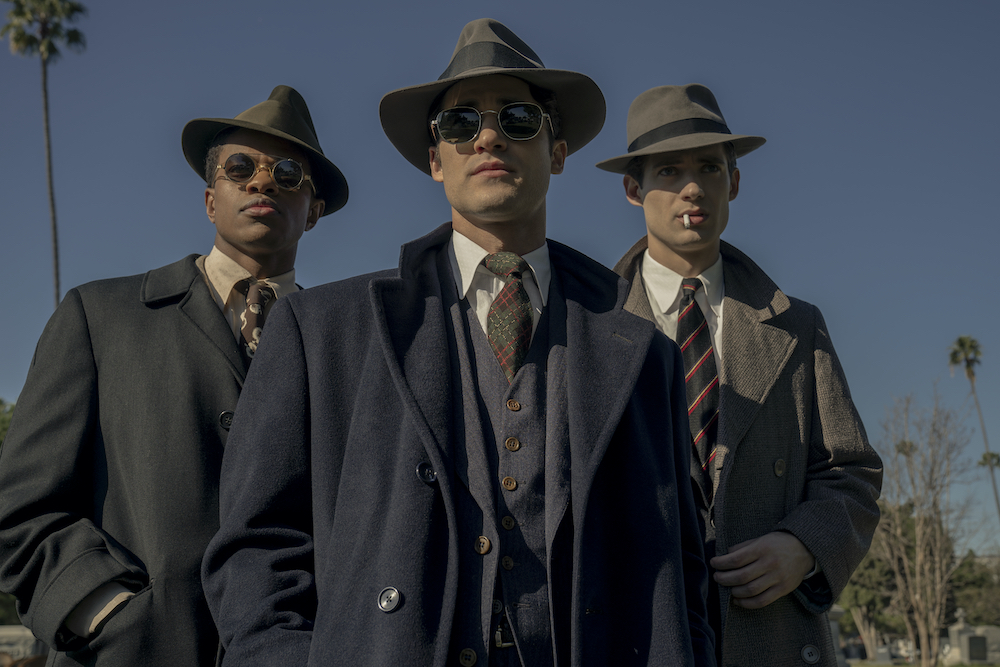 Photo credit: Saeed Adyani / Netflix
Sometimes you just want to dream a little (and not have it
interrupted)…
Right now, it seems like even our fantasies must be real or relatable. We don't do "aspirational" much. Admittedly, that's only half of a complaint because too many truths have remained hidden to protect the perpetrators. We need cold reality to remind us to never go backward (even though we so often forget how bad things were). It's a nice bit of escapism, the idea that if a few people made a stand at the right moment things might've been different. We also know how many folx stood up and lost. In the years after the second great war,  there was McCarthyism, and blackballing, and violence that some didn't survive. Those things have lingered. Yet there were also giants who persevered, oftentimes making the most of Hollywood's sub-levels, so we could reach a little higher. They dreamed. They envisioned something better. We need those fantasies as much as the documentaries—in order to keep reaching for what might be with the same tenacity as what has been. Why? Because if we're able to conceive of something different maybe we can make a change. I think that's what Murphy and his squad were reaching for.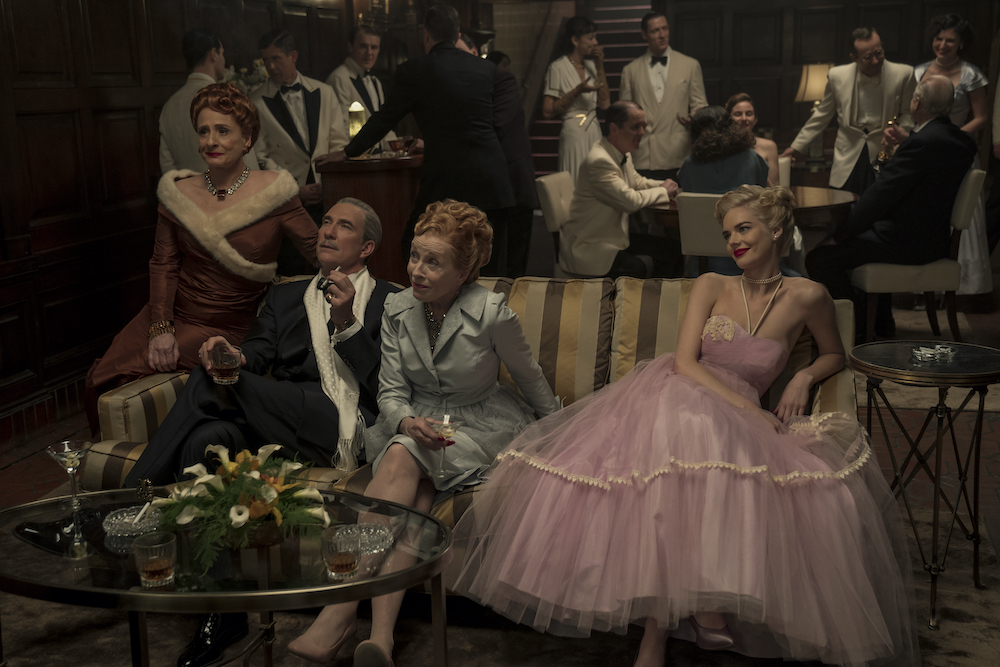 Photo credit: Saeed Adyani / Netflix
We see that dream reflected in the guardian angels I mentioned earlier, who help to clear the path for our young history changers. Patti LuPone comes through as Avis Amberg, a woman who does what she wants with whom she wants but knows the sting of being boxed in. Dylan McDermott becomes Ernie, giving us a character we've never seen from him. Ernie has the dashing flair of Clark Gable and the bark of James Cagney—basically, he's a stone cold gangster and he does it so well. Then there's Jim Parsons as a ruthless abuser and real life "star maker" Henry Willson. Gotdamn, this bastard keeps taking the low road and Parsons makes you feel it, but it is Joe Mantello and Holland Taylor, as movie moguls, who really grab you by the chest. They're so nuanced and repressed and brave you'll either want to give them a hug or be hugged by them.
Hollywood is idealistic…so what? It's also better than I thought it would be. That's because the racism, sexism, discrimination, mental illness, substance abuse, and criminality are all right there at its surface. Tinseltown does bad things to people. It was worse in the late 40s. We need to understand that fight because we're still fighting now. Otherwise we wouldn't be able to accept the fantasy.
Yes, the series is a soap bubble most of the time but it stunned me that, in its deeper moments, the writers recognized another truth: Those who created racism and continue to proliferate it are the ones responsible for breaking its hold. We marginalized folx will always tell our stories and demand our rights but we are not responsible for the harm done to us. The ones who benefit from racism and discrimination are the ones responsible for ending it; anything less is victim blaming. These writers get that and they put it on screen, flipping what could've been yet another white savior moment into accountability. If those triumphs come off as self-congratulatory I think it's because these creatives had so much fun dreaming their dream. Once I got used to it, I did too.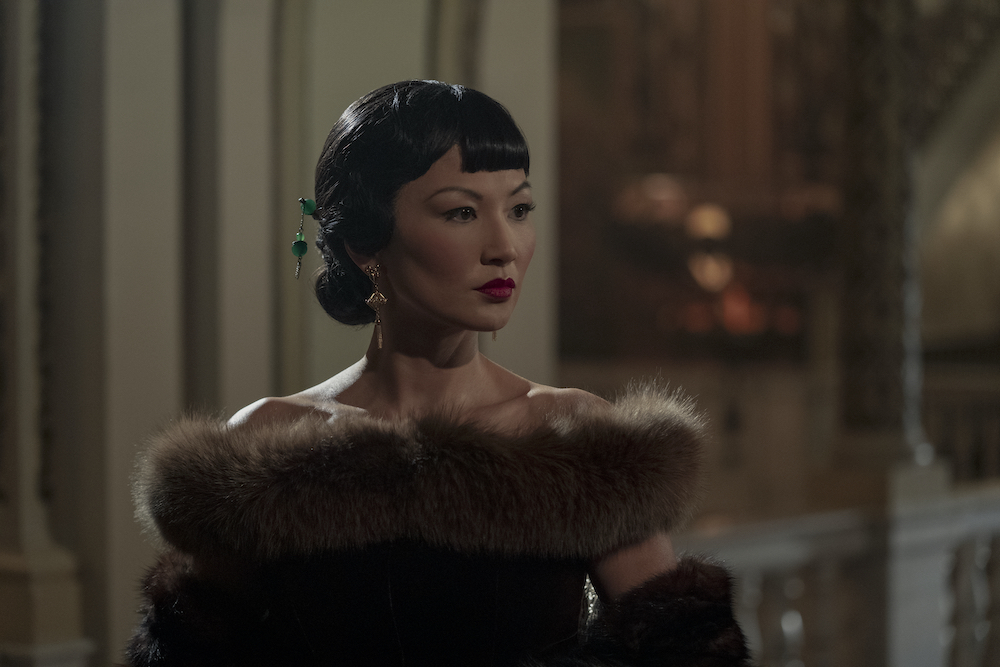 Photo credit: Saeed Adyani / Netflix
For me, with all its salaciousness and its scandals and its soapy binge-worthiness, Hollywood has a soul. Even though most of the story it tells didn't actually happen, the fight these characters put up to transform movie-making into something that reflects who they were in a post WWII era, still has a chance to be a catalyst to inspire a kid from today to go for it, despite the boundaries.
If not then…maybe now.
If only.
If only.
If only.
In the End: If you like to dream a little and Hollywood glamour is your thing, binge it.