idobi Votes: 5/10 – Sherin Nicole | 6/10 – Alex Bear
A twist of fate brings marketing wiz and recently dumped Emily (Lily Collins) to Paris. She drops her life in Chicago for a last-minute and life-changing step into the Seine—seriously, she's in for a cold dunk in reality. Emily's preppy attitude and complete lack of Frenchness isn't the best fit for the city of lights, where she's met with the classic, somewhat stereotypical, but forever humorous 'Parisian Derision'. Her new colleagues range from disgusted at her American influence on their way of working, to being way too friendly with their rules of engagement. Emily tries her best to flip them to her way of thinking (which often lands her in deep merde—sometimes deservedly so). 
Emily in Paris has a cute premise and you'll be enchanted by the scenes of Paris. As the city takes center-stage, love blossoms and fades, sparks and ends—but not in the typical ways rom-coms present us with. The romance varies from sweet to messy. Some of which you'll cheer for and some of which you'll cast side eye at.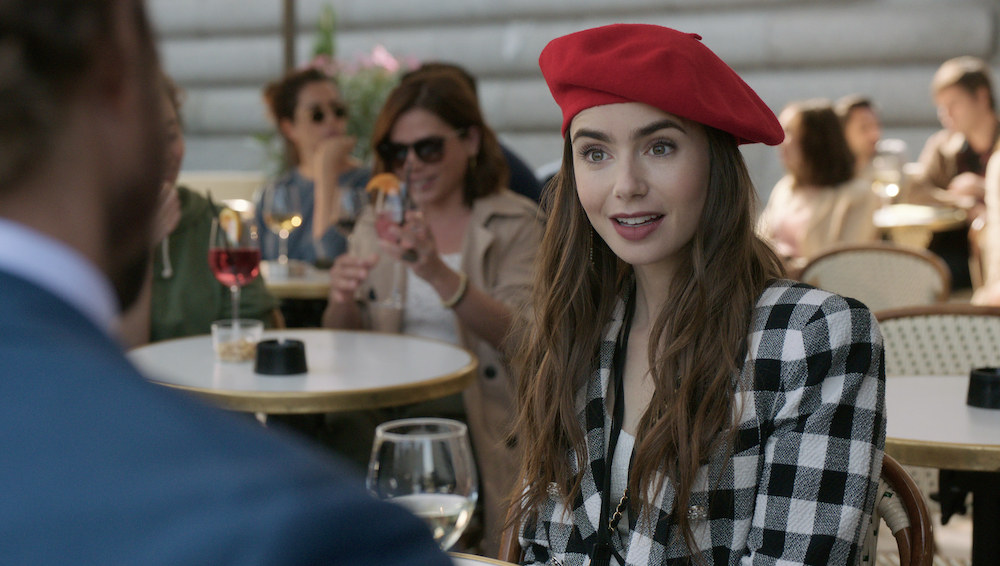 Photo courtesy of Netflix © 2020
The side eye is especially strong when the show tries to excuse things as "the French way". The jokes at the expense of French culture grate just a bit. Emily makes sure we know how "weird" and "foreign" Paris is and it becomes a little one note after a while. While the show does get a lot about French culture right, a lot of it is needlessly exaggerated for cheap jokes. You won't be sure whether you should be laughing at a country's culture or laughing at her for lacking culture completely. You'll also find yourself wondering how someone who's supposed to be an expert at networking can be so incredibly clueless at the art of being social—which soon turns the fish-out-of-water trope from cute to ringard. 
It's almost as though this show was made for Americans who have never left the country.
Which is why you'll wonder if Emily in Paris isn't a fish-out-of-its-time. The series feels like it would've been best buds with shows like Friends and Sex in the City. Great shows for sure but if they were made today there would be some real problems with the way people and cultures are mocked or dismissed. Yeah, Emily is fun but don't think about it too much.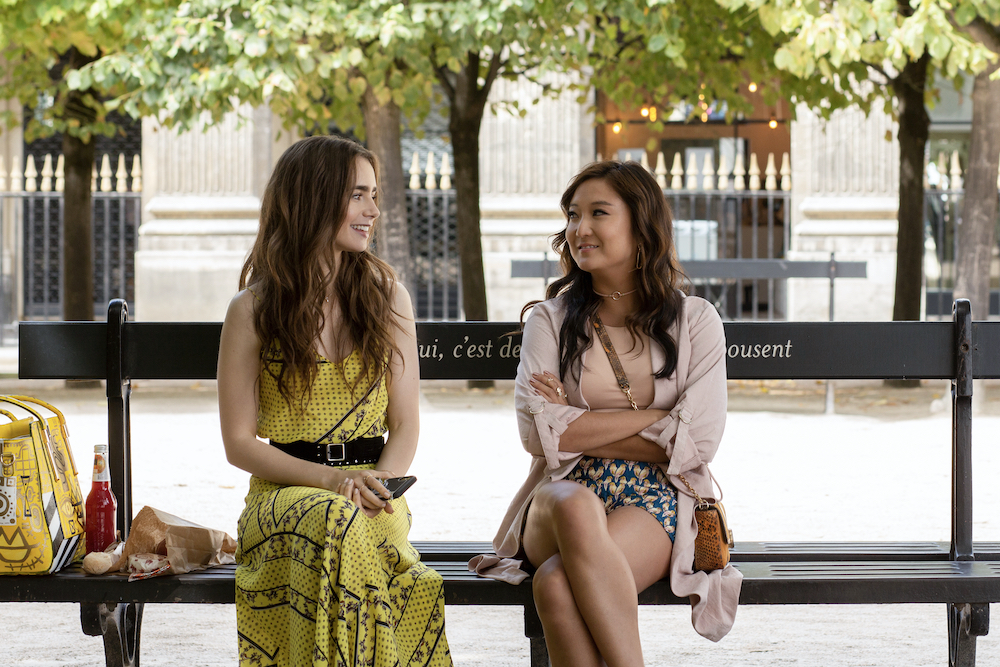 Photo: Carole Bethuel/Netflix © 2020
On that note, there are lots of lovely Frenchmen (Lucas Bravo, Frédéric Anscombre, William Abadie, etc.) and fashion to ogle (costumes by Patricia Field and Marylin Fitoussi). The sidekick crew is winningly winsome (Ashley Park, Samuel Arnold, Bruno Gouery). Although we have to say it's an odd choice to have Ashley Park play a Chinese heiress…there are South Korean-American heiresses out there. Still, there are decided moments of complete awareness of our social media era and how it clashes with older ideologies that work well. So you'll smile, you'll cringe, you'll enjoy a toast of champagne with poorly chosen bedmates, and a hint of scandal—which all works, um, if you don't think about it too much.
Soooo, if you can get over the "I'm sorry, whats?" then settle in with a glass of sparkly for a light-hearted and pretty rom-com that doesn't get much deeper than that.