Basically: Say hello to a new symbiote-powered nightmare only Venom can stop.
In the post-credits of Venom viewers were introduced to serial killer Cletus Kasady (Woody Harrelson), who promised "carnage." We now get to see him make good on that promise.
Since we last saw our anti-hero, Eddie Brock (Tom Hardy), he's rebuilt his life as an investigative journalist but nothing else has worked out. His ex Ann Weying (Michelle Williams) has moved on, and he's having relationship problems with his gooey symbiotic buddy. The one thing going for him is the infamous killer Kasady seems to like him…and is giving him exclusives.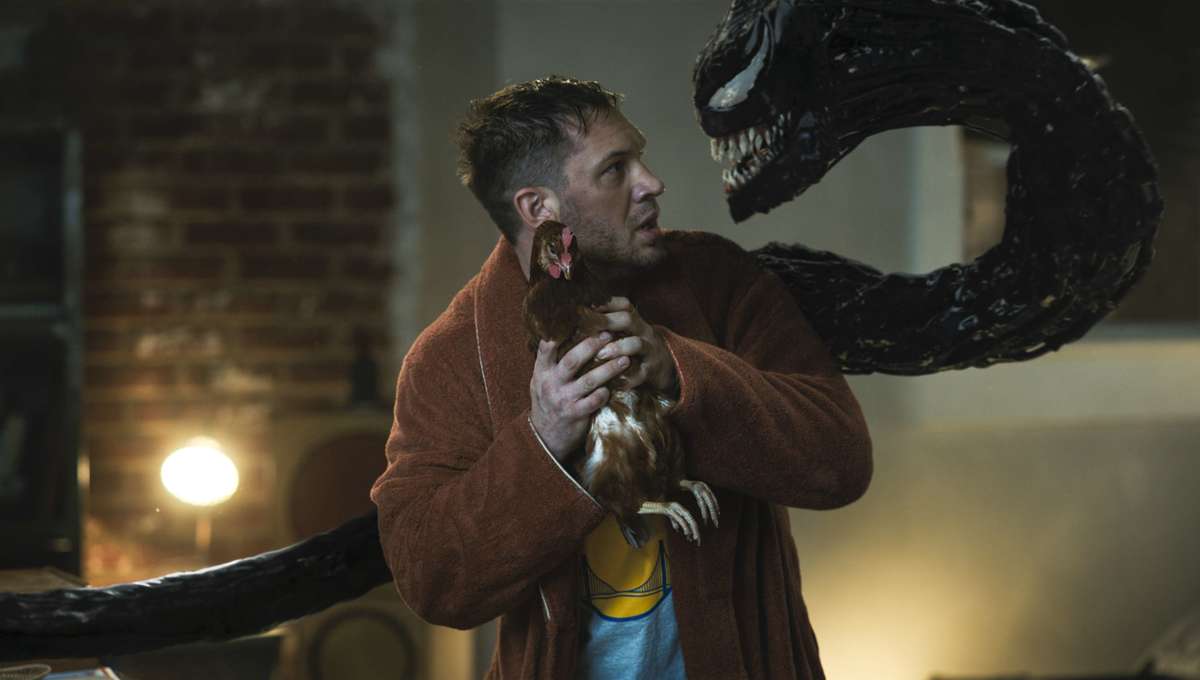 Photo © 2021 CTMG. © & ™ 2021 MARVEL
What Kasady has not told Eddie is that he has a childhood love, Katherine (aka Shriek, played by Naomie Harris). They spent time in the same childhood asylum and fell in love. Now Katherine is in a secure facility to contain her mutant sonic scream and Kasady is facing an immediate death sentence, after Eddie's exposé turned up a number of hidden corpses.
A too-close encounter between Eddie and Kasady results in the killer acquiring a symbiote of his own, the red-skinned and multi-tentacled Carnage. The only one who can face him is Venom…but he and Eddie aren't exactly on speaking terms…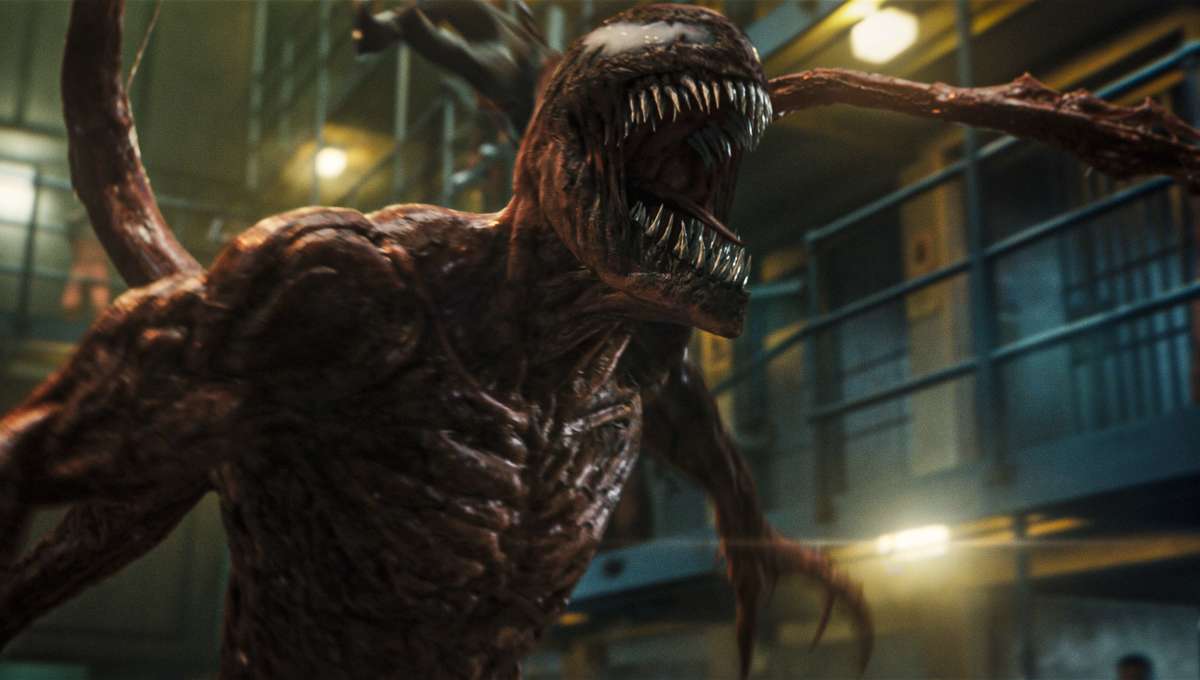 Photo © 2021 CTMG. © & ™ 2021 MARVEL
Director Andy Serkis, working from a story by Tom Hardy and Kelly Marcel, picks up where the previous movie left off. The police, in the form of Det. Mulligan (Stephen Graham), haven't forgotten about the bodies in Venom's wake, even if they have a bigger problem now. And while Eddie has a gig writing, he's still living in the same crummy apartment with a symbiote who wants to go out and eat brains instead of chickens and chocolate. With Hardy doing such a great job portraying a lovable loser, Venom: Let There Be Carnage strikes a careful but superb balance between laughs and horror; what might easily have been a hard R horror film is watchable even for younger teens (there's really no gore at all, parents).
Harrelson and Harris make a spectacular duo as Kasady and Shriek, while Williams is a welcome return as Ann—who seems to have an uncanny instinct regarding Eddie's "parasite." Both Reid Scott (returning as Ann's fiance Dr. Dan) and Peggy Lu (as bodega owner Mrs. Chen) make strong comebacks too with star moments of their own.
In the End: Mixing humor and horror is never easy but Venom: Let There Be Carnage does a terrific job of it. (Oh, and stay for the mid-credits scene, trust me.)