Basically: A blue-collar Blade movie. 
Jamie Foxx might be one of Netflix's unsung treasures. A few of his current projects have come out through the platform and, so far, 2020's Project Power and today's Day Shift are wonderful throwback action movies. Day Shift is about blue-collar vampire hunters in Los Angeles. Foxx plays Bud Jablonski, a freelance vampire hunter who needs to rejoin the union to make enough money so his ex-wife doesn't have to move away with their daughter. Our guy Bud got the struggles—his daughter needs braces and private school tuition. His off-the-books hunting ain't cutting it. In the warm glow of LA and the sounds of classic 90s west coast rap, Bud finds his way back in but he's partnered with Seth (Dave Franco), a union accountant, to ensure he follows code. He is also forced to take the day shift during his probationary period. The business of hunting causes him to collide with Audrey (Karla Souza), a big bad vampire he unknowingly pissed off.
Don't come into this film for outstanding performances, that's not to say that the acting is bad. The cast is having a good time here. The jokes hit and the action is very good, without losing anything from streaming on television (or whatever screen you watch it on). The film throws you into a fascinating world in many ways, like how John Wick movies have done of late. Foxx is on one in this—all his charisma is on display. His scenes with Dave Franco are reminiscent of some of the better buddy cop movies and Day Shift works like a police film but also has some of the best influences from the first two Blade movies. Karla Souza is having a good time as an evil vampire and is much different from her role on the ABC sitcom Home Economics. She works as this unsuspecting sinister presence in the valley. The big selling cameo is Snoop Dogg as Big John Elliott, a western cowboy who is still Snoop. He is so malleable that he always fits in no matter what.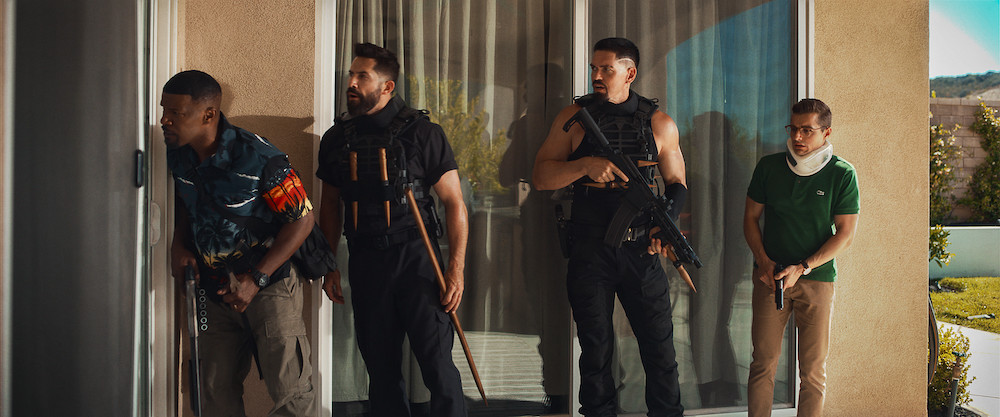 Now, some things don't totally work; the big vampire plot gets lost in the sauce in this movie and gets dropped with no real explanation. Megan Good, as Bud's ex-wife Jocelyn, doesn't get much to do other than nag for a long time. Why Bud isn't in the union doesn't work at the story's beginning and it sometimes shifts too much away from the buddy cop dynamic. The push to the last act is rushed. It's like, how did we get here, why did this happen to this person, and who is this other person? It's like, wow, we are missing some pages BUT I don't care. It felt like going to movies in the summertime in the 2000s. I'm talking peak throwback jerseys, spinning rims, frosted ends, and mid-drifts. All gloss y'all, this is a popcorn and soda movie. This is what people got from Bullet Train that I didn't, it took Jamie Foxx and Netflix to give it to me at home. Good job, folks. I appreciate the great entertainment. 
In the End: Day Shift is a fun delight of a genre action movie that is one good Netflix success this summer.