This week: Good Girls, The Flash, This Is Us, Kevin (Probably) Saves the World, Chicago Med, Hard Sun, Grown-ish, Riverdale, Life Sentence, Jessica Jones, Atlanta, LOVE, Collateral, The Walking Dead
Good Girls
"Mo Money Mo Problems" – Season 1, Episode 2
Mon Mar 5 – 10PM
On NBC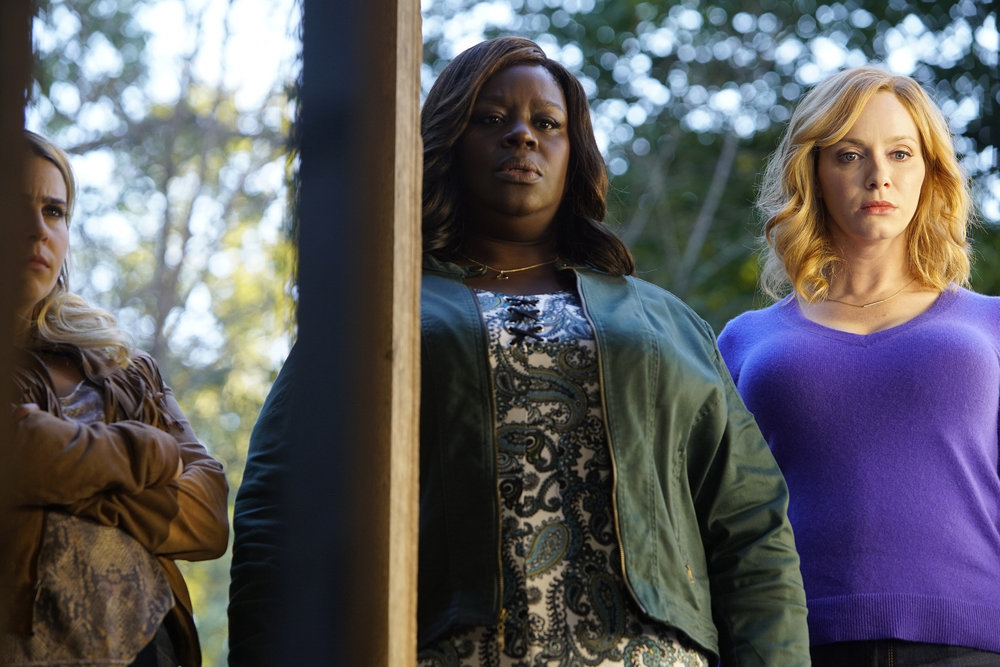 Photo by: Josh Stringer/NBC
If last week didn't convince you, these Good Girls are about to smash through every pre-conceived notion of the phrase. This week, they're stretching the boundaries of "good" to its limit. Can you still be good if it's at yelling at people, conning people, and don't even ask us about that treehouse…or the rope for people? They're more desperate than any housewives we've ever seen (and that's saying something). Oh and there's a guest appearance by Jessica Alba—um, kinda. Will it be extortion or some dude named Hans that saves the day? Our clever girls Retta, Mae Whitman, and Christina Hendricks continue to bounce off each other to create witty snaps with comedic fire, and they'll keep you guessing how bad things are going to go until the very end. Delightful.
Watch Good Girls on NBC tonight.
From NBC:
The women struggle to come up with the money they owe the gang — which, in this case, means robbing yet again. Meanwhile, Annie's (Mae Whitman) fight for custody takes a major hit, Beth (Christina Hendricks) tries to navigate life as a single parent and Ruby's (Retta) concerns for Sara's (Lidya Jewett) health escalate.
—
The Flash
"Enter Flashtime" – Season 4, Episode 15
Tues Mar 6 – 8PM
On The CW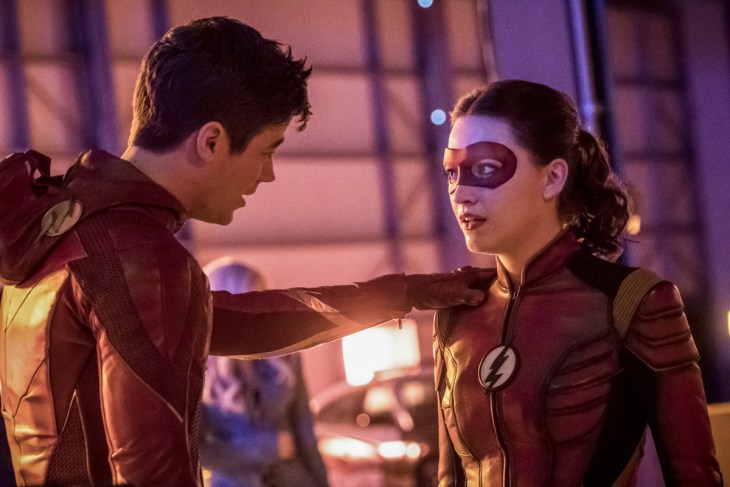 Photo: Katie Yu/The CW — © 2018 The CW Network, LLC. All rights reserved
Something is very, very wrong with The Flash (Grant Gustin) this week. When the only way he can stop a nuclear bomb from destroying Star City is to keep running the fastest he can go—entering Flashtime (we don't know what this is either)—how long 'til the speedster runs himself out? Our hearts are racing at hyperspeed just thinking about how high the stakes are…for us every Tuesday is Flashtime, bring it on!
Tune in to The CW tomorrow for all new The Flash.
From The CW:
When a nuclear bomb detonates in downtown Central City, Barry (Grant Gustin), Jesse Quick (guest star Violett Beane) and Jay Garrick (guest star John Wesley Shipp) slow down time by entering Flashtime. As everyone in the city is frozen, the three speedsters push themselves to the breaking point to save the city and everyone in it.
—
This Is Us
"This Big, Amazing, Beautiful Life" – Season 2, Episode 17
Tues Mar 6 – 9PM
On NBC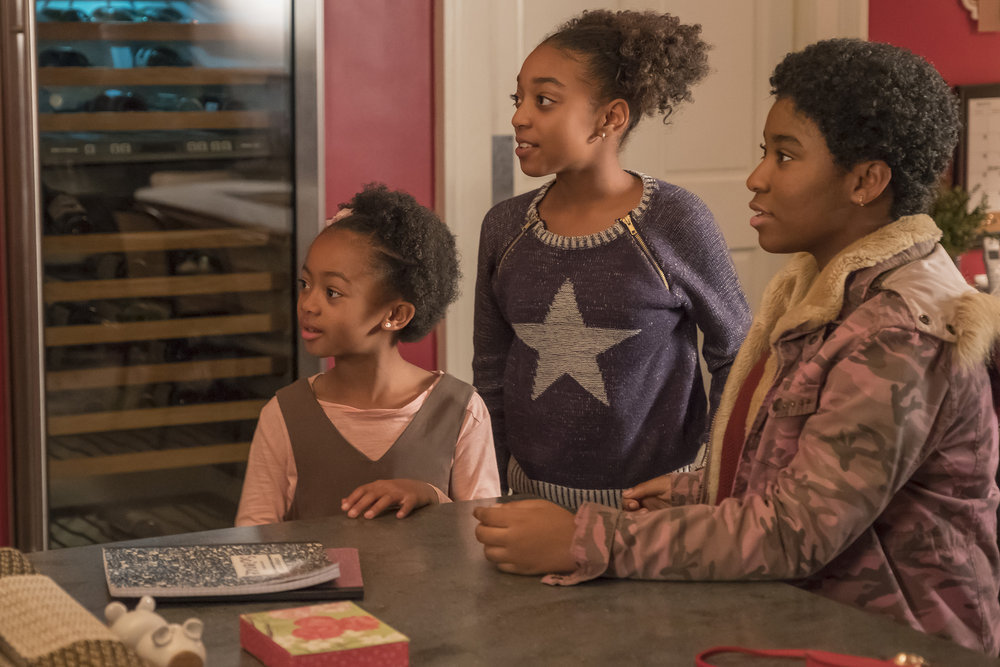 Photo by: Ron Batzdorff/NBC
This Is Us has graced us with some of the best (and worst) moments of our television lives this season. In an earlier episode, Randall (Sterling K. Brown) described his foster daughter, Déjà (Lyric Ross), as déjà vu—seeing himself all over again. This week we travel back in time to see what Randall's life might've been like through Déjà's story. Calling this episode touching is almost seems cliche—This is Us always grabs us by the heart—but we connect with Déjà on a whole new level. What are Beth (Susan Kelechi Watson) and Randall going to do now? We don't know but their life is about to change once again. With only one episode left, we're left on a high note…however, in true This Is Us style, what happens next could take us anywhere through time and manage to break our hearts as much as it heals them.
Catch This Is Us tomorrow on NBC.
From NBC:
Randall and Beth welcome visitors to their home.
—
Kevin (Probably) Saves the World
"The Right Thing" – Season finale
Tues Mar 6 – 10PM
On ABC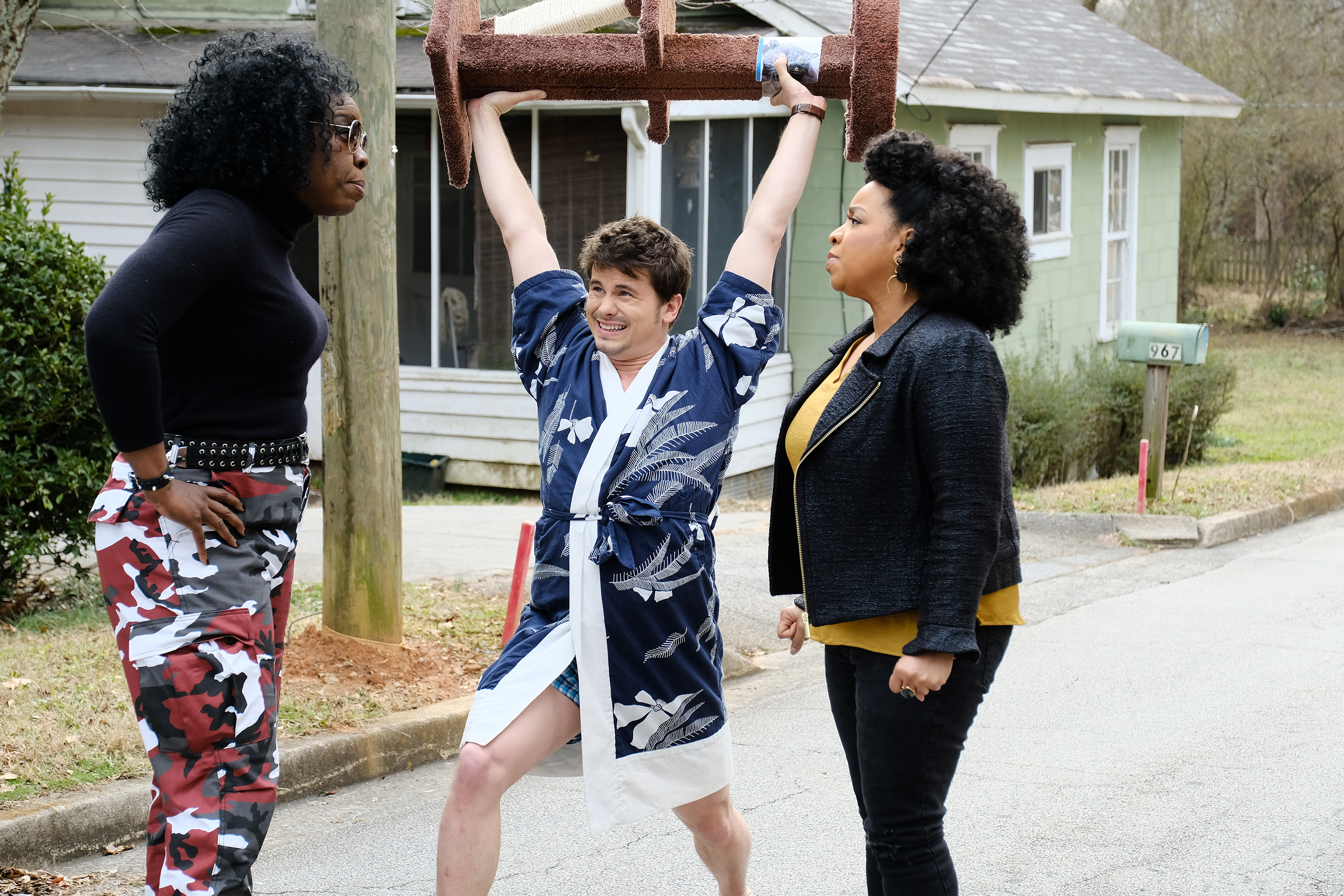 Photo credit: ABC/Guy D'Alema
Kevin (Jason Ritter) has come a long way on his, uh, quest to (probably) save the world. Over season one he has learned the value of good deeds and being selfless. His celestial guardian Yvette (Kimberly Hebert Gregory) has been there to hold his hand all the way and man is she tired (wouldn't you be after watching over Kevin all this time?). Of course Yvette is glitching, she can't control her emotions, she's falling asleep—a guardian breakdown is imminent. Plus, shhh, other guardians have kind of sorta…died. SHHH! I guess that's why Kevin is obsessed with the funeral home this week and also kinda sorta gets into body moving. Literally. With Yvette glitching things go more wacky than usual on this week's Kevin (Probably) Saves the World. Guess she's gonna need a replacement…aka Leslie Jones as Cindy (the drill sergeant guardian). Need we say more than?: Hurry back season 2—we gotta see this.
Watch the season finale of Kevin (Probably) Saves the World this Tuesday on ABC.
From ABC:
Kevin struggles with the idea that his relationship with Kristin might be in jeopardy while helping a stranger honor his deceased uncle's burial wishes. Yvette makes a drastic decision regarding her future with Kevin by involving a celestial colleague named Cindy ("Saturday Night Live"'s Leslie Jones guest stars); and Amy receives an unexpected visit that changes everything.
—
Chicago Med
"Folie À Deux" – Season 3, Episode 11
Tues Mar 6 – 10PM
On NBC
New episodes of Chicago Med air every Tuesday on NBC.
From NBC:
After a neighbor is stabbed, Dr. Choi (Brian Tee) enlists the help of April (Yaya DaCosta) to figure out who is the real cause of the incident. Dr. Bekker (Norma Kuhling) and Dr. Rhodes (Colin Donnell) expertise is put to the test when Noah (guest star Roland Buck III) misdiagnoses a patient. Dr. Charles (Oliver Platt) is put in an uncomfortable position when Dr. Reese's (Rachel DiPillo) estranged father (guest star Michel Gill) comes to him as a patient without her knowledge. Meanwhile, Dr. Manning (Torrey DeVitto) rushes to save a baby with whooping cough.
—
Hard Sun
Series premiere
Wed Mar 7
On Hulu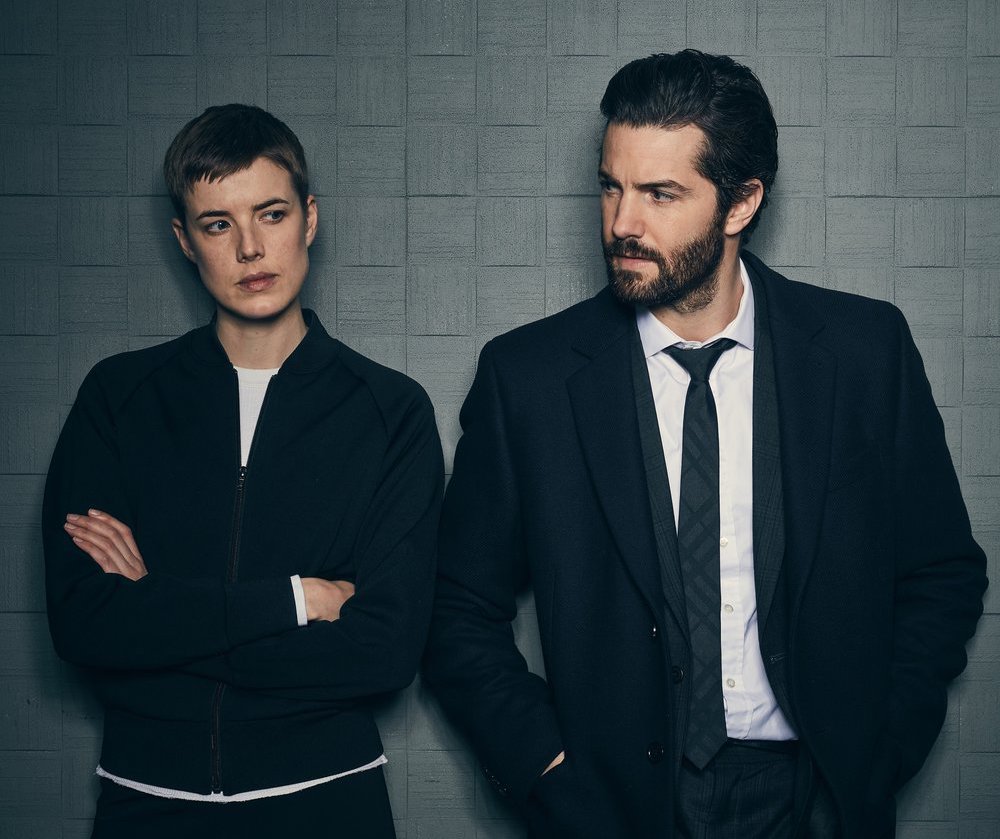 Photo credit: FremantleMedia/Euston Films/BBC
Buckle up, 'cause you ain't ever seen a detective show like this before. Luther creator Neil Cross is back to enthral us some more in Hard Sun, a treacherous world on the brink of doomsday. Set in London, detectives Charlie Hicks (Jim Sturgess) and Elaine Renko (Agyness Deyn) form an unlikely duo—but their pairing doesn't even come close to being the craziest thing in this show. We start with a brutal attack on a woman, in her own home, that ends in fire but when we find out the relationship between the woman and her attacker our jaws really drop. This is Renko's life and she's not what she seems. Then again neither is Hicks, who's masquerading as a good guy. Well, he's about to have his facade tested. Hard Sun has all the tension of a Neil Cross procedural combined with the chills of a world-ending-scenario—straight out of a sci-fi epic. It's intense. The 6-episode season bubbles over with dark delicious insanity, brutal murders, and all the gallows humor you'd expect from a British-set show about the end of the world.
Season one of Hard Sun premieres on Hulu this Wednesday.
From Hulu:
Jim Sturgess and Agyness Deyn play detectives Charlie Hicks and Elaine Renko, partners and enemies, who seek to enforce the law and protect their loved ones in a world that every day slips closer to certain destruction.  Charlie Hicks (Sturgess) is a family man and a great, committed officer.  He's also profoundly corrupt.  Elaine Renko (Deyn) is a difficult and damaged, but utterly incorruptible officer.  Thus, the two cops stand on different ends of the social and moral spectrum and also seriously distrust one other – and for good reason.  But they must somehow learn to work together if they're going to survive until the end of the world.
—
Grown-ish
"It's Hard Out Here for a Pimp" – Season 1, Episode 10
Wed Mar 7 – 8PM
From Freeform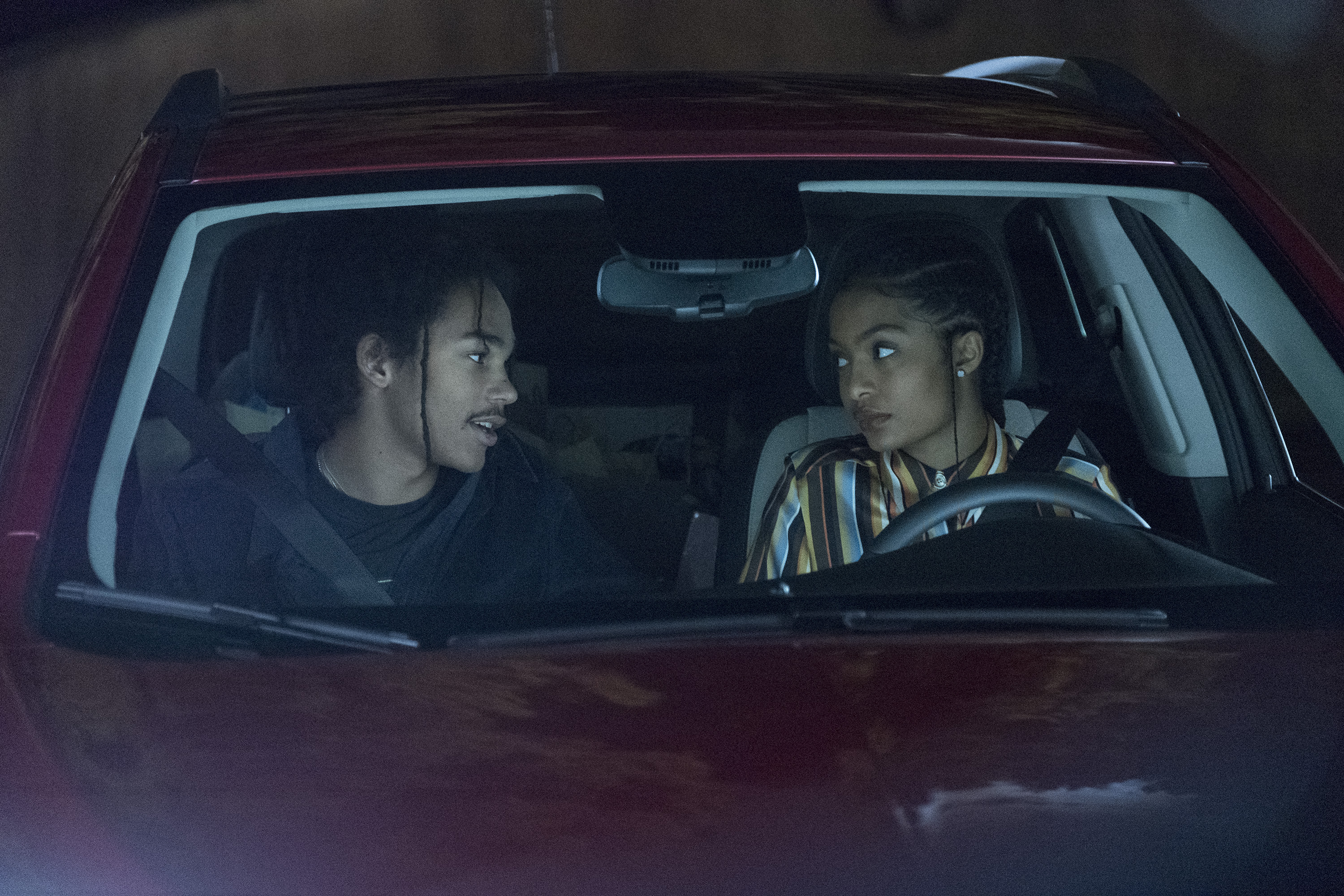 Photo: Freeform/Tony Rivetti
College is hard-ish, dating is worse, especially when the media has stamped a big red "undesirable" on your group's forehead. We're not even gonna mention the ballers, the rappers, the actors or which type-of-girl they give all their love to…oops, we just did. This week Zoey (Yara Shahidi) and the squad dissect being "colorstruck" and the proper timing to use "two condoms". College is sooo experimental. We can't blame Zoey and Luca (Luka Sabbat) for avoiding a Teen Vogue deadline by sneaking off to a showing of Black Panther. Can't hurt, right? But, we mentioned dating is complicated, right? Plus, Michael B. Jordan definitely wore his dreads better. Sorry, Luca.
Watch Grown-ish every Wednesday on Freeform.
From Freeform:
Jazz and Sky struggle to hit a dating stride in a college landscape. Meanwhile, Zoey and Luca attempt to buckle down to complete a project.
—
Riverdale
"Chapter Twenty-Seven: The Hills Have Eyes" – Season 2, Episode 14
Wed Mar 7 – 8PM
On The CW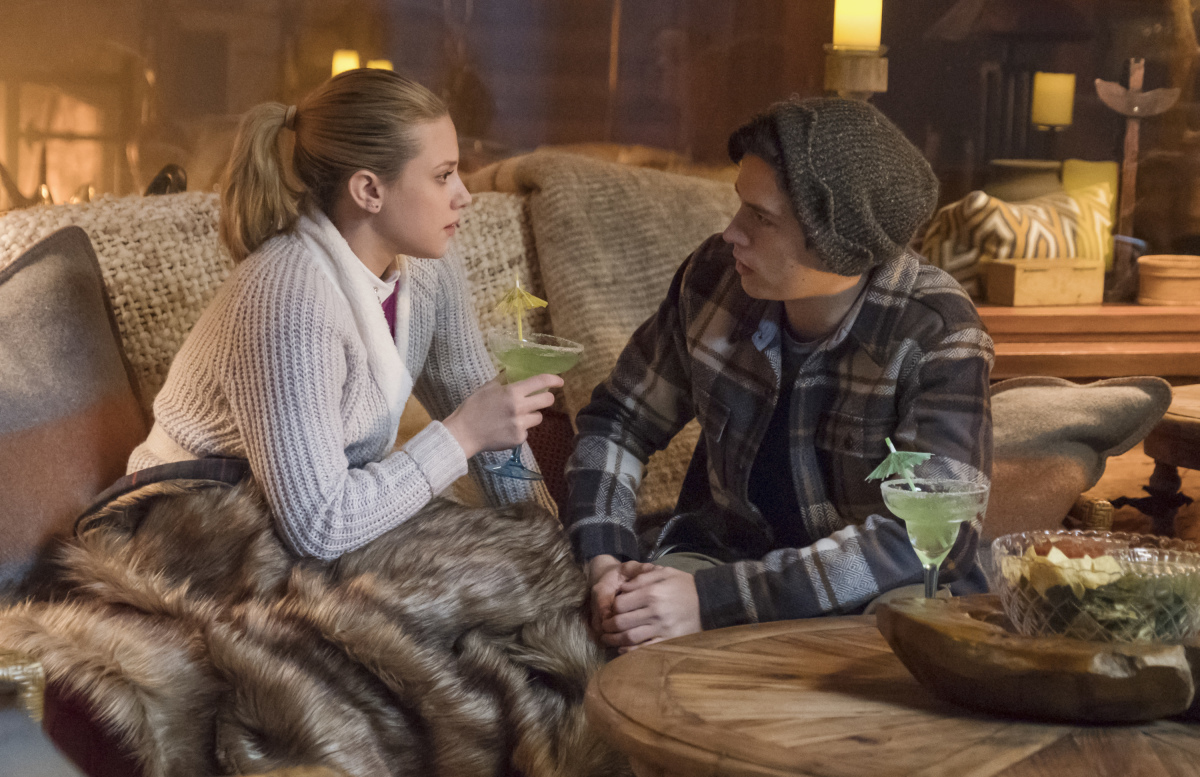 Photo: Dean Buscher/The CW — © 2018 The CW Network, LLC. All rights reserved.
We only have one question for this week's Riverdale episode: When does "going to a lake house" not become a "cabin in the woods" scenario? It never works out, okay. We'll, uh, be watching from the safe distance of our own homes and crossing our fingers that the only monsters hiding in those woods are the secrets Veronica (Camila Mendes) and Hiram (Mark Consuelos) are bringing with them. And isn't Hiram monstrous enough?
Head to Riverdale every Wednesday on The CW.
From The CW:
When Hiram (Mark Consuelos) suggests that Veronica (Camila Mendes) and Archie (KJ Apa) head up to their lake house for the weekend, Veronica decides to invite Betty (Lili Reinhart) and Jughead (Cole Sprouse) to join them. Determined to uncover Hiram's plans for Riverdale, Jughead uses his time at the lake house to press Veronica about what she may know. Back in Riverdale, Cheryl (Madelaine Petsch) makes a surprising connection with an unlikely friend, while Josie (Ashleigh Murray) lands in hot water after revealing a secret to Kevin (Casey Cott).
—
Life Sentence
Series premiere
Wed Mar 7 – 9PM
On The CW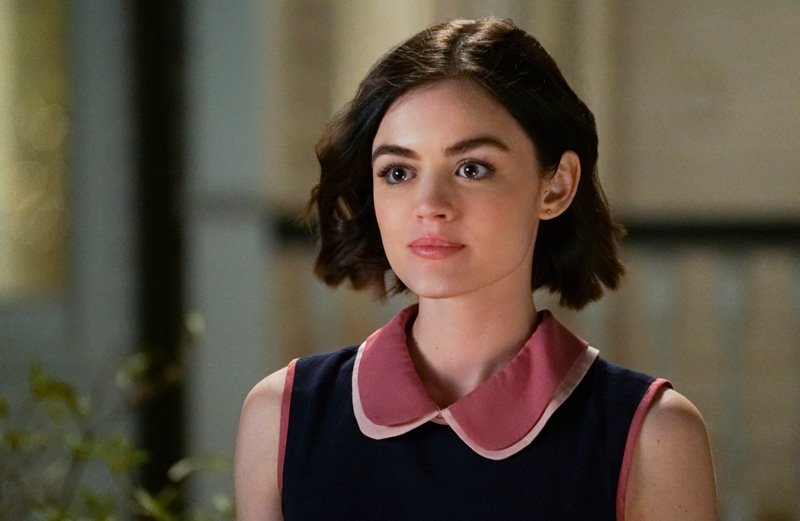 Photo: Annette Brown/The CW — © 2018 The CW Network, LLC. All rights reserved.
Stella (Lucy Hale) never had a future. Diagnosed with terminal cancer, she lived everyday like it was her last—until it wasn't: When given the news that she's miraculously been cured she has to figure out how to really live. And her family have to figure out how to stop putting on a brave face for her. Life Sentence is bold and brilliantly funny—taking a lighthearted look at a dark issue, because sometimes all you can do is laugh and keep on going.
Life Sentence premieres on The CW this Wednesday.
From The CW:
When Stella (Lucy Hale), a young woman who has spent the last eight years living like she was dying, finds out that her cancer has been cured, she is suddenly forced to face the long-term consequences of the "live in the moment" decisions she made, including marrying a total stranger. She also finds out that her "perfect family" isn't so perfect after all and everyone in her life hid their problems from her. Stella is shocked to learn that her parents, Peter (Dylan Walsh) and Ida (Gillian Vigman), have fallen out of love, her sister, Elizabeth (Brooke Lyons), gave up her own dreams to start a family with her husband Diego (Carlos PenaVega) to take care of her, and her often overlooked brother, Aiden (Jayson Blair), who's pushing 30 and still lives above the garage, sells Adderall to soccer moms and uses Stella's cancer to guilt them into sleeping with him. Meanwhile, Stella's husband Wes (Elliot Knight), begins to worry that he can't continue to pretend to be her perfect husband for the rest of his life. With a real future suddenly in front of her, Stella's cinematic life snaps into reality, and instead of living like she's dying, she will have to learn to live like she's living, and help her family and friends do the same.
—
Marvel's Jessica Jones
Season 2
Thurs Mar 8
On Netflix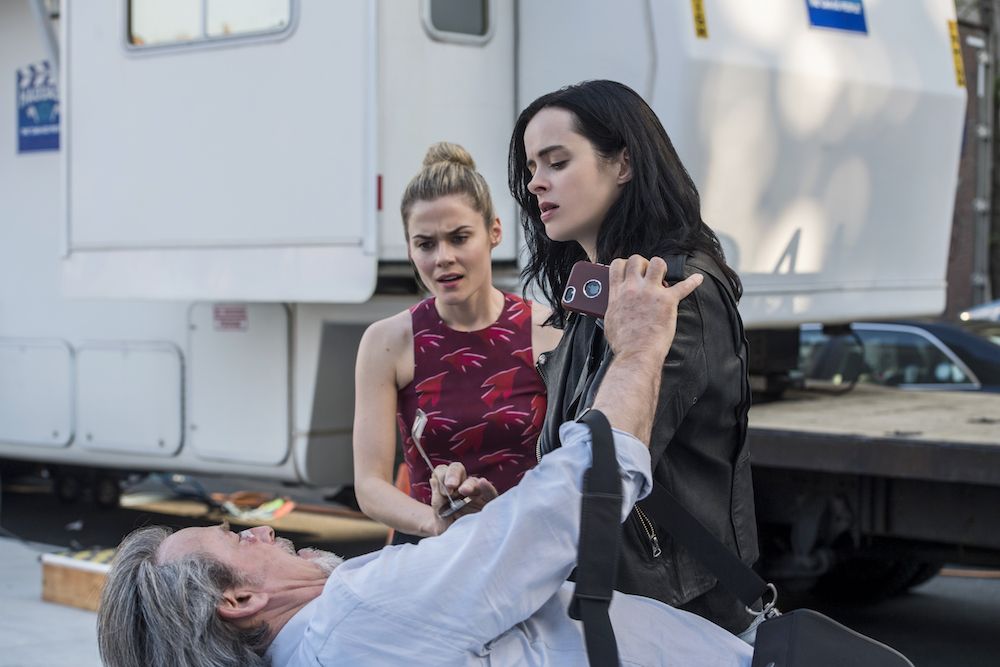 Photo: David Giesbrecht/Netflix
Jessica Jones is back for another round on International Women's Day. How's that for smashing the patriarchy? Here's what we had to say in our spoiler-free [p]review:
The emotional push and pull of the season comes down to how well the characters can push each other's buttons. The manipulations fly high, beginning with Trish's pursuit of a story involving a secret lab hidden in a hospital (you know that's not gonna end well). Trish says she's doing it for the glory of journalism but we know she's driven by her need to be the center of the universe. Of course, she goes way too far in pushing Jessica to investigate what happened after the accident, and the dominos keep falling from there… (Read our season 2 [p]review)
Celebrate #IWD this Thursday with season 2 of Marvel's Jessica Jones, only on Netflix.
From Netflix:
New York City private investigator Jessica Jones (Krysten Ritter) is beginning to put her life back together after murdering her tormenter, Kilgrave. Now known throughout the city as a super-powered killer, a new case makes her reluctantly confront who she really is while digging deeper into her past to explore the reasons why.
—
Atlanta
"Sportin' Waves" – Season 2, Episode 2
Thurs Mar 8 – 10PM
On FX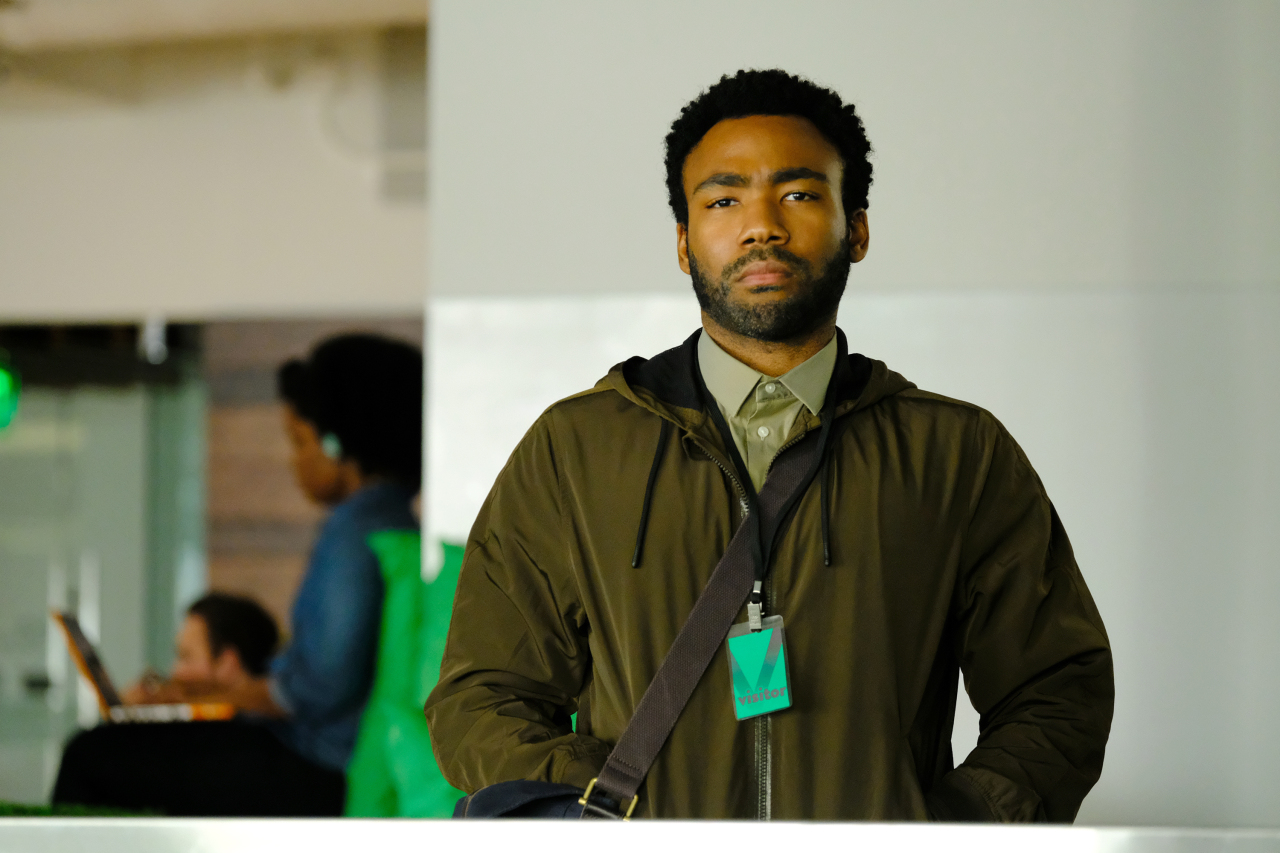 Photo: 

Guy D'Alema/FX
What goes around comes around, or so the saying goes. Atlanta is deconstructing that belief this week, one beautifully orchestrated scene at a time. The episode title "Sportin' Waves" pays homage to the classic brand of pomade but digs deeper to represent how, no matter how much Paper Boi (Brian Tyree Henry) and his friend Tracy (Khris Davis) pay their dues, they don't reap the waves of benefit from their hard work. Atlanta moves to the beat of our hearts and Donald Glover continues to entertain and educate with a blend of grit and grace.
Atlanta airs this Thursday on FX.
From TV Guide:
Trappin proves challenging, and credit-card scammers do their thing.
—
LOVE
Season 3
Fri Mar 9
On Netflix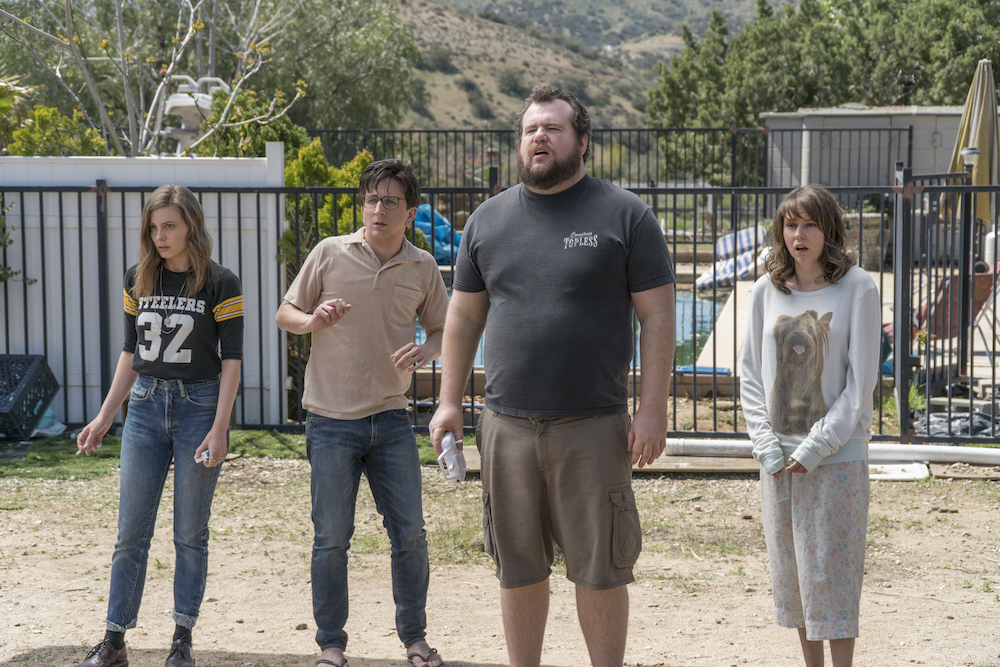 Photo credit: Suzanne Hanover / Netflix
One of our most beloved binge-watches is coming to an end on Netflix. LOVE is back for one final season—and this is what we had to say:
Ultimately LOVE is about life—in all its awkward, funny, scary, intense, lonely, vivid, meaningless, meaningful, glory. You'll cringe (like, really, Gus should not be in a band), snort with laughter at those #relatable situations, sigh in frustration when a character takes a step backward, but you'll fall in LOVE with every part of the ride this show has taken you on. (Read our full [p]review of LOVE)
Say goodbye to LOVE this Friday, only on Netflix.
From Netflix:
After a long, complicated, and somewhat messy journey, Gus and Mickey enter Season 3 in a place we've never seen them before: a fully committed relationship… And while to some people, a committed relationship feels like the end, for Gus and Mickey, navigating this new state together is only the beginning showing us that love, for all it's weird ups, downs and hilarious in-betweens, is both incredibly complicated and wonderfully simple. After all, all you need is love.
—
Collateral
Mini-series premiere
Fri Mar 9
On Netflix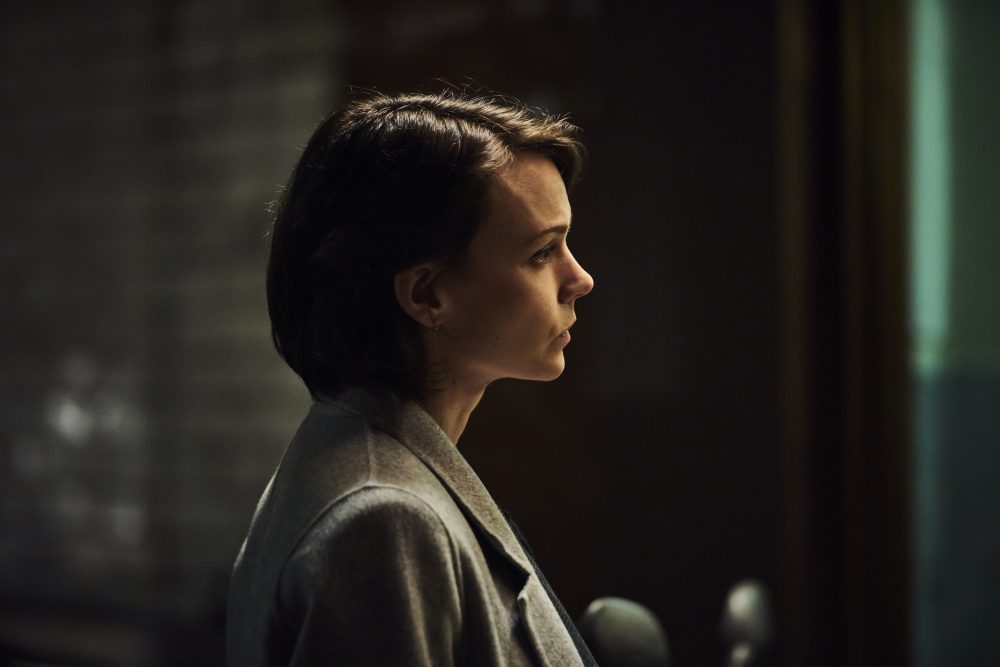 Photo credit: Fabio Affuso/Netflix
The BBC has always done crime drama in its own trademark way: Short, sharp bursts that leave your head spinning long after the case is closed. Now, Collateral is making its way to Netflix to make you question everything. The mini-series is a dark and eye-opening vignette of South London where a pizza delivery driver is shot dead. But when the victim's identity is revealed, it's a downward spiral into a web of crime, lies, and false information that takes a long, hard look at the very institutions society was built on…and our prejudices towards each other.
Stream Collateral on Netflix from this Friday.
From Netflix:
In Collateral, a young man is shot dead delivering a pizza in South London. The detective in charge, DI Kip Glaspie (Carey Mulligan), quickly discovers that the pizza manager inexplicably sent Syrian refugee Abdullah Asif (Sam Otto) instead of the regular delivery driver. The killing seems professional but the only witness, a young woman strung out on drugs on the street corner, gives the police a false name and address. Kip tracks down Abdullah's home, a set of garages, to find his sisters. They are scared and Kip's convinced they're hiding something.
Set over the course of four days, the spiraling repercussions surrounding Abdullah's murder are explored. Politician David Mars (John Simm) becomes instantly embroiled in the drama through his turbulent relationship with his ex-wife Karen who took delivery of the pizza. While Jane Oliver (Nicola Walker), a compassionate vicar, struggles to conceal her affair with the sole witness to the crime. Refusing to accept this is a random act of senseless violence, Kip is determined to discover if there is a darker truth, as the death of one individual, who has lived out of the sight of respectable society, begins to resonate through the institutions that shape our lives.
—
The Walking Dead
"Dead or Alive Or" – Season 8, Episode 11
Sun Mar 11 – 9PM
On AMC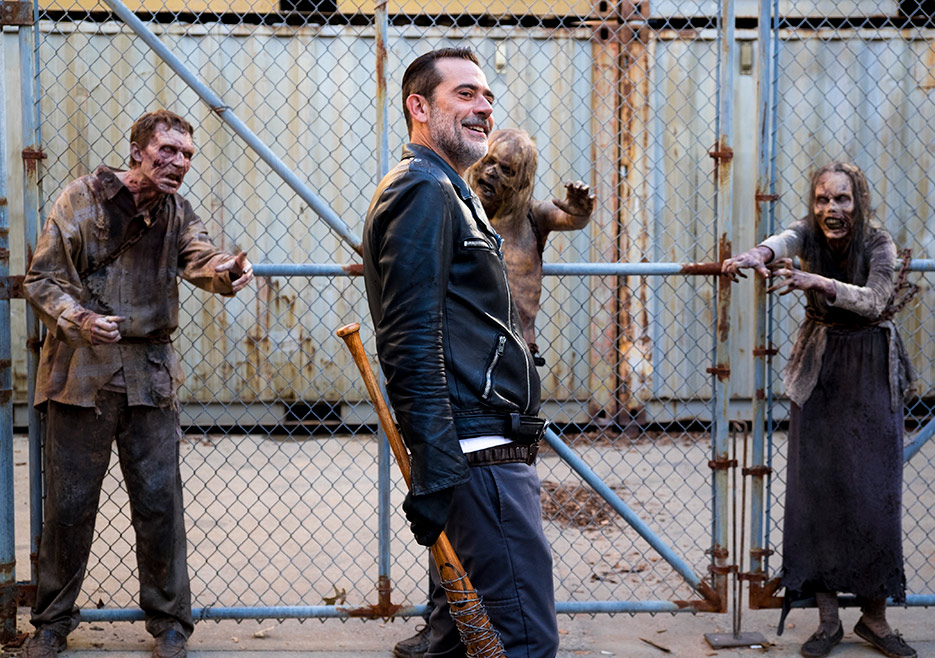 Photo by Gene Page/AMC
We're on Tara's (Alanna Masterson) side this week on The Walking Dead. We're also wondering why exactly Dwight (Austin Amelio) isn't dead yet—and traveling with Daryl (Norman Reedus) & co.—but that can only mean one thing: He's more useful to them alive…for now, at least. We'd keep both eyes open while he's around though. Speaking of keeping both eyes open, Rick (Andrew Lincoln) had better watch his back after betraying Jadis (Pollyanna McIntosh) last week. They say people who have nothing left to lose are the most dangerous and Jadis just became No. 1 on that list.
Get into The Walking Dead this Sunday at 9PM on AMC.
From AMC:
Daryl finds himself in bad company as his group heads to the Hilltop; Gabriel's faith gets tested.
Tags:
ABC
,
AMC
,
Atlanta
,
BBC
,
Chicago Med
,
Collateral
,
Freeform
,
FX
,
Good Girls
,
grown-ish
,
Hard Sun
,
Hulu
,
Jessica Jones
,
Kevin (Probably) Saves the World
,
Life Sentence
,
LOVE
,
NBC
,
Netflix
,
Riverdale
,
The CW
,
The Flash
,
The Walking Dead
,
This Is Us
,
Watch This Week