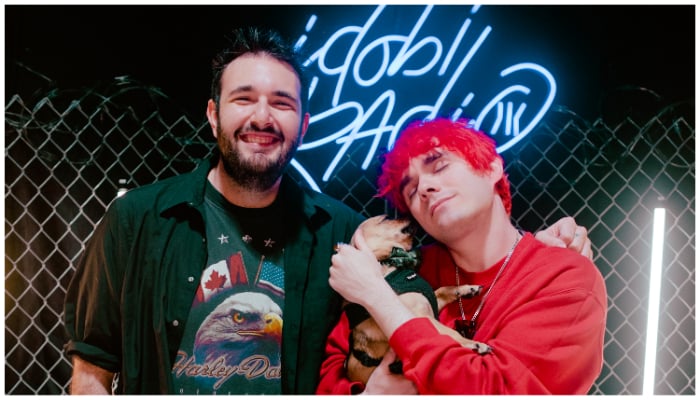 If you're not already foaming at the mouth over Waterparks' latest full-length album Intellectual Property, get your salivary glands ready. While Waterparks has a substantially storied career, in such a short period of time, too, Intellectual Property may be the band's greatest venture to date.
Vocalist Awsten Knight stopped by the idobi Studios in North Hollywood to celebrate the release of Intellectual Property and go in-depth on the album's creation with Fish. You can watch Knight's full interview with Fish below.
I had this whole thing prepared. I was gonna be like, I have author, fashion designer, singer, songwriter, dog watcher, dog whisperer, best friend, incredible human, spelling bee champion, Awsten Knight next to me and I just had to just go straight into Awsten's next to me.
Don't ever just go straight into it again. I love that intro.
I'm very excited to have you next to me and to talk all about Intellectual Property. Your brand new album that's dropping [today].
Yes, I am so happy it has not leaked. That makes me feel so good. I'm very excited for everyone to hear it. It has been the longest album rollout we've ever done by far. It's the best Waterparks album—the best album. And yeah, I'm just ready for everyone to hear it. It's time.
And as always, listening to lyrics on the record, they're some of the most savage lyrics I've ever heard, some of the most insane metaphors I've heard, and it just brings out all sorts of emotions, and just knowing how clever and how you meticulously place everything too, is so much fun.
Thank you. This is a shorter album than Greatest Hits. We were really able to jam-pack every song with just as much as possible. Like every line is there because it has to be. There's no filler. There's no like, "We say this line just so we can get to this one." It's all very purposeful.
And it's all very personal, too. Even like the intros with just the speaking part. I'm gonna mess up song titles [but], the one where you start out with like, "Oh, you want to talk to my manager? Benji."
Oh, yeah, yeah, yeah. "REAL SUPER DARK."
Yeah, just go so hard.
Dude, there was a few different instrumental verses. I knew I wanted to start a song with that. That instrumental, I've had that one since maybe the end of 2019 or very early 2020— I had green hair when that instrumental was demoed out. It took so long to get the vibe right with the lyrics and just going full chaotic and borderline kind of cartoon with it. That was the vibe. Whenever that idea came back into mind I was like, "Oh my god, it's perfect."
So good. And just throughout the years being able to see your live show everything from like Troubadour, to you selling out the Wiltern, to Sad Summer shows. 
Wait, for this one, man. This tour is gonna be ridiculous.
And that's the point I was getting to. I've always seen and understood the production more after seeing the live production with the lights and everything you guys have going on. This time, I heard the record and I saw the production and everything happening while listening to it. I'm like, "Oh, they're planning the live show through the recordings this time it seems."
It's gonna be insane. It's gonna be crazy.
You guys are bringing some incredible bands out on the road as well. Huge fan of Daisy Grenade, huge fan of Sophie Powers, and then Elliot [Lee]'s awesome as well. And HUNNY is on the whole tour. And then it's rotating three different openers.
Yes. So yeah, HUNNY's on the whole thing. And then everybody else gets like two weeks each or something like that.
You guys have some incredible features on this record as well. A little artist up-and-coming, blackbear, that no one's really heard of. [Laughs]
We kind of took him under our wing and showed him the ropes. [Laughs]
So how did that collaboration come about? And that tour looked incredible. And I never thought blackbear, Heart Attack Man, and Waterparks on tour together would make as much sense as it did.
It may have looked strange on the outside. But if you were at that show, the vibes made perfect sense. I mean, I think blackbear loves all kinds of bands. So kind of putting it under that umbrella. And then he had variations of his songs at the shows where it was like, I guess more band-oriented. So the package made sense seeing it that way.
[The album] starts out with "ST*R FUCKER" and it's very much, I feel, like a mission statement for Intellectual Property and what Waterparks has been through the last decade of being a band now. 
It's crazy. We have to quit soon. 
[Laughs]
Why are you laughing? [Laughs]
Do not quit. You'll never quit. 
Oh. [Air quotes] okay. [Laughs]
But it starts off with that and then just beautifully flows into another song, "REAL SUPER DARK." And then three pop-bangers in a row right away. It's literally a rollercoaster of emotion going through the record. And I know, you probably spent so much time getting that tracklisting perfect.
Dude, you know I'm a nerd about that. Even if there's not technically a sonic transition there, it still has to flow perfectly. And then I love going as angry or crazy, and then bringing it way down and depressing and then picking it back up. It's ethereal and then it's fucking hard shit. And you're like, "Oh my God," and then you're like, "Pop banger to remind you we can do that." And it's like, "Oh my fucking god."
Even just the placement of the songs. I'm like, "Yeah, track seven belongs at track seven."
I go fucking nuts over that. Actually, even for Greatest Hits, Otto [Wood] flew out here and we had printed out all the songs on like little slips of paper. And we were like pushing them around on a board like, "Fuck." It was a very last-minute decision on the last album to make "Fuzzy" track two—was almost "Numb" for like, a year of making that. That was gonna be the opener. But getting to do that and play around with it. Because if you do a lyric call back thing too soon or in the wrong order, it doesn't land right. So there's a lot that goes into it. 
Of course. And if we could add one more title to Waterparks except for God's Favorite Boy Band, favorite band, the best band you know all those—it's call back kings. Talk about how important it is to keep the fandom and everything involved when it comes to call backs.
No, I mean, it's very important—it's world-building. Laying all those Easter eggs, planting those seeds, it just makes whenever the album does come out, and everything's kind of blooming, if you will, it just expands the universe so much. It makes, hopefully, people appreciate it more. I mean, it makes me appreciate it more. I'm the biggest fan. I'm the No. 1 Waterparks fan.
So I want to talk about the album artwork because I know there was something very significant when it came to the frog and also the red. Talk about the color scheme and the frog.
So, truthfully, I had so many different frog variations, I can actually probably show you. There's just so many variations. Okay, so, frogs have always been one of my favorite animals. I think they're so cool. I used to have one until my parents cooked it—rest in peace. And it was awful, very traumatizing. I learned while this was being made, albums getting wrapped up, that frogs their significance in a biblical context was it was like a very unclean, dirty. Metaphorically, of course, but like demonic and shit like that. They're sacrilegious. They were seen as like, plague and stuff. That's how they were always presented. And it's kind of how growing up, I've learned recently through therapy and all the shit, but how religion made me feel. So a lot of the album has to do with religious trauma, lyrically. And so that's kind of the way it ties in. And blue, for me, it's always been the color that I've identified with. As far as like early on, I guess in a more innocent way before the band got anywhere and I was living at home. From Cluster and Double Dare and all that, it was very blue-centric. Then I wanted [the frog] to be around this massive, bombastic, kind of aggressive, kind of hyper-sexual, violent, kind of red. It's very gritty and stuff on purpose. I wanted to be surrounding that blue frog here. That's the vibe.