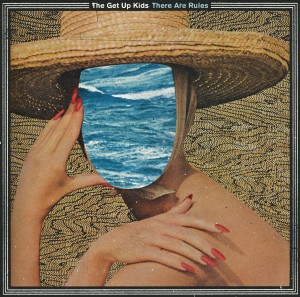 Seven years after the band released its last full length, these Kansas City emo darlings are back with There Are Rules. The Get Up Kids delivered us an EP in early 2010 after officially breaking up and parting ways with Vagrant Records in 2005.   Simple Science seemingly exploded into the Billboard Top 200 and with three more 12" EPs planned for 2010, the band was poised for a big year.   This plan was soon changed and the band recorded some more songs and combined those with the songs to be released on the three EPs into this full length.
One song that gave fans a glimpse of a return to upbeat pop-punk was "Your Petty Pretty Things" although "Keith Case" was the only song to make the final cut. The fact that no major or even indie label was behind this release and the band was able to do exactly what it wanted has led them to release this mash up of musical styles; blurring the line between indie, emo and alternative rock in a 12 song, 42 minute journey.
The Get Up Kids decided to release this, its fifth studio album, through its own Quality Hill Records and tabbed bob Weston to mix the album.   For those of you keeping score at home, the Shellac bassist also produced the band's debut album Four Minute Mile.   This can certainly be considered a return to the roots of the band.   Taken as a whole, this album does not sound very much like any other album this five-piece has previously released.   It is a combination of everything fans of The Get Up Kids love; Matt Pryor and Jim Suptic sharing lead vocal duties, the keyboard prowess of James Dewees, the precision of the percussion and beat provided by the Pope brothers as well as the aforementioned rawness of the debut.
Dewees provides a haunting backdrop to the album, quite reminiscent of this misery displayed on his two albums with Reggie and The Full Effect between time with his current band.   The urgency of Pryor's voice provides a feeling of nostalgia and reminds the listener that this is indeed the same band that released Something To Write Home About on tracks like "Regent's Court", "The Window Paris" and closer "Rememorable".   Then there are the tracks that sound cool, calm and collected as Suptic sings on "Automatic" and "Birmingham", which could be the best track on this album.
On this album, the music serves as a platter upon which the vocals of Pryor and Suptic are served.   For every type of Get Up Kids fan, there is something on this album for you; as mentioned earlier, it combines every memorable part from each of their four previous albums.   After a first listen through this album, it leaves you wanting more; but after several spins all you want to do is listen to it again.   The band has delivered yet again; so let us hope this is a sign of things to come. (4.0/5.0)
Make sure to pick up this album on January 25th and catch the band on tour with Miniature Tigers and Brian Bonz in February and March.