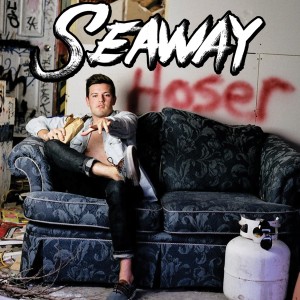 For the past year or so, people have constantly been raving about "revivals," from the recent surge of articles claiming emo's making a comeback to movements like "Defend Pop Punk" and "Pop Punk's Not Dead." Whether or not you think the revival is true or claim these genres never left in the first place, you can't deny there has been wave after wave of new bands enjoying newfound exposure and passion for the genre. Especially with the help of the internet, it's become easier than ever for local bands to make the jump to international renown. Seaway, a pop punk band from Ontario, Canada, are already establishing themselves as part of the next wave, with tours alongside fellow up-and-comers Knuckle Puck and Bellwether while garnering a decent amount of buzz online. Their debut album Hoser combines the best elements of pop punk, including earnest vocals and bright, catchy riffs, while still displaying enough diversity to hold its own.
The album starts off with "Expectations," a minute-long burst that displays the talents of every band member. Drummer Ken Taylor proves himself skillfully versatile right from the start, and the back-and-forth of Ryan Locke's rough vocals and Patrick Carleton's smooth vocals is extremely enjoyable. The entire first half of the record consists of spunky, energetic jams thanks mainly to Carleton and Andrew Eichinger's ability to compose multiple sunny guitar riffs essential to every pop punk record. "What's Really Good" and "Too Fast For Love" are two insanely infectious tracks with New Found Glory-esque guitar intros. Obviously no Canadian album is complete without a song built around a hockey metaphor – "Keep Your Stick On The Ice" is another fast-paced track, featuring a slight Taking Back Sunday vibe and a sing-along chorus.
Seaway could have written ten catchy, upbeat songs in a row and called it a day, but instead they use the rest of the album to show they're more than just another one-dimensional pop punk band. "Puddles," despite its relatively "cute" name, is the most punk song on the album. Barely over a minute long, it's a short chunk of relentless drumming with Locke's harsh vocals at the helm. On "Slowing Down," the band does just that, dipping the tempo for a bit with an acoustic intro before the electric guitars kick back in. The song showcases the vocals even more and includes a lyrically blunt bridge that would make blink-182 proud. The blink influences continue into the next song, "Shy Guys," one of the best songs on the record. The self-deprecating lyrics reminiscent of "First Date" guarantee that this song will become an anthem for awkward dudes reblogging images of the band's lyrics on Tumblr.
The record takes its biggest turn with "The Weight" featuring Shane Told of Silverstein. The song begins with slow, steady drumming and emo guitars before mellow vocals follow suit. The lyrics hint at some positivity but soon become downright sad as Locke sings, "Beat down and bitter / I made it through winter / Now I can see straight / But I can't believe in anything." Weaving through moments of melancholy and intensity, the heavily poignant song shows off a completely different side of Seaway that nobody would expect after listening to the first few songs. The album never truly recovers and closer "Deferral" is a passionate, driven track with a certain level of maturity absent in their previous songs.
Hoser starts off sounding like Seaway is just another pop punk band churning out riffs engineered for headbanging and summer; however as the album progresses, they really take the time to peel off the layers and reveal the depth of their music, exactly how a debut full-length should. With a track-listing that effectively makes the album feel more like a journey rather than just a random collection of songs, this record is sure to be the start of a promising, upward trajectory in the band's career.
 Rating: 4/5