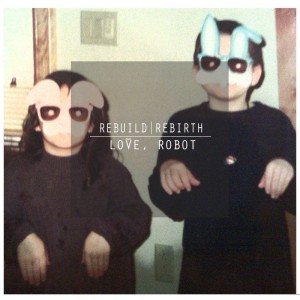 After a tumultuous time in the life of Love, Robot, the quartet has come out with Rebuild | Rebirth. The album is dripping attitude and energy, letting listeners feel the band's trials and tribulations through every song. This album opens the door for the audiences to see into the world of Love, Robot.
The band has two distinct voices: Alexa San Roman and Sean Murphy. Both have edgy, scratchy voices that add flavor to the band's alternative rock sound. "Rebuild" and "Avium" feature both of their voices as they tag-team the lyrics to create multi-layered tracks. Having more than one voice on each song sets Love, Robot apart from some other female-fronted bands.
Songs like "Criminal," "Common Wealth Avenue," and "Takotsubo" all have an abrasive tone that draws you in, even though "Common Wealth Avenue" is one of the softer tracks on the album. "Criminal" takes the other route, fast-paced and intense with plenty of in-your-face guitar riffs. "Dismantle, Destroy" and "Shinnecock" also have fantastic guitar lines that compliment the vocals like they're hitting on them. "Dismantle, Destroy" has a Brand New feel with the guitar and bass style, while "Shinnecock" takes a much more pop punk route. Love, Robot plays both types of music exceptionally well, working them both into a cohesive album.
Rebuild | Rebirth flows well between each track, keeping a level of energy even in slower songs. "Rebirth" and "Cucha" both have a much more mellow vibe when it comes to the instrumentals of the song, while they coax the energy out through the desperation in their voices. Listeners will be able to feel the emotions of the band members through their ability to translate them musically. "What Lies Between Your Skin and Your Bones" and "S.O.S." have a darker tone, displaying a much more melancholy side to the band; through sullen guitar pieces and downtrodden lyrics, they vent their frustration with past relationships. Fall of the Albatross vocalist Ray Hodge features on "There's So Much Beauty in a Storm," one of the most haunting tracks on the album. Each of Rebuild | Rebirth's songs have their own appeal, with a different attitude.
For some, listening to Rebuild | Rebirth might feel like they're reading someone's diary, as their lyrics sometimes take on a story-like quality. With some bands having such a personal tone it would detract from the music, but it only helps Love, Robot since the audience feels they get to know the band. Even through the throws of their hectic career lives, Love, Robot were able to take their experiences and turn them into an album worth putting on shelves.
Rating: 4/5