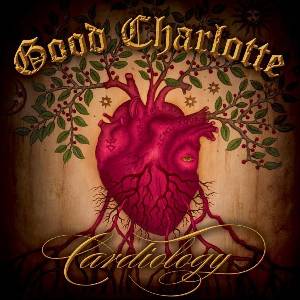 If it's still cool to like Good Charlotte, allow yourself to fall in love with this band all over again.   Cardiology is the fifth studio album and third with producer Don Gilmore, who the band also worked with on Good Charlotte and Good Morning Revival.   Gilmore helped this band return to the simple, catchy pop punk sound that was established on the debut self-titled album ten years ago.   Most of Cardiology has his fingerprints from the self-titled album all over it, although tracks like "Sex on the Radio" and "Like It's Her Birthday" unfortunately ooze his 2007 effort (the former sounding vaguely resembles a Reggie and the Full Effect beat).
The release date of November 2nd puts an end to a nearly two-year saga that included scrapping an entire album that had been produced by Howard Benson.   This album was also titled Cardiology but Benson, who has produced albums for Hawthorne Heights and My Chemical Romance among others, was mostly focused on creating a commercial success.   In a January 2010 blog post, Benji Madden stated "Deep down I just knew we needed to be in the studio with someone who understood the heart and soul of our band. And what that is, is you guys (the fans)."
Even though 15 songs sometimes can be too long for an album, it works well, even with the inclusion of "Interlude — The Fifth Chamber" which could be considered a bit of filler in the middle of the album.   The album seems to change gears after "Standing Ovation" and slow down, with the exception of the fun acoustic guitar driven Waldorf anthem "1979".   "Introduction to Cardiology" and "Let The Music Play" serve as an introduction to the album while "Cardiology" is an obvious and excellent outro from the 46 minute pop-punk journey through the trials and tribulations of primary lyricist Joel Madden's love life, "Cardiology is guiding you and me / through action, history and new technology / cardiology is a mystery".
The aforementioned love life is laid out for everyone to peer into on tracks like "Silver Screen Romance" and "Last Night".   The range of emotion portrayed spans from romantic "Let's make love all night / Forget about the prohibition / The Great Depression is over / Let's have a drink to that / We'll stay young forever living in a silver screen romance" to the late night party anthem that starts with "All that I remember is you had me at hello / I knew right when I met her that I would not take it slow".   It seems that whether he and the object of affection are out on the town or together, those intense emotions present themselves.   A whole different type of love is present on the obviously titled Harlow's Song (Can't Dream Without You)" is a simple ode to the daughter of Joel Madden and Nicole Richie.   The words that have been penned about the love in his life are no mystery, and the rest of his band mates allow him to share these thoughts with the fans.
The complementary vocal effort by guitarist Benji Madden and the percussion arrangements by Dean Butterworth make this the most complete Good Charlotte release to date.   The additional guitar work of Paul Thomas and Billy Martin, not to mention the key use of electronica (and not blatant overuse), round out a sound ten years in the making.   Good Charlotte was correct in waiting to create something the fans will enjoy.   It has been three years since these boys have released anything and it has been worth the wait because Cardiology has as much radio potential as The Young and The Hopeless but it retains the honest, raw sound that we all grew to love.
Rabid fan and occasional industry expert Lance Fiasco recently stated via twitter "Good Charlotte is living proof that pop music can be authentic."
This band is not built on commercial success, but focus on writing strong, heartfelt and fun songs that its fans can connect with and this is exactly what each and every track on Cardiology provides.   Good Charlotte has returned to prime pop punk form on this fifth studio album.   Just pretend this band never dove headfirst onto the dance punk bandwagon, head over to iTunes, buy the album and let the music play. (4.0/5.0)