FOR IMMEDIATE RELEASE
Contact:
Cynthia Tenicela
[email protected]
888-994-3624
Non-comm idobi Radio lands on Webcast Metrics ® Top 20 internet radio stations
idobi Radio, an independent modern rock broadcaster, takes on established powerhouses to land at #11 on Webcast Metrics ® ranking of top internet radio stations
WASHINGTON, DC, January 7, 2013 – idobi Radio (https://idobi.com/) lands at the #11 spot in Triton Digital's Webcast Metrics ® Top 20 Ranker, "a listing of the top-performing Internet audio stations," making idobi the most listened-to online modern rock outlet in the world. (http://ido.bi/triton201211)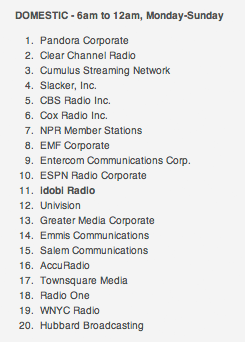 idobi Radio, independently owned and operated since 1999, has been on the cutting edge of modern rock music and programming since its inception. When terrestrial broadcasters became increasingly wrapped up in consolidation efforts, idobi Radio focused on music and programming. idobi Radio's TSL (Time Spent Listening) highlights the strength of that decision.
The idobi Radio audience is passionate about the music and shows they love to listen to. idobi has become a lifestyle with a dedicated audience, who ranks far above Clear Channel, Entercom, Emmis, and other traditional broadcasters (all desperately trying to enter the digital space). Despite major competition, idobi Radio is #1 for TSL in the entire world. This is credited to idobi Radio's forward-thinking music selection and original programming.
Programs like the hugely successful Man of the Hour (hosted by Simple Plan's Sébastien Lefebvre and Montreal's "Ça commence bien" social journalist Patrick Langlois), First Person with Josh Madden, The Gunz Show, Eddie Jason & Chris, and Rock The Walls provide the type of entertainment listeners crave but terrestrial stations no longer serve.
idobi Radio proves great original programming, allowing creativity to rule, and forecasting hit music develops a brand listeners are passionate about and love to listen to. A model of success that is no longer found on the FM dial. idobi picked up this strategy, ran with it, and shows no signs of stopping. idobi Radio is the future of broadcasting.
#############
About idobi Radio
idobi Radio (idobi.com) is a modern rock internet radio station providing a curated music experience focusing on new music and artists. The station's original programs include Man of the Hour, First Person w/ Josh Madden, and The Gunz Show. idobi Radio reaches a worldwide audience of over 2 million listeners every month.
About Triton Digital
Triton Digital (www.tritondigital.com) is the leading digital service provider to traditional and online radio with a rapidly expanding roster of media clients emerging from the television and print space. Our infrastructure, applications, and innovation are powering digital audience and revenue growth for clients around the globe. Our platform makes digital content extensible, personal, social, and profitable. Triton Digital is a portfolio company of funds managed by Oaktree Capital Management, L.P., a leading global investment management firm.
About Webcast Metrics ®
Webcast Metrics ® uses a proprietary platform to track audience data and convert it to audience metrics that can be easily understood by stations, publishers and advertisers. Audience rankings are done on the basis of "Average Active Sessions", with "Session Starts" and "Average Time Spent Listening" also displayed. Average Active Sessions (AAS) is defined as "Total Listening Hours (TLH) divided by hours in the reported time period." TLH is defined as the total number of hours that the station/publisher has streamed during sessions with duration of at least one minute in total within the reported time period. Session Starts (SS) is defined as "the number of different requests for streams (i.e., stream requests) with a duration of at least one minute in total within the reported time period. "Average Time Spent Listening (ATSL) is defined as "the average number of hours for each session with a duration of at least one minute in total within the reported time period. Calculated as total time spent listening divided by active sessions."