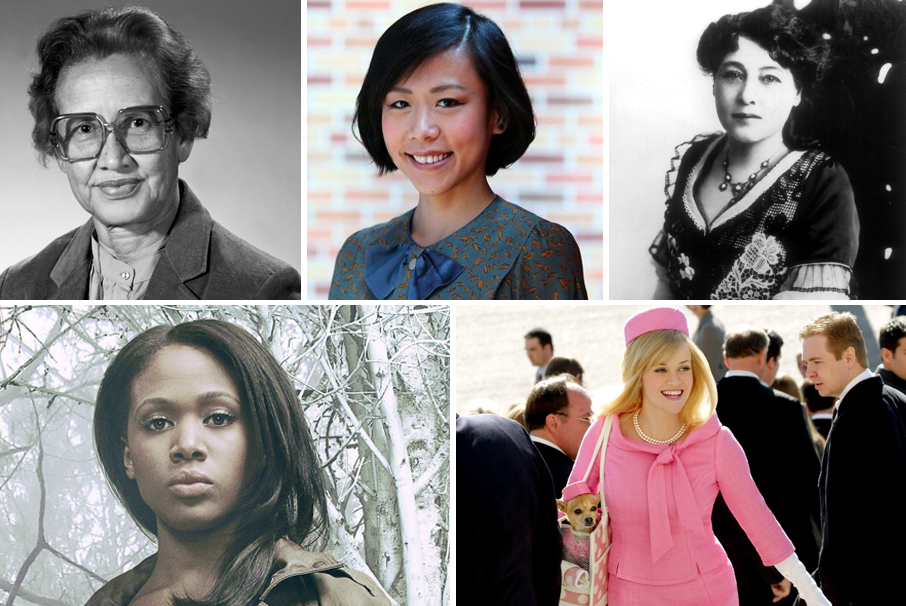 Clockwise from top left: Katherine Johnson (photo courtesy of NASA) // Domee Shi (photo courtesy of Disney) 
// Alice Guy-Blaché (photo: Apeda Studio New York - Collection Solax) // Legally Blonde (photo courtesy 
of MGM/Everett Collection) // Sleepy Hollow (photo courtesy of FOX)
Happy Women's History Month! Geek Girl Riot is celebrating by shouting out our favorite femmes…and calling out what needs to change.
Katherine Johnson + Domee Shi + Alice Guy-Blaché – She Did It!
To celebrate Women's History Month, we're shining a light on some of the women creators and innovators we love by throwing it back to our She Did It! segments. We honor the late great Katherine Johnson, then spotlight the filmmakers Domee Shi and Alice Guy-Blaché. These women remind us that everything boys can do, girls probably did first.
Heating Up Over Women in Deep Freeze
Brr. Winter is here with a vengeance—because our Rioters are talking about the refrigeration of female characters. Take a minute to think: How many women have been killed or harmed in some way simply to progress a man's storyline? Yeah, we'll bet you're ticking off a whole long list. Sparked by an essay and list from Gail Simone called 'Women in Refrigerators', Sherin, Day, Erin, and Soma dig into all the times female characters have been tossed aside (read: brutally murdered or attacked) in TV and movies just to further the male protagonist's journey.
Feelin' Fabulous with Femme Powered Films
There are so many femme-powered films that inspire us and you know what that means: It's time to update your watchlist! Hear Sherin, Day, and Alex give just a few of their picks that celebrate all things femme & fabulous.

Photos via Modcloth on Instagram. Keep scrolling for a sweet deal!
We're loving the look and feel of Modcloth! Their vintage-inspired pieces are so pretty and their inclusive size range celebrates all women. We want you to feel fabulous too: Get 15% off your purchase of $100 or more INCLUDING sale items, go to modcloth.com and enter code ggriot at checkout. Promo code can not be combined with other offers.
Tune in to Geek Girl Riot on idobi Radio every Tuesday at 11pm ET / 8pm PT for your dose of late-night geekery from our team of rioters. 'Til next time, see a list of everything our Rioters talked about below:
LINKS:
–  Elfquest
– Supernatural
– NCIS
– Batgirl
– Batman: The Killing Joke – Alan Moore, Brian Bolland
– Sherlock
– Sleepy Hollow
– The Heroic Trio
– 10 Things I Hate About You
– Mad Max: Fury Road
– The Hunger Games
– Black Panther
– Pariah
– Legally Blonde
– Miss Fisher's Murder Mysteries
– The Bletchley Circle
– The Handmaid's Tale
– Game of Thrones
– The Professional
– Logan
– Heathers
– The Craft
– Hidden Figures
– Pitch Perfect
– The Hustle
– Dirty Rotten Scoundrels
– The Expanse
– The Umbrella Academy
– A Fantastic Woman
– Tangerine
Podcast: Play in new window | Download