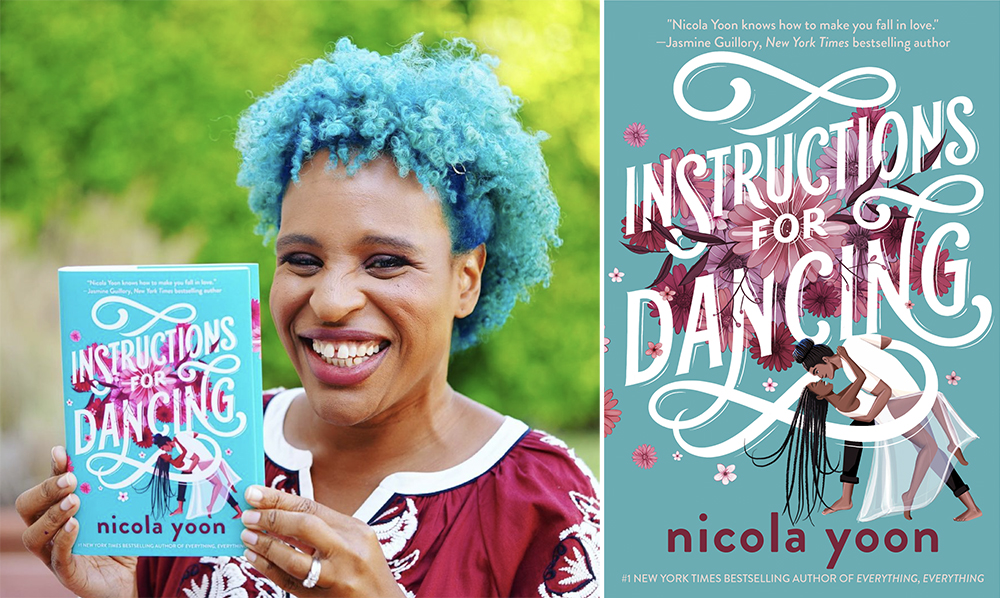 Photo via Instagram
Instructions for Dancing is out now & ready to steal your heart, which means the always wonderful Nicola Yoon is back on Geek Girl Riot to talk all about it and more. Dive into her second Whachudoin'? episode, complete with three Love Song selections from Nicola herself (keep scrolling to listen!).
Instructions for Dancing
Nicola chats with Sherin about her new novel and what drew her to this story. She also gets into how she met her husband David (who is another beloved author!), how love comes into play in her writing, and how love & loss are so deeply intertwined. Nicola shares the questions she was asking when she wrote Instructions for Dancing and what she wants readers to think about as they go into the love story.
▶ Song #1: The Magnetic Fields – "The Book of Love"
Joy Revolution
Next they talk about what it means to love and how you deserve a great romance that makes you love yourself too. Then they get into Joy Revolution, Nicola & David's YA imprint at RandomHouse Children's Books. That leads them to discussing the importance of seeing joyful stories with BIPOC heroes.
▶ Song #2: Death Cab for Cutie – "I Will Follow You Into the Dark"
Blackout + Tea Time
Nicola talks about Blackout, the new collection of interconnected stories she wrote with the other fabulous authors Dhonielle Clayton, Tiffany D. Jackson, Nic Stone, Angie Thomas, and Ashley Woodfolk. (She also shares what her superpower would be in this supergroup of awesome women!) Nicola then gets into what she's been loving lately and what she hopes the future will hold now that lockdown is easing.
▶ Song #3: Kendrick Lamar – "LOVE" 
Instructions for Dancing is out now AND Blackout is out June 22nd!
Tune in to Geek Girl Riot on idobi Radio every Tuesday at 11pm ET / 8pm PT for your dose of late-night geekery from our team of Rioters. 'Til next time, see a list of everything our Rioters talked about below:
—
Nicola Yoon's Love Song Picks:
—
LINKS:
 – Everything, Everything – Nicola Yoon
 – The Sun is Also a Star – Nicola Yoon
 – Instructions for Dancing – Nicola Yoon
 – Playing By Heart
 – Cinderella
 – Blackout – Nicola Yoon, Dhonielle Clayton, Tiffany D. Jackson, Nic Stone, Angie Thomas, Ashley Woodfolk
 – Elfquest
 – The Brown Sisters books – Talia Hibbert
 – Shadow and Bone
 – Shadow and Bone trilogy – Leigh Bardugo
 – Six of Crows – Leigh Bardugo
 – Small Axe "Lover's Rock"
Podcast: Play in new window | Download