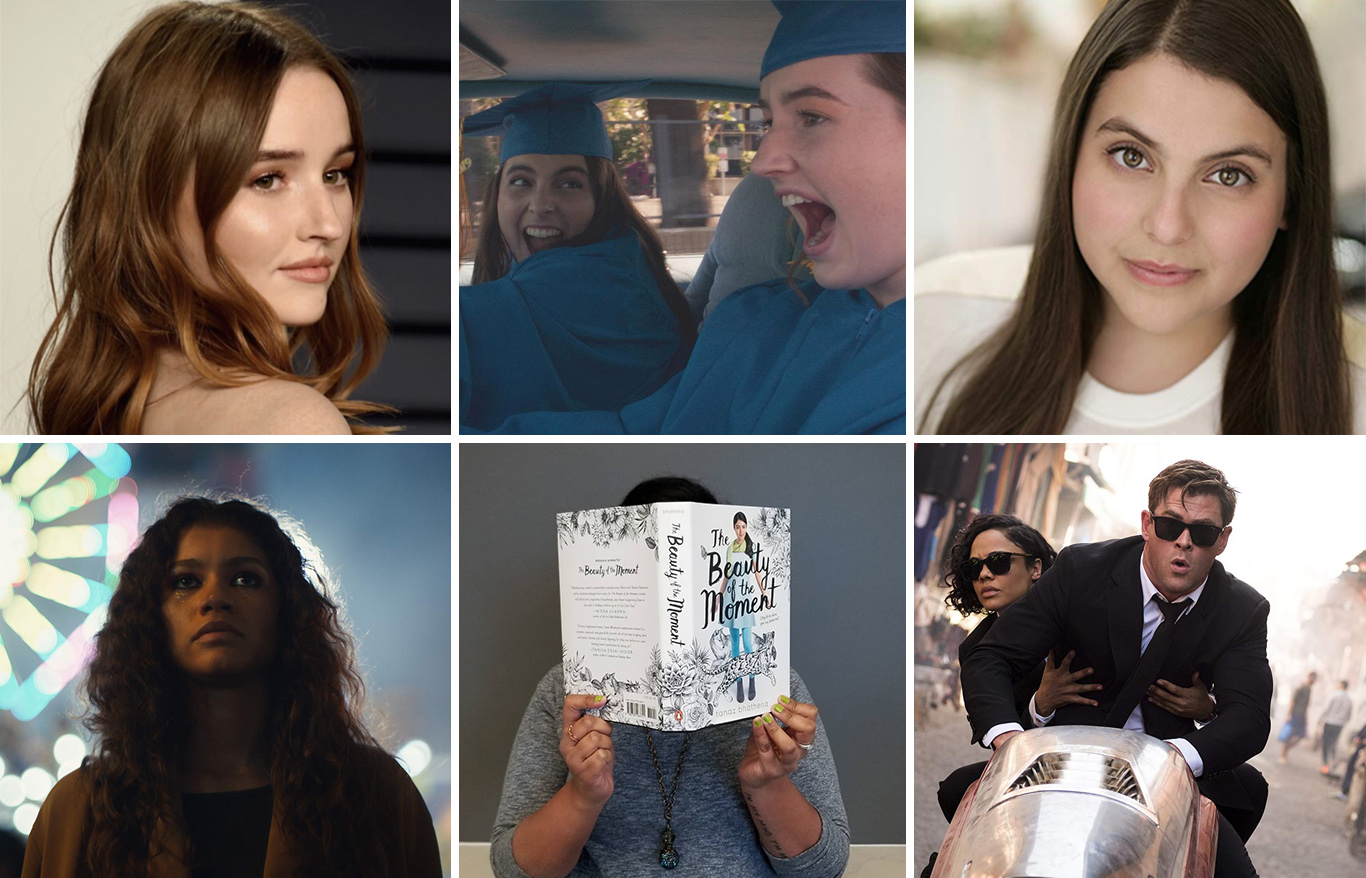 Top row L-R: Kaitlyn Dever (photo © Gregg DeGuire/FilmMagic) // Booksmart (photo: Annapurna 
Pictures) // Beanie Feldstein (photo by Laura Rose Photography)
Bottom row L-R: Euphoria (photo © HBO 2019) // Rioter Sam reading The Beauty of the Moment by 
Tanaz Bhathena (photo via Instagram) // Men In Black: International (photo by Giles Keyte 
- © 2018 CTMG, Inc.)
On the latest Geek Girl Riot we share what we're watching, then we chat to Booksmart stars Kaitlyn Dever and Beanie Feldstein. We also give you some new YA reading recs!
Hey you! You gotta see this!
Sherin and Alex spend a lot of their time as critics watching all the new TV and movies coming out so they can report back to you. They talk what they're loving and what has caught their attention—including Euphoria, Men In Black: International, L.A.'s Finest, and a whole lot more.
In the Chat Lounge with Booksmart's Kaitlyn Dever + Beanie Feldstein
Booksmart is the coming-of-age comedy that will steal your heart. Sherin sat down with the film's two leading ladies Kaitlyn Dever and Beanie Feldstein, who play best friends Amy and Molly, to get you hyped for Booksmart. They break down their characters, what it was like working with such an incredible female-driven script, and their friendship offscreen and on.
Time to Update Your YA Reading List
You know how much we have heart-eyes for YA and we know y'all do too. That's why our resident YA Rioter Sam is bringing you all the latest novels you need to read next (see the list below):

From Geek Girl Riot's Everlane collection: The Wool Academy Blazer, The Modern Chelsea Boot, 
The Drape Trench Coat
We love looking & feeling fabulous and we want you to be fabulous too! Everlane brings you premium essentials made from the finest materials—all with transparent pricing. That's why we've got a special deal for you. Brought to you by Everlane. Check out our personalized collection at everlane.com/ggriot. Plus, you'll get free shipping on your first order!
Tune in to Geek Girl Riot on idobi Radio every Tuesday at 11pm ET / 8pm PT for your dose of late-night geekery from our team of rioters. Til next time, see a list of everything our Rioters talked about below:
LINKS:
– L.A.'s Finest
– Bad Boys
– Grown-ish
– The Handmaid's Tale
– Men In Black: International
– Taken
– Men in Black
– Euphoria
– Pose
– Patriot Act with Hasan Minhaj
– Mr. Iglesias
– Latin History for Morons
– The Rook
– The Rook – Daniel O'Malley
– Curfew
– The Purge
– Fast & Furious
– The Secret Life of My Secretary
– The Sun is Also a Star – Nicola Yoon
– Everything, Everything – Nicola Yoon
– The Beauty of the Moment – Tanaz Bhathena
– Once Upon a Time Machine – Andrew Carl
– Bunner's Bakeshop, Toronto
– Naruto
– My Girlfriend is a Gumiho
– Wicked Fox – Kat Cho
– The Princess and the Fangirl – Ashley Poston
– Geekerella – Ashley Poston
Podcast: Play in new window | Download