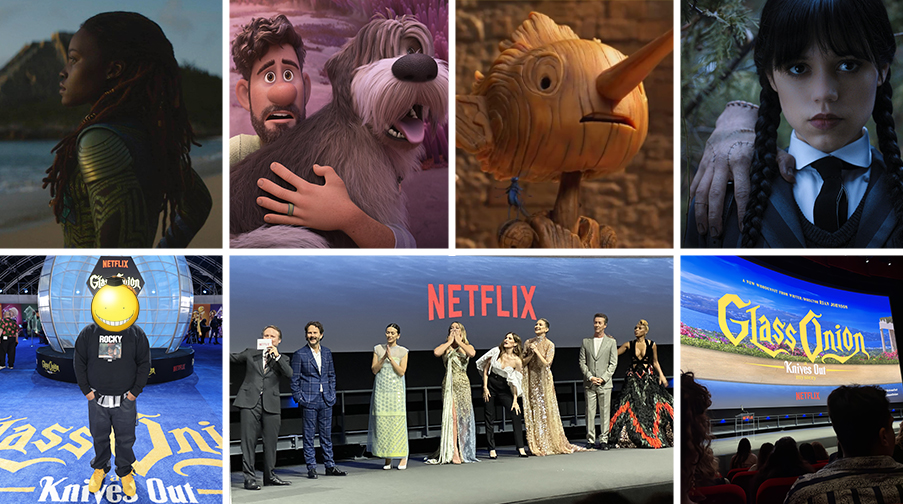 We have so many shows & movies to talk about this week Geek Girl Riot is coming at'cha with some rapid-fire segments on Wakanda Forever (and the Marvel Process), Strange World, Guillermo del Toro's Pinocchio, Glass Onion, and Wednesday.
Wakanda Forever + Strange World
Now that Black Panther: Wakanda Forever is officially out, Sherin, Julian, and Philip let loose and share some of their hot takes they couldn't say before. In particular, they ask what is up with Marvel making villains that some people think aren't really all that bad (um, what?). 
Then they dive into Strange World, the wonderful new Disney animation about a legendary family of explorers, out today! Sherin says, "My new favorite story-time, Strange World is a magnetic SF action-adventure and an allegory for our world (with jokes and familial ties that make your chest feel feelings)."
"A 1930s-styled adventure that left me sighing with satisfaction (and your family will too)."–Sherin Nicole
Guillermo del Toro's Pinocchio + Glass Onion
There's another Pinocchio film coming out and this one might just be well worth your time. Our Rioters discuss the animation and storytelling, with Sherin saying, "del Toro, del Toro, del Toro, this is what I've been missing, a take on a classic that refuels it with wonder. This Pinocchio invites us to explore the meaning of and our love for this property with excitement for the first time or all over again."
Then our hosts get you fired up for Glass Onion, the highly anticipated sequel to Knives Out. Julian attended the LA premiere with the cast and creators—he tells us all about it before he and Sherin tease what to expect. Sherin says, "A sizzling spectacular of a whodunit with a labyrinth of twists that makes you lean in to decipher not who or why but how messed up these people are, and all the clues were there all along."
Wednesday
Alex jumps on with Sherin to bleed their emo hearts out about the new Netflix spooktacular series Wednesday, focusing on the beloved murderous marauder Addams daughter. They get into the highs & lows of the show, the cast and characters, and how the series pays homage to the original stories. Sherin says, "Although Gomez and Morticia are too tame, Wednesday is ferocious with a flair for the memeable & the macabre that leaves a mark and quickly becomes infectious."
Tune in to Geek Girl Riot on idobi Radio every Tuesday at 11pm ET / 8pm PT for your dose of late-night geekery. 'Til next time, see a list of everything our Rioters talked about below:
LINKS:
 – Wakanda Forever
 – Strange World
 – Guillermo del Toro's Pinocchio
 – Glass Onion: A Knives Out Mystery
 – Wednesday
 – Black Panther
 – She-Hulk: Attorney at Law
 – Journey to the Center of the Earth
 – 20,000 Leagues Under the Sea
 – Raya and the Last Dragon
 – Lightyear
 – The English
 – Trolltopia
 – Guillermo del Toro's Cabinet of Curiosities
 – Pinocchio (2022)
 – Shazam!
 – RoboCop
 – Bridgerton
 – James Bond
 – Layer Cake
 – Spider-Man 2
 – Smallville
 – I Am Number Four
 – Into the Badlands
 – The Shannara Chronicles
 – Chilling Adventures of Sabrina
 – The Addams Family
 – The Addams Family comic
Podcast: Play in new window | Download