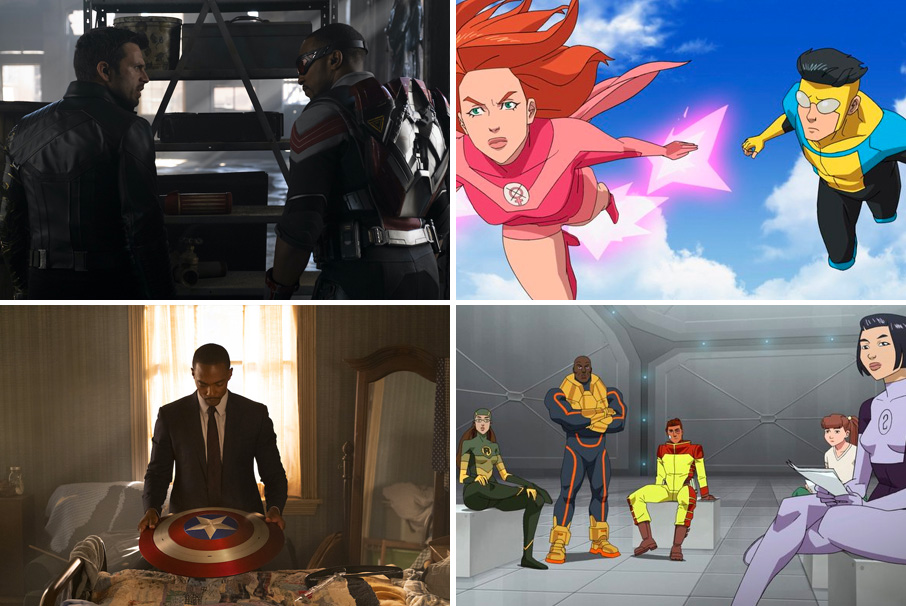 L: The Falcon and The Winter Soldier (

photos by Chuck Zlotnick © Marvel Studios 2020) // R: Invincible 
(photos courtesy of Amazon Studios)
We're ringing that spoiler siren because Geek Girl Riot is diving all the way into The Falcon and The Winter Soldier AND Invincible. Yup, put your fists up and come get rowdy with us, 'cause both these shows fight hard, fast & dirty.
Black Falcon Captain America and Buck the White Wolf 'cause Winter Is Over
Sherin, Julian, Alice, Mae, and Philip step into the ring to share their main thoughts about The Falcon and The Winter Soldier, streaming now on Disney+. Did the show meet expectations? And what the hell happened to the storytelling in the third act? Y'all, these questions bring up a lot of issues our Rioters have with Marvel and that makes for one hell of a discussion. 
Parker Lewis Can't Lose but Mark Grayson Stays Slipping
Get out your plushy unicorns and put on your David Bowie socks because you're gonna need comforting after watching Amazon Prime's Invincible. Our hosts get into the hyper-violent superhero action and discuss why certain changes from comic to screen did or didn't work—yep, that includes calling out some lazy writing when it comes to characters' cultural backgrounds. It also includes why they think this series has the capacity and world building to stick around for a few seasons—so y'all better be watching.
MasterClass:
Photos via 

MasterClass

 - keep scrolling for a sweet deal!
Knowledge is power and Geek Girl Riot knows the true value of that, which is why we're teaming up with MasterClass to get you inspired. MasterClass offers up virtual classes on a huge range of topics taught by the world's best & brightest—so you can study and achieve your goals anytime, anywhere. Get unlimited access to EVERY MasterClass AND get 15% off an annual membership at masterclass.com/ggriot 
—
Finding You:

Photos: Anthony Courtney / courtesy of Roadside Attractions
Looking for a new romantic drama rec? Dive into Finding You, about an American violinist who travels to Ireland to study abroad, find herself and her music again, and maybe fall in love. When she meets a heartthrob actor, sparks fly. Ooh, make plans now to bring a friend, a family member, or your SO to see Finding You only in theaters May 14th. For more information or to find a theater near you, visit findingyouTHEmovie.com
—
Tune in to Geek Girl Riot on idobi Radio every Tuesday at 11pm ET / 8pm PT for your dose of late-night geekery from our team of rioters. 'Til next time, see a list of everything our Rioters talked about below:
LINKS:
 – The Falcon and The Winter Soldier (read Sherin's review | read Julian's review)
 – Invincible (read Julian's review)
 – Captain America: Civil War
 – Snowfall
 – Game of Thrones
 – Battlestar Galactica
 – WandaVision
 – Iron Man
 – Black Panther
 – Avengers: Endgame
 – Spider-Man: Homecoming
 – Invincible – Robert Kirkman
 – The Walking Dead – Robert Kirkman
 – Dragon Ball Z
 – Madame Butterfly
 – Miss Saigon
 – The Boys
 – Justice League
 – The Umbrella Academy
Podcast: Play in new window | Download