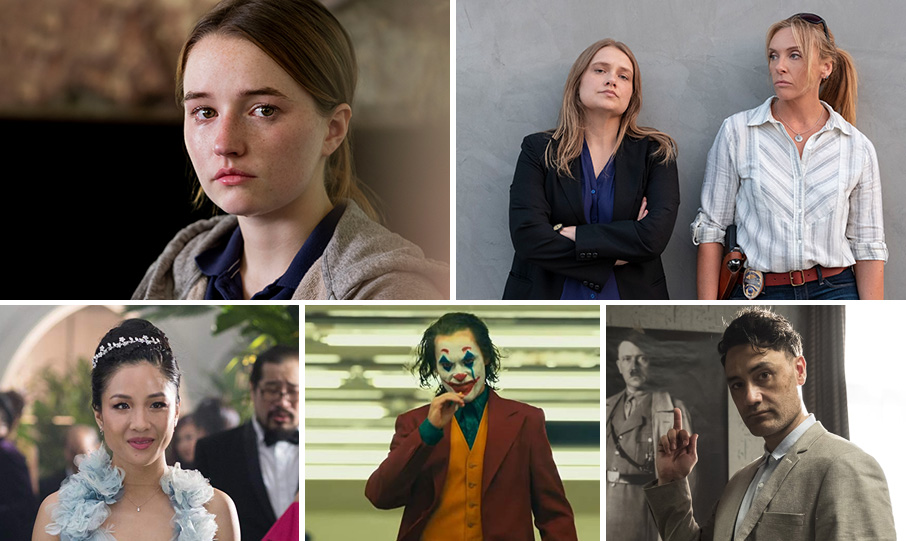 Top row: Unbelievable (photo credits: Beth Dubber/Netflix) // Bottom row L-R: Crazy Rich Asians 
(photo by Sanja Bucko - © 2017 Warner Bros. Entertainment Inc. and SK Global Entertainment) 
// The Joker (photo © Warner Bros) // Jojo Rabbit (photo © 2018 Fox Searchlight)
This week on Geek Girl Riot we talk Unbelievable, food delivery services, and the latest news.
Netflix's Unbelievable
Unbelievable tells the story of a group of women, connected by a terrible event in their respective lives. They've all been brutally raped by someone who is always one step ahead of the police. Sherin, Alex, and Sarah share their feelings about the show, which is an incredible but intense watch that is brilliantly acted and deeply moving. Warning: There is discussion of rape and abuse in this segment—if you do not wish to hear it, please skip ahead to 14:45s. Unbelievable comes to Netflix on Friday.
Food Services that Deliver (and Those that Don't)
We all love to use delivery services. Let's be real, getting food delivered right to your door is the dream. But sometimes these services go wrong (and sometimes they go terribly wrong—looking at you, Uber Eats). Our Rioters discuss the pros and cons of using these services and wonder just how much training goes on behind the scenes.
What's On Our Minds
There has been a lot of news this week and our Rioters share the stories that are on their minds. They discuss a new update about Mac Miller's tragic passing, then get into Crazy Rich Asians' crazy pay dispute. To close us out, the trio talk The Joker, Jojo Rabbit, and why humanizing villains can be dangerous.

Left: BetterHelp // Right: Care/of
Care/of:
Staying healthy has never been so easy thanks to Care/of! This subscription vitamin service delivers personalized vitamin & supplement packs each month with tailor-made packaging (complete with cute inspirational messages!). Get 25% off your first month of personalized Care/of vitamins with the code GGRIOT at TakeCareOf.com.
—
BetterHelp:
We want you to make sure you look after your mental health so we've teamed up with BetterHelp to make sure you have the tools you need. BetterHelp is the largest online counseling platform worldwide. You can receive professional counseling anytime, anywhere, through a computer, tablet or smartphone—ensuring you can always be your best self. Get 10% off your first month when you head to betterhelp.com/GGRIOT.
Tune in to Geek Girl Riot on idobi Radio every Tuesday at 11pm ET / 8pm PT for your dose of late-night geekery from our team of rioters. Til next time, see a list of everything our Rioters talked about below:
LINKS:
 – Unbelievable
 – The Good Place
 – 13 Reasons Why
 – Euphoria
 – Patriot Act with Hasan Minhaj – 'America's Deadliest Drug: Fentanyl' episode
 – Crazy Rich Asians
 – The Joker
 – Beowulf
 – Ted Bundy Tapes
 – Extremely Wicked, Shockingly Evil and Vile
 – Demon Slayer: Kimetsu no Yaiba
 – L'Éntranger – Albert Camus
 – Jojo Rabbit
Podcast: Play in new window | Download