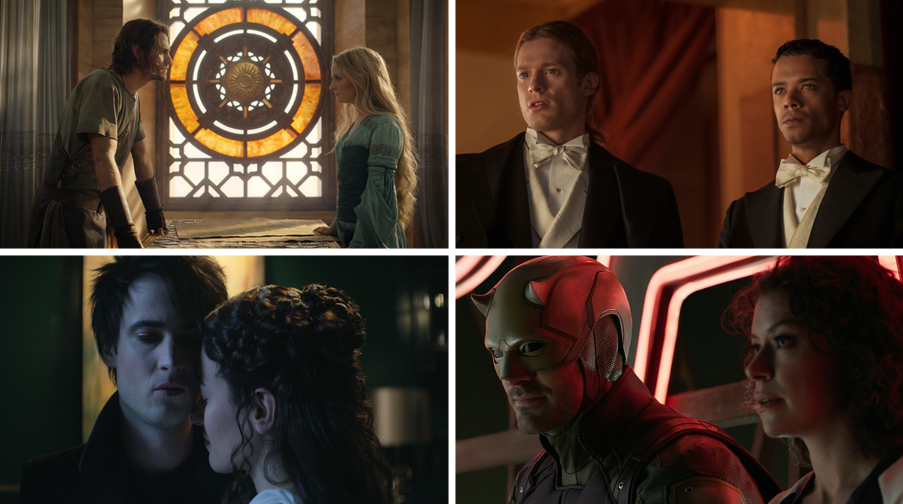 Geek Girl Riot is here with a TV binge-watch update before revisiting the Sandman universe, which leads to a conversation about femme empowerment.
TV + Tributes
Sherin and Alex kick off the show with the TV that's got 'em talking this week. First, Sherin dives into the deliciousness of Interview with the Vampire: "Louis is starting to get used to being a vampire—balancing his humanity and his new state of being—and in this episode, he leans into it…it's a good show but gotdamn, is it bloody."
Next up Alex tells Sherin her thoughts on The Rings of Power so far and her theories on who Sauron is (maybe the real Sauron is the theories we made along the way). Then they both mark themselves safe from She-Hulk, with Sherin saying, "She-Hulk: Attorney at Law is like a nausea flavored jelly bean—it should be sweet but only makes you sick." That leads them to taking a couple of drive-by shots at House of the Dragon before showing some love to The Equalizer.
Our Rioters close out the segment by paying tribute to the much beloved Angela Lansbury who recently transcended. They also discuss director Bassam Tariq's departure from the upcoming Blade movie and Marvel's decision to change up their (release) timeline.
The Sandman
GGR jumps back into The Sandman universe to revisit our numerous and ever-expansive chats on the new series. Sherin and Julian share their hot takes on the storytelling, visuals, and what they're loving, dipped in plenty of comics knowledge.
More Sandman + She-Hulk vs. Ally McBeal
Next up Sherin and Alex tease The Sandman's bonus episode about Calliope, the great muse who has her agency stolen—and reclaimed. They talk about the difficult topics that the episode covers with delicate finesse (and how other shows should take notes).
This leads our Rioters to compare She-Hulk and Ally McBeal, two series about strong lawyers who break the fourth wall. However, there are some major differences in execution when it comes to femme empowerment, which Sherin, Alex, and Philip get into (which turns them an angry shade of green).

It's clear how much we love Neil Gaiman and The Sandman, which is why we're delighted to be sponsored by the new Audible Original The Sandman: Act III. Starring James McAvoy, Kat Dennings, Jeffrey Wright, and more, along with Act III additions David Harewood, KJ Apa, and Wil Wheaton! In Act III, we follow Morpheus on a grand journey to take care of family business. But in his search for his estranged brother, Destruction, Morpheus just might bring those forces upon himself…
Go deeper into The Dreaming:
Listen to The Sandman: Act III now, only on Audible.
—
Tune in to Geek Girl Riot on idobi Radio every Tuesday at 11pm ET / 8pm PT for your dose of late-night geekery. 'Til next time, see a list of everything our Rioters talked about below:
LINKS:
 – Interview with the Vampire
 – Bad Sisters
 – The Rings of Power
 – She-Hulk: Attorney at Law
 – Daredevil 
 – Vampire Academy
 – House of the Dragon
 – The Equalizer
 – Blade
 – The Sandman
 – The Sandman – Neil Gaiman, Sam Kieth
 – Animaniacs
 – John Constantine
 – Hellblazer
 – Swamp Thing
 – Doom Patrol
 – Animal Man
 – The Golden Child
 – Game of Thrones
 – Doctor Who
 – Good Omens
 – 100 Bullets
 – Y: The Last Man
 – Lucifer
 – 'The Sandman Changed Calliope's Story, And It's A Big Deal' – Amelia Emberwing, IGN
 – Ally McBeal
 – She-Hulk: Attorney at Law
 – 'Whose Shulkie is This? Thoughts on She-Hulk: Attorney at Law' – Sherin Nicole
 – Jessica Gao Interview: She-Hulk – Screen Rant
Podcast: Play in new window | Download