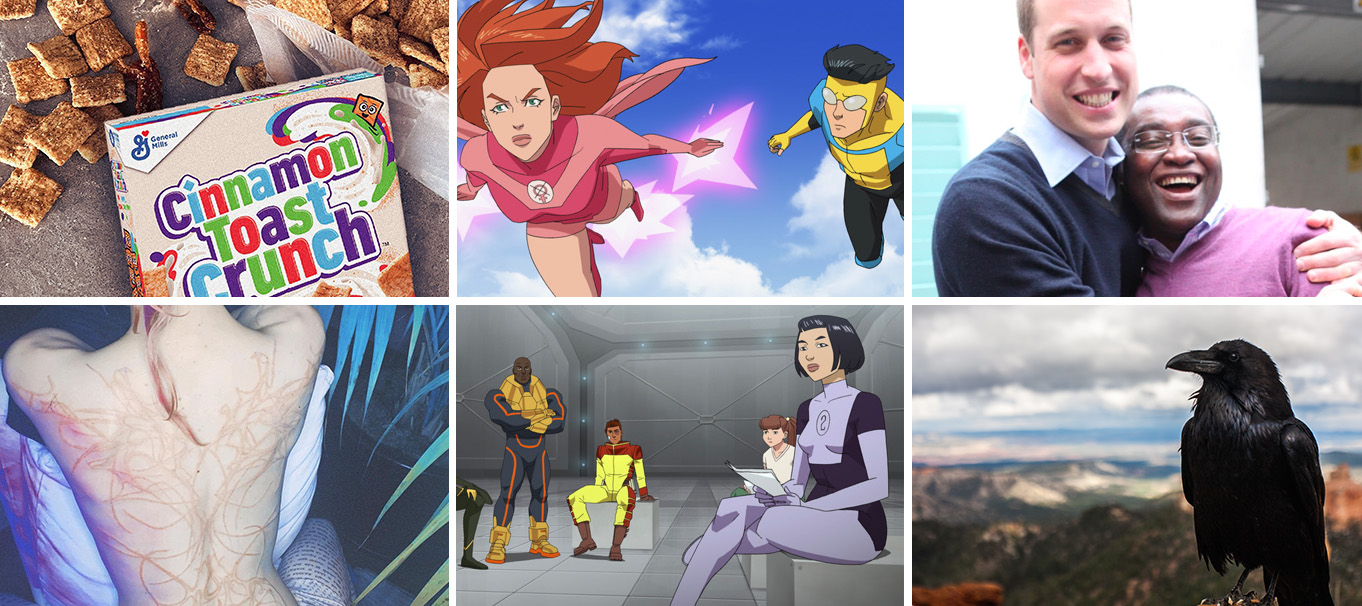 L:  Cinnamon Shrimp Toast (photo via Twitter) // Grimes (photo via

 

Instagram

) // Middle: Invincible 
(photos courtesy of Amazon Studios) // R: Prince William and Seyi Obakin (photo: Harriet Armstrong) // 
A very hungry raven (photo via

 

Unsplash

)
Who's ready for a remix reload Geek Girl Riot featuring two of your fave topics? We revisit some of 2021's biggest trainwrecks, before ringing that spoiler siren and getting into Invincible.
Trainwrecks Round #1
Hey 2021, you good? This year keeps serving up trainwrecks…which means our Rioters have gotta call 'em out. Sherin and Alex are joined by idobi's Aud Lew to talk Cinnamon Shrimp Toast, bizarre Medium articles, Prince William's "new" Black friend, and NBC's representation mess-up.
Trainwrecks Round #2
Philip jumps on with Sherin and Alex to dig into some of wackiest news the world has to offer. Our Heroic Trio take a look at Staples Center's nonsensical new rules, before discussing Samoa's ridiculously long election (that has finally led to the country's first woman prime minister!), and cheering on a very hungry raven. Yup.
Parker Lewis Can't Lose but Mark Grayson Stays Slipping
Amazon Prime's Invincible has been blowing our minds and making us cuddle our unicorn plushies for comfort BUT we adore it! Whew! Sherin, Julian, Alice, Mae, and Philip dive into the hyper-violent superhero action and break down the social commentary that makes the show so enthralling. They also call out the lack of depth in the lead characters' cultural backgrounds. With that said, our Rioters think this series has the world building and storylines to be a hit for several more seasons—keep listening to find out why.

Photos via Credit Karma - keep scrolling to find out more!
We know y'all love to shop, which is why we've teamed up with Credit Karma! With a Credit Karma Money Spend account, you can be rewarded for good money habits—which means you could win cash reimbursements for debit purchases. Go to creditkarma.com/winmoney to open your free account and start winning Instant Karma. 
Instant Karma is sponsored by Credit Karma. NO PURCHASE NECESSARY. Exclusions and terms apply. See Rules. Banking services provided by MVB Bank, Inc., Member FDIC. Maximum balance and transfer limits apply.
—
Tune in to Geek Girl Riot on idobi Radio every Tuesday at 11pm ET / 8pm PT for your dose of late-night geekery from our team of rioters. 'Til next time, see a list of everything our Rioters talked about below:
LINKS:
Resources:
Campaign Zero
Color of Change
Black Lives Matter
Black Visions Collective
ACLU
Black Women's Blueprint
Ways You Can Help
From the show:
 – Cinnamon Shrimp Toast saga
 – Boy Meets World
 – Girl Meets World
 – 'Don't Call Me Junior' – Madi Getgood
 – Prince William:  Black Friend Initialized
 – Wallace and Gromit
 – Prince William voted sexiest bald man
 – NBC's Meet the Press panel on anti-Asian racism
 – Iron Fist
 – Ghost in the Shell
 – The Great Wall 
 – Dragon Ball Z
 – Doctor Strange
– Neil deGrasse Tyson's beef with Steak-umm
 – Staples Center's new rules
 – Grimes' new alien tattoo
 – J-Lo and A-Rod break up
 – A very hungry raven
 – A white-run company acting like they invented Dolgona coffee
 – Fiame Mata'afa potentially become Samoa's new prime minister
 – This Land is My Land video game
 – Invincible (read Julian's review)
 – Invincible – Robert Kirkman
 – The Walking Dead – Robert Kirkman
 – Dragon Ball Z
 – Madame Butterfly
 – Miss Saigon
 – The Boys
 – Justice League
 – The Umbrella Academy
Podcast: Play in new window | Download