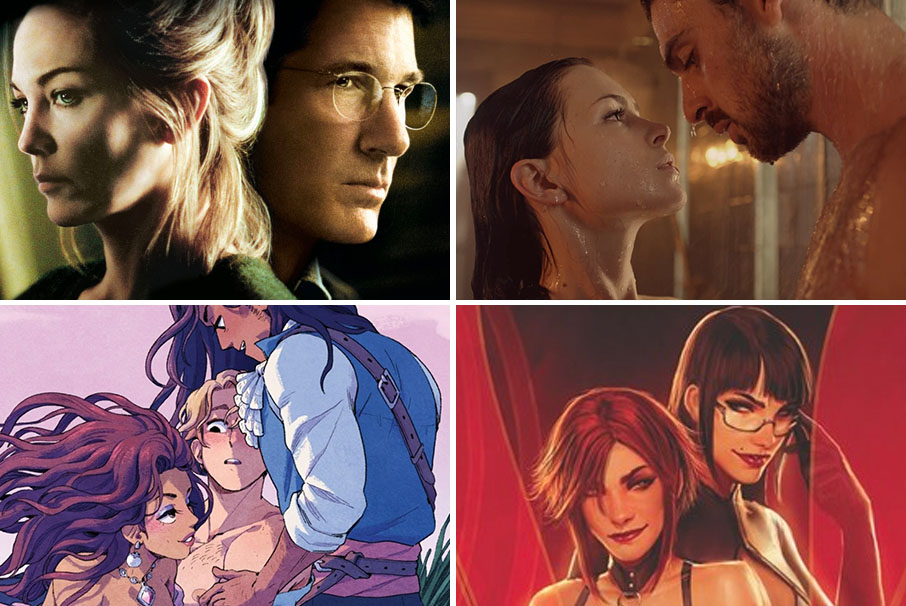 CW from top left: Unfaithful // 365 Dni (photo: Netflix) // Sunstone (image via 

Image Comics

) 
// Smut Peddler Presents: Sordid Past (photo via Instagram)
Curl up and get ready for some steamy erotica recommendations with the latest Geek Girl Riot.
Let's Talk About Sex, Baby
Sherin, Philip (AKA Pleasure P…we know), and Renee heat up the episode by sharing what being sex positive means to them. They also break down the different levels of consent and enjoyment. Then they talk about why you don't have to be into certain things if you don't want to—and you shouldn't judge others if they are (so long as everyone involved is fully consenting and feels good about it). Our Rioters also look at the differences between erotica and porn and why it's okay to enjoy both (or just one, or neither)! No judgement here, only a whole lotta fun.
Our First Erotica Thrill
Next it's time to throw it back to when our Rioters first discovered erotica. From sneaking in books under the covers to stumbling across some late night gems, they dive into what got them hooked on romance. Yup, it's time to reminisce and rediscover some old flames.
Our Fave Steamy Flicks
Prepare to update your binge-lists as Sherin, Philip, and Renee share some of their favorite erotica stories from television, film, and literature. These titles run the whole spectrum of love, romance, and sexuality so there's bound to be something (or many things) for you to enjoy. Whew, is it getting hot in here or what?
(Keep scrolling for a full list!)
Adam and Eve: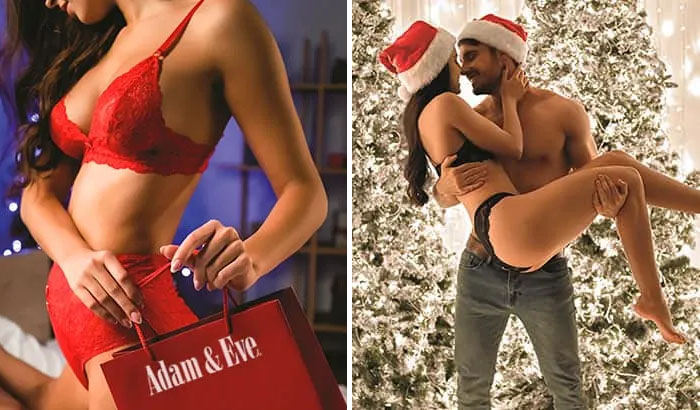 Photos via adamandeve.com
If you're ready to get even more steamy, Adam and Eve is here for you—and they have a bunch of FREE goodies to give you along with your purchases! Select almost any item for 50% off and, on top of that, Adam and Eve will load on the free extras. Enter offer code GGRIOT at checkout, and get 10 tantalizing FREE gifts. A sexy item for him, a special gift for her and a 3rd  item you'll both enjoy PLUS 6 FREE spicy movies! Oh, and free shipping too!
—
Bokksu:
Photos via Instagram
It's snack time with Bokksu! They deliver a monthly Japanese snack box right to your door, packed with tasty treats and flavors. The snacks come from all over Japan via family-run businesses (in super-cute packaging!). Get your authentic Japanese snacks today by going to bokksu.com to experience the tastes of Japan. Plus, sign up for their mailing list and get $5 off!
—
Tune in to Geek Girl Riot on idobi Radio every Tuesday at 11pm ET / 8pm PT for your dose of late-night geekery from our team of rioters. 'Til next time, see a list of everything our Rioters talked about below—keep scrolling to see individual breakdowns of our Rioters' picks:
LINKS:
 – Fifty Shades of Grey – E. L. James
 – Fifty Shades of Grey
 – Lady Chatterley's Lover – D. H. Lawrence
 – Emmanuelle in Space
 – Beauty series – A.N. Roquelaure
 – Story of O – Pauline Réage
– Story of O
 – Marketplace trilogy – Laura Antoniou
 – Warrior's Woman – Johanna Lindsey
 – Danielle Steel
 – Tessa Dare
 – Shogun's Agents – Akahige Namban
 – 365 Dni (365 Days)
 – The Hunger
 – 9½ Weeks
 – The Secretary
 – Sex, Lies, and Videotape
 – Basic Instinct
 – Bound
 – Unfaithful (read Sherin's essay)
 – Heavy Metal magazine
 – Click! – Milo Manara
 – Lorna – Alfonso Azpiri
 – Barbarella
 – Highlander series – Karen Marie Moning
 – Fever series – Karen Marie Moning
 – Sunstone 
 – Iron Circus comic imprint by C. Spike Trotman
 – Dangerous Liaisons
 – Dangerous Beauty
 – Fatal Attraction
—
Pleasure P's Recs:
Laura Antoniou
A BDSM Franchise about life, love, and the slap and tickle. 
The Marketplace
The Slave
The Trainer
The Academy
The Reunion
The Inheritor 
Akahige Namban
Two Samurai, a Dutch nun, and a ninja walk into a bar…sex and crime-fighting ensue.
Shogun's Agents
Woman of the Mountain, Warriors of the Town
Chrysanthemum, Rose, and the Samurai 
Women of Gion: The Legendary Age 
Milo Manara
The master of erotic comics art and sexual improbability at his finest.
Pandora's Eyes
Borgia
Gulliver's Travels 
Alphonso Azpiri
The Lorna Series
Story of O
Anne Desclos under the pen name Pauline Réage.
Story of O: The Novel
Story of O: The Film 
Additional Book Suggestions
The Intimate Memoirs of an Edwardian Dandy
Captured
Getting a little Behind
Frank and I
Wanton Women
The Boudoir
Lascivious Scenes in Convent
The Ravishing of Lesley
Films and TV
Bolero (1984)
Fatal Attraction (1987)
Dangerous Liasons (1988)
Basic Instinct (1992)
Bound (1996)
Karma Sutra: A Tale of Love (1996)
Red Shoe Diaries (1992-1999)
—
Renee's Recs:
Susan Sarandon, and Catherine Deneuve (and a little David Bowie thrown in for good measure) – omg, vampire sexiness at its hottest!!!
9 ½ Weeks
The classic!! The movie shown at all the hot teen parties back in the day. It can still produce some heat too.
Secretary
A sweet little strange love story that makes you long for a red pen. 
Heavy Metal
The magazine, not all of it is erotic, but a lot is! And it is worth it just for the cover art alone.
Sunstone
The 5 book series about a Domme and a Submissive (both female) exploring kink and falling in love! 5 out of 5 hearts on the OMG so cute meter, and 5 out of 5 flames on the OMG so hot meter too.
Dangerous Beauty
A film about a Venetian courtesan that is elegant and hot and very lavish. Come for the amazing costumes, stay for the sensuality.
Master of the Mountain by Cherise Sinclair
This is such an approachable slightly kinky book. Lots of sensual spanking and a genuinely cool leading lady and man.
Podcast: Play in new window | Download