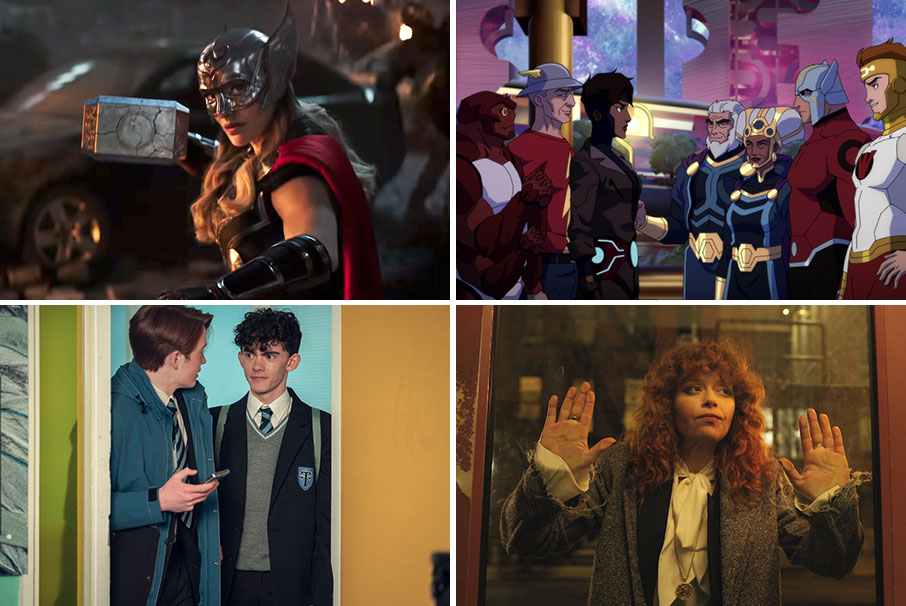 Geek Girl Riot is turning up the TV and movie love with the Thor: Love and Thunder trailer, Young Justice: Phantoms, Russian Doll, Heartstopper, and more.
Thor: Love and Thunder
Sherin and Julian kick off the show by getting into the thing that's got everybody talkin': The Thor: Love and Thunder trailer. They break down the teaser and how it compares to the comics. They both have differing opinions on the MCU and the film's director, Taika Waititi but the one thing they can agree on is that anything is going to be better than Moon Knight.
Young Justice: Phantoms
Next up our Rioters get into Young Justice: Phantoms, the latest arc of the phenomenal animated series. They get into the explosive events of last week's episode and tease this week's episode, giving plenty of context and depth to what to expect from this arc. Sherin says, "The writing on Young Justice: Phantoms is so top-level and there are so many layers…they surprise you with how the story develops." They also shout out Everything Everywhere All at Once and Spy x Family, two absolute must-watch properties.
Russian Doll + Heartstopper
Alex jumps on with Sherin to get into S2 of Russian Doll in all its weird & wonderful time-traveling glory. Sherin says, "It's all about discovery with Russian Doll—they do not hide the festering wound of the human spirit." Then they switch gears and share their feels for Heartstopper, Netflix's upcoming teen series all about LGBTQ+ love. Sherin adds, "Heartstopper is a wonderfully sweet story for teens across the spectrum of queerness. It is multiculti, bright, tangible, and a really lovely maybe-might-be-in-love story."
Tune in to Geek Girl Riot on idobi Radio every Tuesday at 11pm ET / 8pm PT for your dose of late-night geekery. 'Til next time, see a list of everything our Rioters talked about below:
LINKS:
 – Young Justice: Phantoms
 – Spy x Family
 – Thor: Love and Thunder
 – Russian Doll
 – Heartstopper
 – The Batman
 – Thor: Ragnarok
 – The Ultimate Thor
 – She-Hulk
 – Sensational She-Hulk #18 – John Byrne
 – Moon Knight
 – Our Flag Means Death
 – Time Bandits
 – Star Trek
 – Snowpiercer
 – Knives Out
 – Captain America
 – All the Old Knives
 – Everything Everywhere All at Once
 – Star Trek: Discovery
 – Crazy Rich Asians
 – Crouching Tiger, Hidden Dragon
 – Shang-Chi and the Legend of the Ten Rings
 – Supercop
 – The Heroic Trio
 – Superman II
 – Krypton
 – Legion
 – Spy X Family
 – Fena: Pirate Princess
 – Crush
Podcast: Play in new window | Download