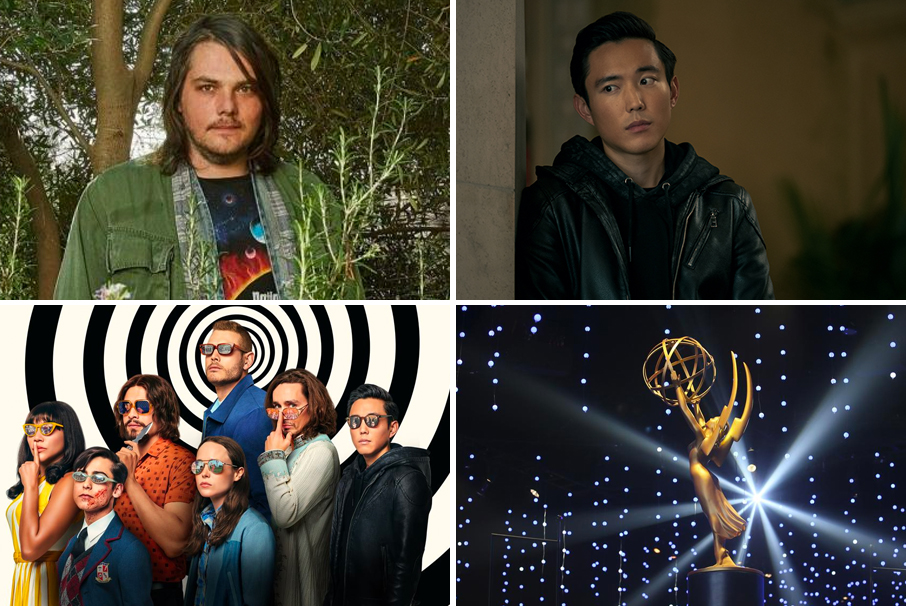 CW from top left: Gerard Way (photo:

 

Jen Rosenstein

) // Justin Min (photo: Christos Kalohoridis/
Netflix © 2020) // The Emmys (photo: Danny Moloshok/Invision/AP) // The Umbrella Academy
Umbrellas up! It's time to prepare your minds to be blown once again with The Umbrella Academy S2. Geek Girl Riot's got the lowdown—plus some throwbacks to our interviews with Gerard Way and Justin Min. But first, the Emmys:
Breaking Down the 2020 Emmy Nominations
Sherin and Alex interrupt your regularly scheduled programming to bring you a live show that kicks off with the Emmy Nominations. They list some of the categories dear to their hearts and give you their picks of who they'd like to win (y'all know The Good Place is always #1 with us). 
Get Hyped for The Umbrella Academy S2
The Umbrella Academy is BACK for season 2 and it is glorious. We're talking jaw-dropping fight scenes, wildly emotional rollercoasters, and one hell of a soundtrack. Sherin and Alex get into why they love it and break down the main UA crew…and, most importantly, tell you why you absolutely need to watch it on Friday on Netflix (or they will start a riot). Sherin says it best: "The music is banging, the writing is bizarrely wonderful, and these characters are the misfit magicians we need to let us know both our ups and our downs are headed in the right direction (just don't get anyone killed along the way)."
Note: This is a spoiler-free zone—the Commission made sure to BLEEP out everything classified so enjoy!
Time Traveling Back to Our Interviews with Gerard Way + Justin Min
To celebrate TUA's new season, we throw it back to our chat with Gerard Way. Sherin sat down with him last year to talk about both versions of The Umbrella Academy, working in comics, and how his art and music influence each other. Allow his positivity and creativity to fill you up! 
Then we revisit our time talking to Justin Min AKA Ben Hargreeves AKA The Horror AKA Number Six. Sherin spoke to him about his character's role in the Netflix adaptation, finding his creative fuel, and looking ahead to more horror in season 2.
Dive into The Umbrella Academy on Netflix on Friday.
Tune in to Geek Girl Riot on idobi Radio every Tuesday at 11pm ET / 8pm PT for your dose of late-night geekery from our team of rioters. 'Til next time, see a list of everything our Rioters talked about below:
LINKS:
 – The Umbrella Academy
 – The Umbrella Academy – Gerard Way, Gabriel Bá
 – Emmy nominations (full list)
Podcast: Play in new window | Download