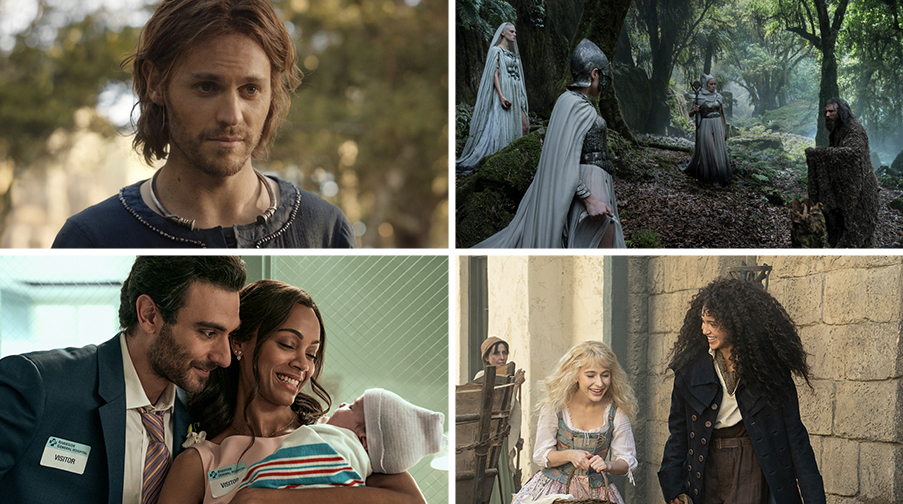 Geek Girl Riot dives into The Rings of Power for a spoiler-ific breakdown of Season 1. Our Rioters also tease The School for Good and Evil, From Scratch, Panhandle, and more TV!
The Rings of Power & the Artist Formerly Known as Halbrand
The Rings of Power finale has left us more shook than the ground in the Southlands, which means our Rioters are chomping at the bit to talk about it. Sherin lets Philip and Alex have at it—they ring the Spoiler Siren and set up the season in the most meandering way possible (it's the Tolkien way). Before getting to that all-important question: Who is Sauron?
When in Doubt, Always Follow Your Theories
Our Rioters spend two chaotic segments talking about the relationships and character arcs, as well as the revelations that kept us guessing all season. In fact, they get so worked up and messy that they repeatedly break the recording (so please bear with us). Alex and Philip also share some of their predictions and theories for the next season, all while comparing the series to the books.
Spoilers abound for The Rings of Power S1
Make sure you've watched the whole season before listening.
The School for Good and Evil, From Scratch, Panhandle
Sherin and Alex leave Middle Earth behind to dive into some other shows & movies they're loving, starting with The School for Good and Evil, out now on Netflix. Sherin says, "What holds the heart is SFGAE examines what we're told is good or evil by dissecting the myth of beautiful good versus ugly evil…This is a franchise well worth watching."
They then show some love to From Scratch, the beautifully bittersweet Netflix series, which is out Friday. Sherin comments, "Protect your chest because your heart is about to get snatched." She also dives into Panhandle, the delightful detective series she's enjoying on Spectrum, with a quick shoutout to The English on the way. 

If you want more Rings of Power goodness, keep the party going with Wondery's The Lord of the Rings: The Rings of Power Podcast. Join host Felicia Day as she takes us episode by episode, breaking down the scenes, characters, and reactions—and she's joined by the cast and creators! You'll get so much extra insight and context that will really fuel your Rings of Power adventure (because adventures are meant to be shared).
Listen to Wondery's The Lord of the Rings: The Rings of Power Podcast
for free on Amazon Music.
Tune in to Geek Girl Riot on idobi Radio every Tuesday at 11pm ET / 8pm PT for your dose of late-night geekery. 'Til next time, see a list of everything our Rioters talked about below:
LINKS:
 – The Rings of Power
 – The Lord of the Rings
 – The Hobbit
 – House of the Dragon
 – Game of Thrones
 – The School for Good and Evil
 – Panhandle
 – From Scratch
 – The English
 – From Scratch – Tembi Locke
 – Unbowed
 – Monk
 – Reservation Dogs
 – Andor
Podcast: Play in new window | Download