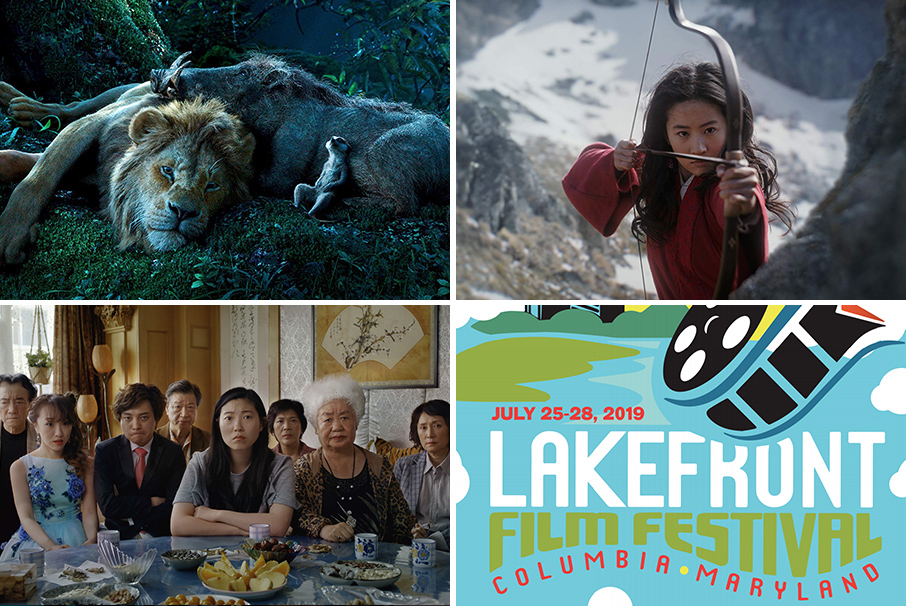 Clockwise from top left: The Lion King (photo © 2019 CTMG, Inc.) // Mulan (photo via Disney) 
// Lakefront Film Fest // The Farewell (photo by Big Beach/Courtesy of Sundance Institute)
This week on Geek Girl Riot we're grabbing the popcorn and sharing our thoughts on The Lion King, Mulan, and other Disney remakes. We also talk the The Farewell and spotlight the Lakefront Film Fest!
Tim Gordon Talks Lakefront Film Fest
The Lakefront Film Festival is coming to Columbia, MD this month and its creator Tim Gordon is about to give you a sneak peek. Find out what films you'll get to screen, why the after party is gonna get you partying like it's 1999, and find out the best deals on tickets. Lakefront Film Festival will take place Thursday July 25 'til Saturday July 27 at the Horowitz Center on the campus of Howard University—make sure to get your tickets here!
The Age of Disney Live Action Remakes
Our dynamic duo Sherin and Julian are headed to Disney! They share their thoughts on The Lion King which didn't quite live up to the animated version. Sherin says of the film, "Why don't I feel the same  today as I did when I watched the original? Animation [is] much more expressive…this film is so deeply photorealistic the expressiveness of these characters is lost." Sherin and Julian also break down the new Mulan trailer, and talk the age of Disney remakes. Plus they cheer for Halle Bailey who's going to be the new Little Mermaid! 
Sending Our Love to The Farewell
Alice Meichi Li joins Sherin to show their love for Lulu Wang and Awkwafina's new film The Farewell. The movie depicts a funny and heartfelt portrayal of family and Chinese culture surrounding the passing of loved ones. Go see The Farewell in theaters now!

Photos: Petal (photos via petalcard.com)
It's about time there was a smarter, more modern credit card company that wants to help you succeed financially! Go to petalcard.com/GGRIOT today to find out more.
Alice Meichi Li is a Chinese-American illustrator and writer who's originally from Detroit and currently lives and works in New York City. Follow her @alicemeichi (and read her piece on Mulan).
Tim Gordon runs TheFilmGordon, he's also WETA's Around Town critic, Film Capo of WAFCA and host of Keeping It Reel with FilmGordon. Light up the bat signal when you need him—and be sure to check out The Lakefront Film Festival!
Tune in to Geek Girl Riot on idobi Radio every Tuesday at 11pm ET / 8pm PT for your dose of late-night geekery from our team of rioters. Til next time, see a list of everything our Rioters talked about below:
LINKS:
 – The Lion King (read Julian's review)
 – The Farewell (read Sherin's review)
 – Mulan (read Alice's piece on the new trailer)
 – Blinded by the Light
 – Loose
 – Purple Rain
 – Kimba the White Lion
 – Planet Earth
 – The Jungle Book
 – Pete's Dragon
 – Cinderella
 – Maleficent
 – Sleeping Beauty
 – Beauty and the Beast
 – Aladdin
 – Oliver & Company
 – The Aristocats
 – The Rescuers
 – The Secret of NIMH
 – The Black Cauldron
 – Bedknobs and Broomsticks
 – The Goose That Laid the Golden Eggs
 – The Apple Dumpling Gang
 – The Love Bug
 – The Incredible Mr. Limpet
 – Robin Hood
 – Memoirs of a Geisha
 – Eternal Love
 – The Little Mermaid
 – Grown-ish
 – Rush Hour
 – Sayonara
 – Crazy Rich Asians
 – Ocean's 8
 – Always Be My Maybe
Podcast: Play in new window | Download