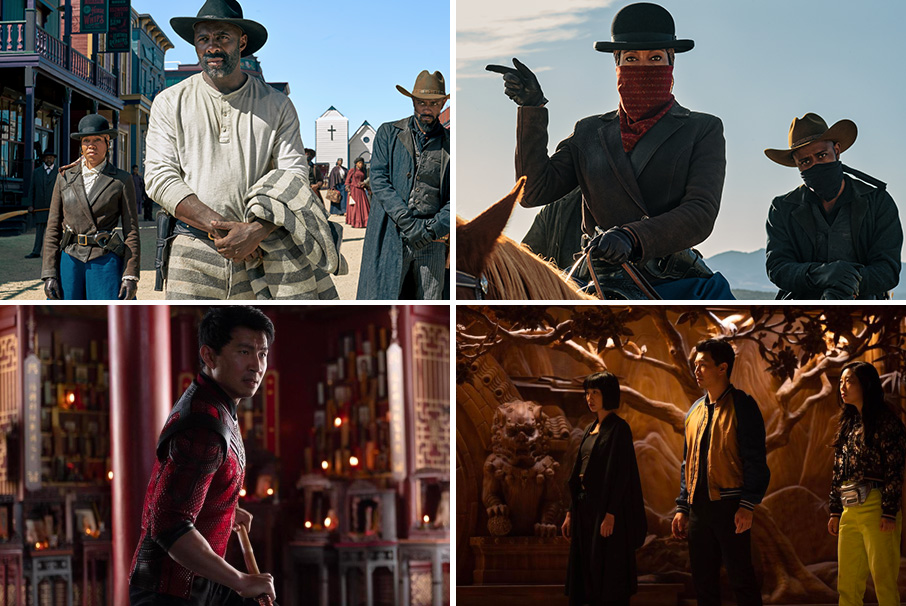 Top row: The Harder They Fall (photos: David Lee / Netflix © 2021) // Bottom row: Shang-Chi and the Legend 
of the Ten Rings (photos by Jasin Boland © Marvel Studios 2021)
Buckle up and get ready for a wild ride: Geek Girl Riot talks The Harder They Fall, before revisiting our talk all about Shang-Chi and the Legend of the Ten Rings. 
The Harder They Fall
We're heading to the Wild Wild West for a tale of real cowboys with larger-than-life histories. Sherin and Julian get into The Harder They Fall, the new Western starring Jonathan Majors, Zazie Beetz, Regina King, and Idris Elba, to name a few. They shoutout the standout performances, the storytelling, and how it's like anime.  Sherin says, "We want you to see The Harder They Fall. It gives you everything you love about Westerns but also gives you that good joy of seeing real Black people do big things on screen."
Oh, and listen out for a quote from director Jeymes Samuel from Netflix's TUDUM event all about the characters. The Harder They Fall hits theaters on Friday and Netflix on November 3rd.
Shang-Chi and the Legend of the Ten Rings
Shang-Chi and the Legend of the Ten Rings has been killing it at the box office (long may it continue!). So what better time to throw it back to our chat all about it? Sherin and Julian give Philip a rundown of the movie…and share their (often opposite) opinions. They break down the cast & characters before sharing the highs and lows, leading them to a discussion about the issues Hollywood often has when portraying Asian characters and cultures. Watch Shang-Chi in theaters now.
Uncommon Goods:

Gifts found on Uncommon Goods 
Finding the perfect gift just got a whole lot easier thanks to our team-up with Uncommon Goods. Their site has a huge selection of presents for everyone in your life—from the art lovers to the jewelry collectors, the budding chefs to the whiskey drinkers, Uncommon Goods has got you covered. To get 15% off your next gift, go to uncommongoods.com/ggriot. Don't miss out on this limited time offer! Uncommon Goods. We're all out of the ordinary.
—
TomboyX: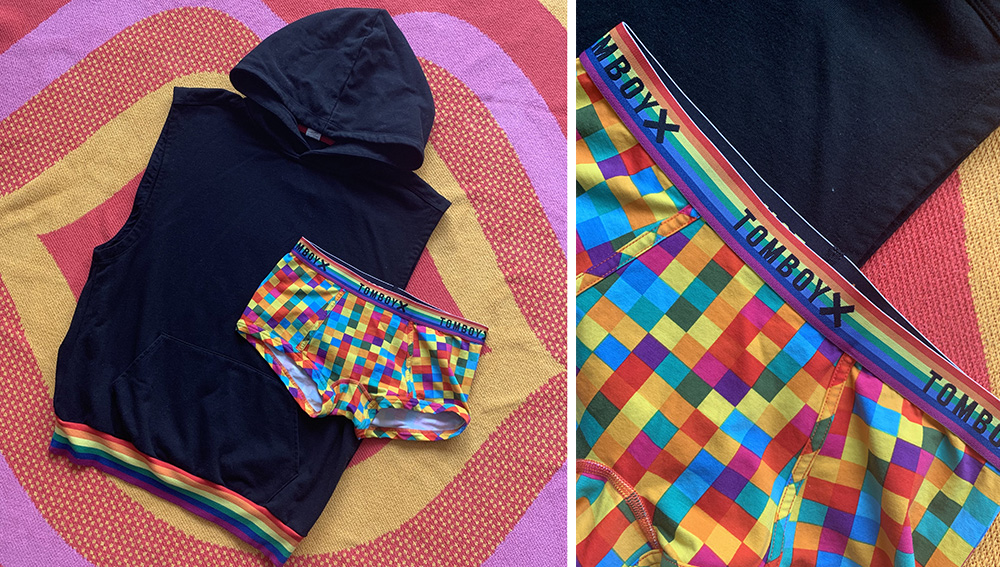 We want you to feel comfortable and to look your most fabulous self, which is why we've teamed up with TomboyX! They make underwear for all bodies, all genders, and all sizes—filled with awesome colors, patterns, and fits that'll get you styling everyday. From boxer briefs to bikinis, boy shorts to bras, every pair of TomboyX is gonna leave you feeling like a superhero. Discover your inner-Tom Boy with our special discount: Go to TomboyX.com and enter code GGRIOT to get an extra 20% off.
—
Firstleaf: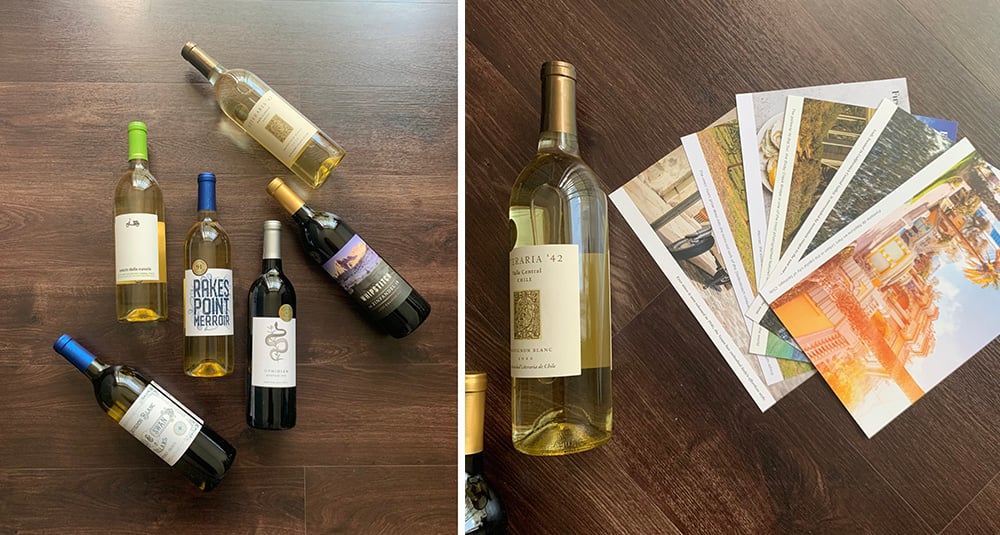 Summer may be over but that means it's time to drink wine by the fireside! We've teamed up with Firstleaf to help you toast to the new season with a special deal. Their wine club curates and ships boxes of wine that are tailored to you thanks to a handy quiz. Get fruity faves or try some new recommendations from renowned winemakers all over the world! Save time, money, and stress with Firstleaf, the wine club designed with you in mind! Join today and you'll get 6 bottles of wine for $29.95 and free shipping! Just go to tryfirstleaf.com/ggriot.
—
Tune in to Geek Girl Riot on idobi Radio every Tuesday at 11pm ET / 8pm PT for your dose of late-night geekery. 'Til next time, see a list of everything our Rioters talked about below:
LINKS:
 – The Harder They Fall
 – Shang-Chi and the Legend of the Ten Rings (read Julian's review)
 – One Piece
 – Nora from Queens
 – Iron Man 3
 – Iron Man
 – Black Widow
 – Iron Fist
– 'Crazy Rich Asians, AAVE, and My Asian-American Identity' – Alice Meichi Li
 – Daredevil
 – She-Hulk
 – Mulan
 – Raya and the Last Dragon
 – High on the Hog: How African American Cuisine Transformed America
Podcast: Play in new window | Download