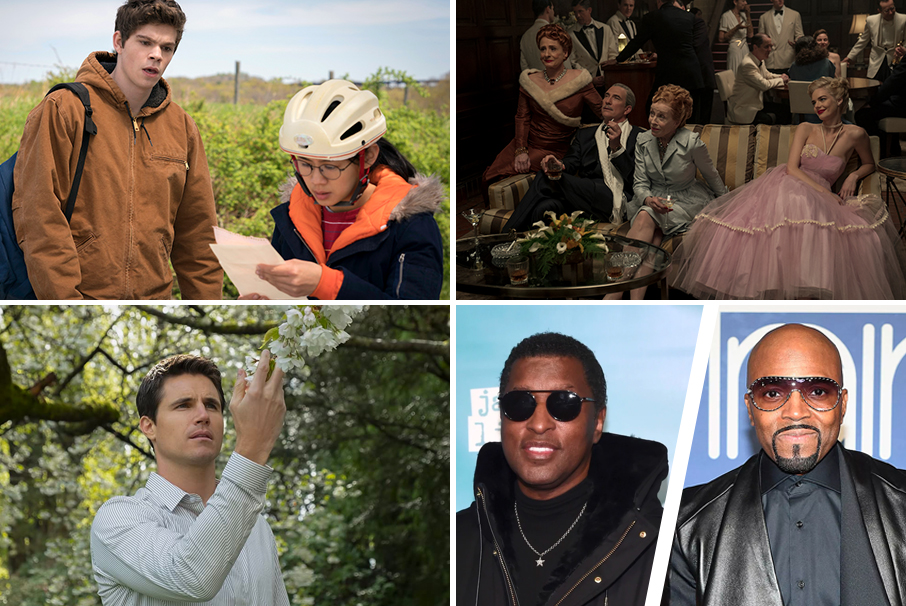 CW from top left: The Half of It (photo: KC Bailey) // Hollywood (photo: Saeed Adyani / Netflix) 
// Babyface (image via Getty/Daniel Zuchnik) verzuz Teddy Riley (photo: Ethan Miller/Getty Images) 
// Upload (photo by Katie Yu/Amazon Studios, Prime Video)
Friday May 1st is TV day: The Half of It, Upload, and Hollywood are dropping and Geek Girl Riot is getting you hyped. We also share what's on our minds this week.
The Half of It + Upload
You know Geek Girl Riot is all about YA. So when a high school adaptation of Cyrano de Bergerac with something new to say comes along, we simply must talk about it. Sherin, Sam, and Alex tell Philip why The Half of It is a lovely new Netflix film that explores friendship and romance in a softly nuanced way we don't often see onscreen. Sherin says: "One thing that really got me is the lead actress Leah Lewis—I want this girl to have all the roles. She has this gravitas and this gravity that pulls you into everything she's doing and I believed her. I don't even believe Leah Lewis exists, there's only Ellie Chu." Read our full review and catch The Half of It on Netflix on Friday!
Sherin and Alex also give a quick rundown of Upload, a new sci-fi series about the afterlife brought to you by Greg Daniels AKA the guy behind Parks and Rec. Stream Upload on Amazon Prime Video on Friday too.
Hollywood  + Teddy Riley Verzuz Babyface
Ryan Murphy's upcoming Netflix show HOLLYWOOD has already generated a lot of buzz online. The show tells an alternate history of 1940s Hollywood where those who typically would have been oppressed are able to rise up and triumph. Sherin and Alex tell Philip and Sam what to expect from HOLLYWOOD—read our in-depth review and watch the show on Netflix on Friday.
Then Philip and Sherin talk about the Teddy Riley Verzuz Babyface battle and how the hell it literally broke Instagram Live. 
What's on Our Minds
Even though we're facing difficult times, it's important to remember that there is still so much to cheer for. From new books to huge virtual artist collabs to the incredible work of the World Central Kitchen (donate here), our Rioters share what's been on their minds to spread a message of positivity and encouragement. Stay safe, we love you all.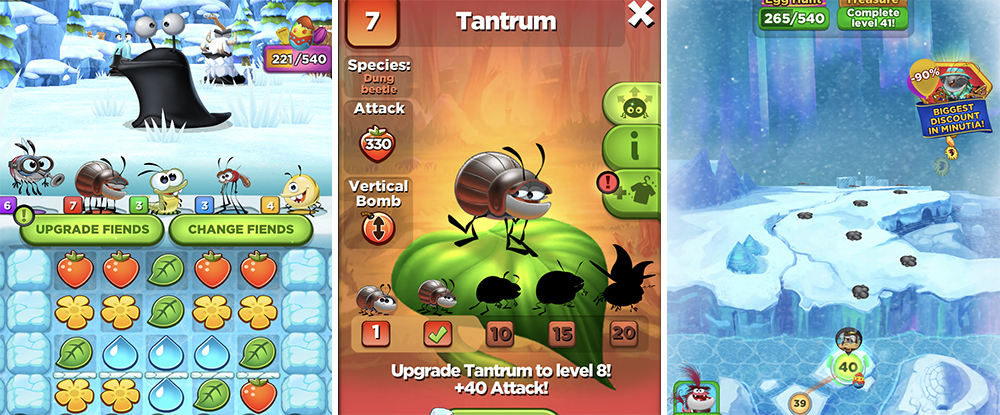 Best Fiends (keep scrolling for more details!)
We've escaped reality & jumped into the world of Best Fiends…and we want you to join us on this epic quest! The 5-star rated mobile puzzle game is super cute and fun to play whenever + wherever you are. You'll also love collecting all the Fiends who help out on the way to defeating your new mortal enemies AKA the Slugs. The adventure is high—so get into it: Download Best Fiends FREE on the Apple App Store or Google Play.
Tune in to Geek Girl Riot on idobi Radio every Tuesday at 11pm ET / 8pm PT for your dose of late-night geekery from our team of rioters. 'Til next time, see a list of everything our Rioters talked about below:
LINKS:
 – The Half of It (read our review)
 – Cyrano de Bergerac
 – Emma
 – Clueless
 – 10 Things I Hate About You
 – To All the Boys I've Loved Before
 – Upload
 – Dirty Dancing
 – He's Just Not That Into You
 – The Good Place
 – Parks and Recreation
 – HOLLYWOOD (read our review)
 – Glee
 – Nip/Tuck
 – American Horror Story
 – American Crime Story
 – Feud
 – Pose
 – @KeatsDidIt
 – The Seven Husbands of Evelyn Hugo – Taylor Jenkins Reid
 – Daisy Jones and the Six – Taylor Jenkins Reid
 – "Times Like These (BBC Radio 1 Stay Home Live Lounge)" – Live Lounge Allstars
 – World Central Kitchen (donate here)
 – The Nomad: The Diaries of Isabel 
 – Stronger Together
 – Cooked with Cannabis
 – #CuratorBattle / #CreepiestObject
Podcast: Play in new window | Download