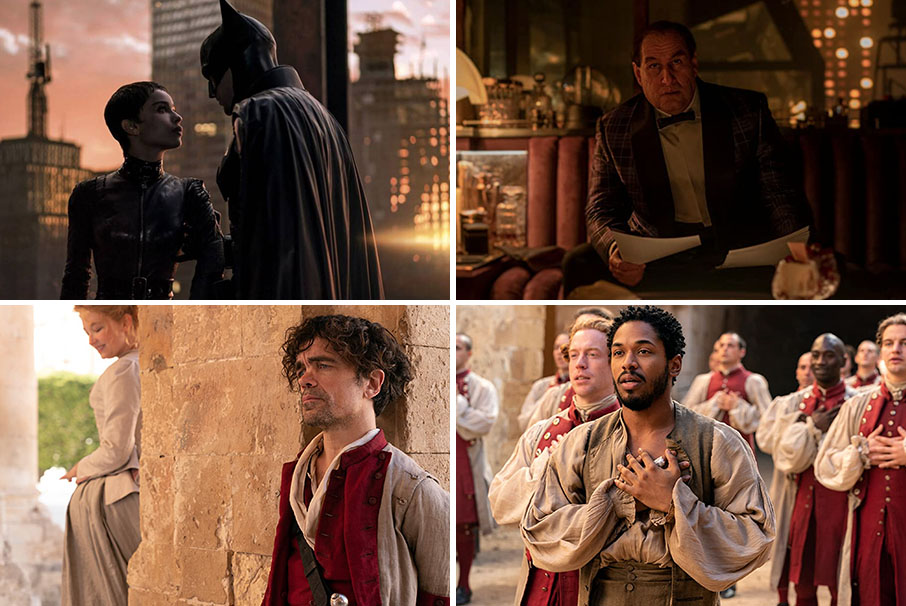 It's a dark knight on Geek Girl Riot…because we're getting you fired up for The Batman. But first: We talk about all things Cyrano.
Cyrano
Sherin, Mae, and Julian open the show by teasing Cyrano, Joe Wright's new adaptation of the classic story starring Peter Dinklage. Sherin says, "Cyrano is the voice, Christian is the face. Dinklage is a nuanced actor, from wonderment at finding someone who loves as deeply as he, to excitement to express himself, to deep pain; Kelvin Harrison Jr. is gentle with Christian and noble as the flipside to Cyrano." Our hosts get into the storytelling and what surprised them about this version, before getting into some of their other fave classics and why they still work as storytelling foundations. Julian comments, "The performances are credible, the production design is amazing, and the sound and music all flow together to add this nice and dreamy quality."
The Batman
It's the Batman you've all been waiting for (or at least, the one that's got everybody talkin'): Matt Reeves' The Batman is in theaters on Friday, which means our Rioters are here to get you hyped with our spoiler-free preview. They start off by sharing their expectations going in before getting into first impressions and what they think of the characters. Sherin says, "Between Peacemaker and The Batman, DC is bringing us the promise of the DCEU we never got. If you've gotten sick of Batman—because you've seen a messed up character who's actually a villain—this is Batman reborn and that's why you need to see it."
Julian adds, "The Batman is a crime movie and a political thriller and a murder mystery. This isn't like the competition or like anything else from the same studio. This is going to be an awards contender—they've got something here." Our Rioters compare and contrast The Batman to the comics and previous adaptations, before shouting out who they loved most in the movie. Go see it and look out for that Bat signal on more GGR…

Wanna keep the binge-watching love going? Check out our team up with Sundance Now to give you even more on screen gems. Sundance Now is an ad-free streaming service, created by AMC Networks, packed full to bursting with original prestige dramas, international thrillers, and true crime shows, all set to chill & thrill you. Try Sundance Now free for 30 days by going to sundancenow.com and use promo code ggriot. 
—
Tune in to Geek Girl Riot on idobi Radio every Tuesday at 11pm ET / 8pm PT for your dose of late-night geekery. 'Til next time, see a list of everything our Rioters talked about below:
LINKS:
 – The Batman
 – Cyrano
 – Game of Thrones
 – The Station Agent
 – Roxanne
 – Alvin and the Chipmunks
 – Sierra Burgess is a Loser
 – Romeo + Juliet
 – Shakespeare in Love
 – Children of Men
 – The Lego Movie
 – Emma
 – The Taming of the Shrew
 – 10 Things I Hate About You
 – Clueless
 – A Discovery of Witches
 – Project Power
 – Batman & Robin
 – Zack Snyder's Justice League
 – Twilight
 – Batman: Mask of the Phantasm
 – Batman Returns
 – Peacemaker
 – The Dark Knight Rises
 – Spider-Man: No Way Home
 – Black Adam
 – The Flash
 – Aquaman
 – Dune
 – Bel-Air
Podcast: Play in new window | Download