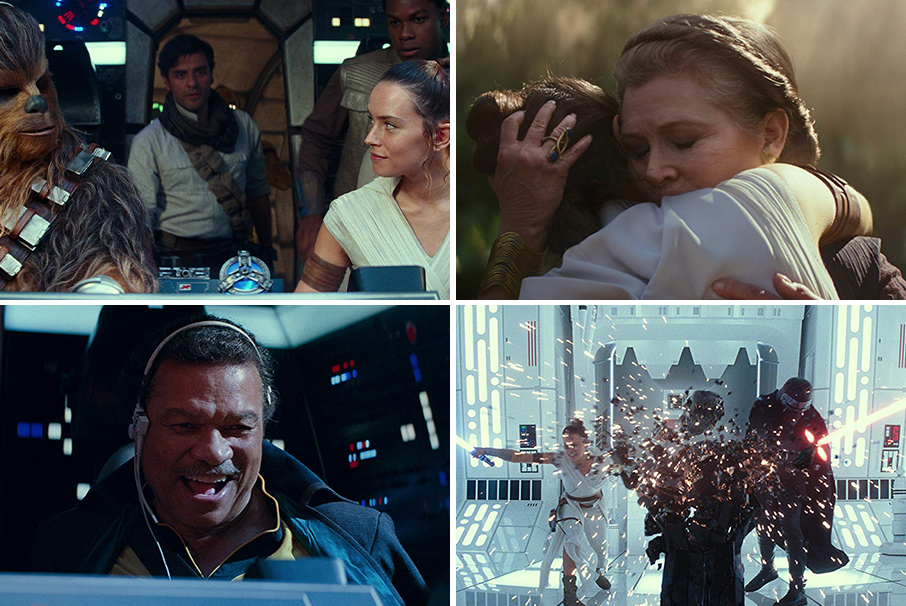 Photos © 2019 Lucasfilm Ltd.
The force is strong with the latest Geek Girl Riot as our Rioters talk The Rise of Skywalker and what they want to see next in sci-fi.
Star Wars: The Rise of Skywalker [spoiler-free, this breakdown is]
Sherin and Julian went to see Star Wars: The Rise of Skywalker and, being the awesome critics they are, decided to bring some balance to the Force your expectations. They talk about how Episode IX is a Star Wars movie for the fans—which is one of the reasons why early reviews have been so polarized. Our dynamic duo share why they personally enjoyed it and also why some parts could be off-putting for other critics and fans. (read our review)
Catch them talking about the duality of the Star Wars universe, how this trilogy stacks up compared to the previous chapters, and what this means for the franchise going forward. This breakdown is completely spoiler-free so you don't need to worry if you haven't seen it yet (but go see it on December 20th, you must). 
What's Next in Sci-Fi
With so many stories coming to a close and reboots happening every 0.21 seconds, it's time for some new properties (let us dream, alright?). Sherin and Julian get into the upcoming shows they're looking forward to as well as the ones that are on their ultimate sci-fi wish-lists. It's the holidays after all, a time when dreams can come true. Happy Holidays, Rioters, see you in 2020!
Tune in to Geek Girl Riot on idobi Radio every Tuesday at 11pm ET / 8pm PT for your dose of late-night geekery from our team of rioters. Til next time, see a list of everything our Rioters talked about below:
LINKS:
 – Star Wars: The Last Jedi
 – Lethal Weapon
– Dawn adaptation by MACRO / Ava DuVernay / Vic Mahoney 
 – Wild Seed adaptation by Viola Davis
 – Star Wars: Episode IV – A New Hope
 – Star Wars: Episode VII – The Force Awakens
 – The Mandalorian
 – Indiana Jones
 – Star Wars: Episode V – The Empire Strikes Back
 – Freddie Prinze Jr's Star Wars rant on The Friendship Pod
 – 100 Bullets – Brian Azzarello, Eduardo Risso
 – The Expanse
 – Blade Runner
 – Star Wars: Episode III – Revenge of the Sith
 – Star Wars Rebels 
 – Doctor Who
 – Rogue One
 – Captain America
 – Iron Man
 – Solo: A Star Wars Story
 – Justice League
 – Batman
 – Spider-Man
 – ThunderCats
 – Marvel's Iron Fist
 – Dune
 – Blade Runner 2049
 – Arrival
 – Watchmen
 – Westworld
 – Red Dead Redemption
 – Grand Theft Auto
 – Fortnite
 – The Witcher
 – Game of Thrones
 – Xena: Warrior Princess
 – Carnival Row
 – Fleabag
 – The Marvelous Mrs. Maisel
 – Bosch
 – Good Omens
 – Goliath
 – Modern Love
 – The Boys
 – The Man in the High Castle
 – Lost in Space
 – Young Justice: Outsiders
 – Saga – Brian K. Vaughan, Fiona Staples
 – She-Hulk
– She-Hulk TV show
 – DMZ
– DMZ pilot by Ava DuVernay & HBO
 – Steven Universe
Podcast: Play in new window | Download