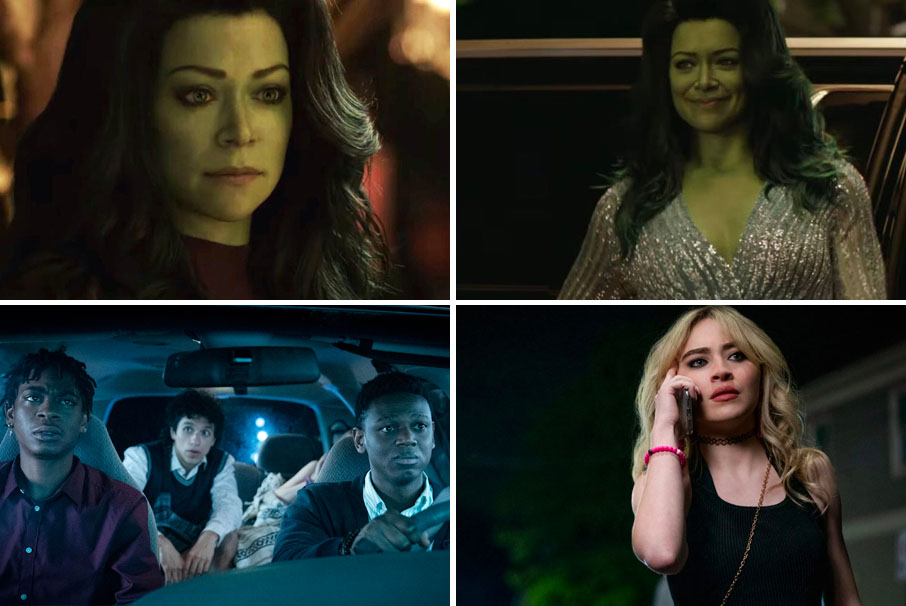 Geek Girl Riot has a few thoughts about the new She-Hulk trailer but we end up talking more about why the character is such a womanist icon. Then our Rioters get into a special segment called Insider Rating—a peek behind the scenes of the movie from one of its creatives—to talk about the new Amazon movie Emergency.
Hulking Out Over the She-Hulk Trailer
Sit down, make yourself comfortable, and prepare to get Riotous—because we need to talk about the new She-Hulk trailer but more importantly why this character matters so much. Space Pirate Ryoko AKA Sherin and Barbara Gordon AKA Meagan jump on to break the teaser down and what a live-action version means for the continued presentation of their beloved Shulkie.
From the questionable CG to the casting to the characters themselves, our hosts have a lot to dissect. They bring their sizeable comic book knowledge and their love for strong fabulous femmes to have a powerful conversation.
Insider Rating: Emergency
Sherin and Monique jump on to talk about Emergency, the new Amazon movie about a drunken night gone horribly wrong (read Julian's review). Monique AKA Cinemomo was the costume supervisor for the movie—she gives us an Insider Rating into what it was like on set and what went into making this movie shine. Our Rioters talk about how the movie affected them and why it opens up an incredibly important conversation about race, the broken justice system, and how frightening it can be to be Black in America.
Tune in to Geek Girl Riot on idobi Radio every Tuesday at 11pm ET / 8pm PT for your dose of late-night geekery. 'Til next time, see a list of everything our Rioters talked about below:
LINKS:
 – She-Hulk trailer 
 – 'She-Hulk Smashes Boundaries, Conformity, and Other Things Not Suitable for Empowered Femmes' – Sherin Nicole for Roger Ebert
 – Wonder Woman 1984
 – Avengers: Endgame
 – Avengers: Infinity War
 – Hawkeye
 – Loki
 – WandaVision
 – Doctor Strange in the Multiverse of Madness
 – Captain Marvel
 – Orphan Black
 – Ally McBeal
 – The Equalizer
 – Emergency
 – The Harder They Fall
Podcast: Play in new window | Download