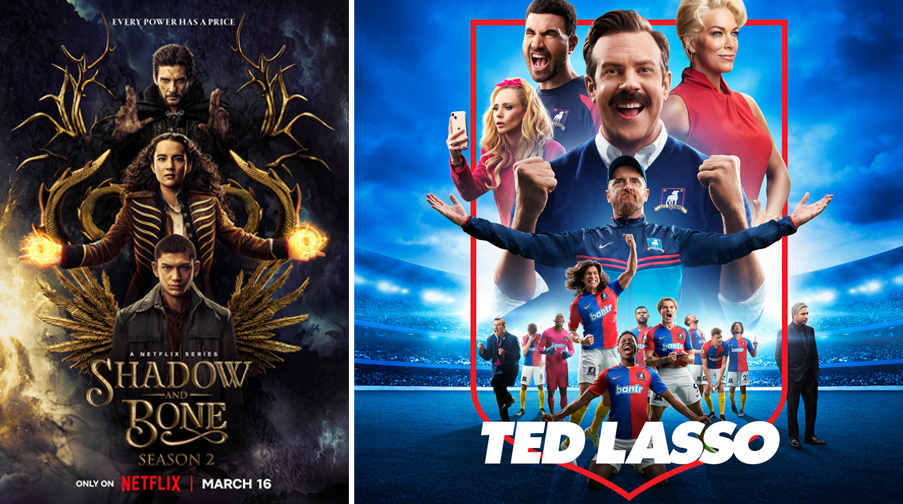 Geek Girl Riot is all about spoiler-free previews for Shadow and Bone Season 2 and Ted Lasso Season 3, but you can also read our reviews for John Wick: Chapter 4, Swarm, Inside, and Dance 100 when you scroll down.
Shadow and Bone Season 2
Sandie Angulo Chen is back and we're exploring the Grishaverse! We get into the seven books in the franchise (that's one trilogy and two duologies) + the folklore before preview season 2. Sherin says, "The Crows continue to be the biggest treat in shadow and bone season two, but the entire series is so thrilling and the characters are so tangible, you really can't lose (even while you watch your favorites) take their chances." Is season 2 better than the first one? Listen to this, watch on March 16, and let us know,.
Ted Lasso Season 3
Our day-one, Ted Lasso is back for one more season and it's a celebration and a farewell. We've seen the first 4 episodes of the 12-episode season and it's everything you want it to be. Sandie shares just how personal the show is and Sherin tries not to cry, "Ted Lasso S3 is an endearing kind of puzzle box, it is as comforting as a daily affirmation but challenging in its complexity. And it's so charming that the hard knocks the characters endure feel like precursors to revelations. How do they keep doing this? I'm going to miss it."
John Wick: Chapter 4
1-graph Review
by Sherin Nicole

At last, we return to the Wickiverse and, once again, our hero goes Wicksonian on all opposition. John Wick: Chapter 4 is a visual stunner with cinematography and production design so delicious it might as well be candy-coated. There is one sequence—an action set piece—that leaps into the territory of a single-player video game. We get an overhead view of an old Parisian building, so we can watch John Wick (Keanu Reeves) move from room to room blasting other assassins with fire and fury. It's a fantastic piece of design that follows the franchise's tradition of giving us new visual delights with every chapter. As you know from the previous film, Jonathan has decided to take on The High Table, the clandestine cabal responsible for the world of crime that lurks beneath this universe. Old friends return to help him or to deter him, with Laurence Fishburne, Ian McShane, Donnie Yen, and my beloved Sanada Hiroki repeatedly snatching the spotlight from each other. Legends. The story is light but the action pops off at such high levels that, if assassin movies are your thing, you won't mind at all. You'll actually be air-fighting alongside players. Rina Sawayama surprised me in a role that I want to see more of and Shamier Anderson comes through as the comic relief and as a foil for John. And, of course, whenever you have a Skarsgård, this time Bill, you have a villain you can grin at. Ooh, and there's a new doggo for us all to swoon over. Director Chad Stahelski continues to deliver what I want from these movies: A ballistic ballet; playing out within an ever-expanding world of folklore and stylized mayhem. Give me more.
Swarm: 1-graph Review
by Julian Lytle

Man, I didn't think Donald Glover would be back with a new series so fast after Atlanta ended, but here he is with Janine Nabers co-creating Swarm, a new series on Prime Video. The show is openly a horror satire about Beyoncé's fanbase, the Beyhive. Here Dominque Fishback plays Dre, a young woman who is obsessed with the show's version of Bey, an artist Ni'jah. Things take a turn after she has an argument with her sister Marissa, played by Chloe Bailey, that leads to Dre going on a quest to permanently deal with people online who bad talk Ni'jah, who, to Dre, is the greatest artist of all time. Fishback, who, in my opinion, has been excellent in everything she has been in since debuting in the HBO series Show Me A Hero, takes her star further up as this completely weird, quirky, disturbing, and tragically empathetic Dre. She is able to capture how essentially this artist is her everything, her faith, religion, and reason for being, and how that connects with her relationship with her sister Marissa. In each of these seven episodes, you'll follow this person who tries to connect with people, but her fandom severs any ties she might make, and that is usually where the show will yoink the rug right from under you. The show can take some exciting turns, especially in the back half of the season, that will make you re-contextualize entirely everything you've seen and will see through the end. Take note to pay attention to the special guest performers in this series; it has some very meta connection to who is playing what characters in how it relates to the world in the show and the real world. That even connects to Bailey, who is signed to Beyoncé and seen as one of Bey's protégé along with her sister Halle. It's a show that will benefit from multiple viewings to really catch everything, along with marveling at Dominique's performance. I can't talk enough about how good this show is, but beware, this show does have kills in it and gore, so if you can't handle violence, it might not be for you. 
Rating: A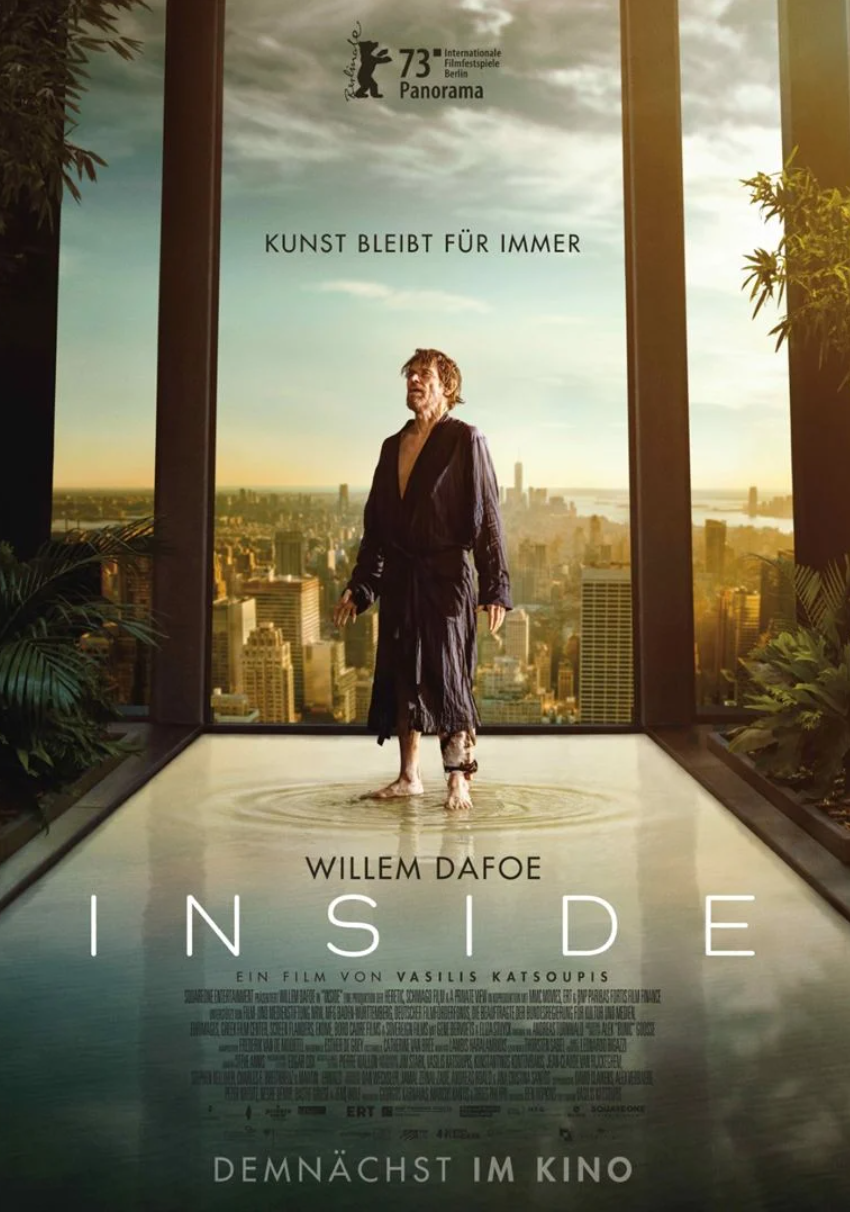 Inside: 1-graph Review
by Julian Lytle

I think, at this point, everyone knows that Willem Dafoe is one of the best actors alive and working, and he has been for decades. Inside is one of the best ways to show just how captivating the actor can be. It is all him on the screen, for the most part, with no one else. Dafoe plays an art thief named Nemo who breaks into a Manhattan penthouse apartment to steal some rare art pieces. When his partner messes up on the information to get out, Nemo is now stuck, alone in this rich person's home after the alarm system completely locks the house up. Here we see Dafoe as Nemo struggles with being alone in this place and can't get out and talk to anyone. He has to figure out how to find things to eat and water to drink, along with a broken smart home system that changes the temperature. It's like Nemo lives many years in this one place as he works diligently to escape it. The performance is so good you'd think Dafoe was stuck in there, as you believe he's getting sicker and losing touch with reality. Willem Dafoe already has one of the best acting performances of 2023.

Dance 100: 1-graph Review

by Sherin Nicole

Dance culture has the block on lock, thanks to Tik Tok dances, dance teams on YouTube, and let's not forget So You Think You Can Dance. Never one to miss a cultural moment, Netflix is jumping in with their new reality competition: Dance 100. And ooooh, I like it. Hosted by Ally Love, Dance 100 takes the SYTYCD concept, but choreo is queen. Eight choreographers take on supplied themes, songs, and bigger and bigger dance teams to win ONE-HUNDRED-THOUSAND-$$$. If you're wondering who's judging this thing, it's the dancers themselves—100 of them—and they do not hold back. Which means, sometimes, the criticism is more crispy than constructive but, if you want tension, a dancer will always deliver a "read." You can watch Dance 100 on Friday when it drops on Netflix. All in all, they did the thing. I was late to a gallery opening because I needed to see who would be the next choreographer to get shamed in the show's red spotlight before getting their ticket home. Oh, and there is some wild dancing too. Are you not entertained? I was.
Podcast: Play in new window | Download