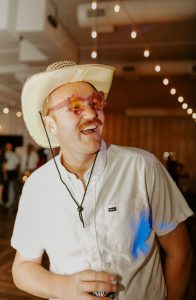 I invited Ross Stracke to join me on this week's episode to share his journey in Hollywood! Like me, Ross moved from the comfort of where he grew up to Los Angeles to fulfill his career ambitions. Ross shares how he got his foot in the door and what he learned along the way. Today, Ross works on a project he loves the Amazon Prime Original animated series Invincible. Ross also shares how he measures success at this point and gives some sound advice for those who join the workforce. I hope you enjoy this conversation and share it with a friend! 
This episode is brought to you by; 
Cerebral, Expert Help For Your Emotional Health. You can receive 65% off your first month of medication management and care counseling at GetCerebral.com/scoggs. Go GetCerebral.com/scoggs for 65% off your first month. That's just a total of $30 to get started. Join cerebral today on their mission to make quality mental health care accessible and affordable for all.
Hunt A Killer brings people together by challenging them to decode ciphers, examine clues, and solve puzzles. It's like an escape room delivered right to your door! Right now, you can go to huntakiller.com/scoggs and use code SCOGGS for $10 off your order. 
Never get tired of a good whodunnit? Then you'll love June's Journey. You play as June Parker, an amateur detective investigating a series of mysteries, full of twists and turns. Ready to awaken your inner detective? Download June's Journey free today on the Apple App Store or Google Play!
Please don't be shy, email me! [email protected] with any advice, questions, or topics. If you like the show, please rate, subscribe & share with a friend. 
Talk soon! 
<3Sara 
Stay connected
@SaraScoggs
@lets_talk_soon
Theme song produced by Shelby Merry 
Podcast: Play in new window | Download