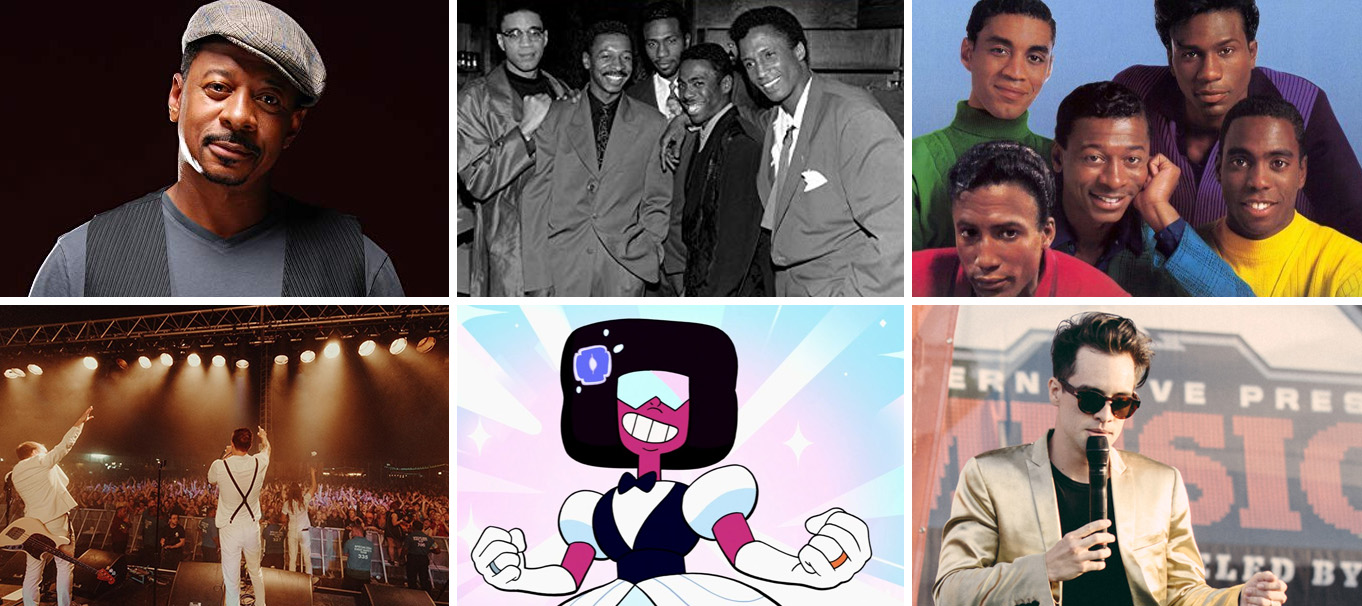 Top row L-R: Robert Townsend, Making the Five Heartbeats, The Five Heartbeats
Bottom row L-R: The Maine (photo: 

Ami Ford

), Steven Universe, Brendon Urie (photo: Matt Vogel)
Geek Girl Riot is sharing some positivity this week as well as diving into Robert Townsend's documentary Making the Five Heartbeats.
Spreading a lil Positivity
Gerard Way told us recently that he's trying to find ways to put as much positivity into the world as possible. When the world seems to be filled with terrible news and clowns are running the joint, we all need to do our part to amplify the goodness in everyday life. Sherin, Monique, and Alex share some stories that made them smile, about family, Steven Universe, and the moments that brought them together.
Musical Moments
Music connects us all in so many ways. From dancing to The Maine (always), to singing Elton John on a family road trip, to getting chills watching Panic! at the Disco, our Rioters have so many memories to share about how music adds so much positivity to the world.
Making the Five Heartbeats Special Screening Event
The Five Heartbeats is a seminal film that has influenced so many of us. Now we get the chance to find out how this film was created. Monique attended a special screening of the documentary Making The Five Heartbeats featuring a Q&A with writer & director Robert Townsend, Oz Scott, Bill Duke, Clifton Powell, and Pat Charles. Monique tells Sherin and Philip all about the screening event and plays some clips from the creators talking about how the film came together.

Photos via Dashlane
Hands up, who can never remember all the passwords they need to survive daily internet life? Yeah, us neither. That's why Dashlane has got you covered. Geek Girl Riot is supported in part by Dashlane, the company that stores all your passwords and payment info securely including VPN, dark web monitoring, and more! Get Dashlane FREE on your first device AND a 30-day FREE trial of Dashlane Premium by heading to www.dashlane.com/ggriot. If you love it, use the code ggriot at checkout to save 10% on your Premium subscription.
Tune in to Geek Girl Riot on idobi Radio every Tuesday at 11pm ET / 8pm PT for your dose of late-night geekery from our team of rioters. Til next time, see a list of everything our Rioters talked about below:
LINKS:
 – Steven Universe
 – One Day at a Time
 – Lady Gaga – "The Cure"
 – Jimmy Hendrix – "Little Wing"
 – Stevie Ray Vaughan – "Little Wing"
 – Sting – "Little Wing"
 – The Maine – "Another Night on Mars"
 – Elton John – "Tiny Dancer"
 – Almost Famous
 – Whitesnake – "Here I Go Again"
 – Brendon Urie – "Bohemian Rhapsody"
 – Mest – "Jaded (These Years)"
 – Radiohead – "Creep"
 – Macy Gray – "Creep"
 – Kanye West – Sunday Service
 – Elton John – "Can You Feel the Love Tonight?" (from The Lion King)
 – Bruce Springsteen – "Radio Nowhere"
 – Making the Five Heartbeats
 – Black Lightning
 – The Five Heartbeats
 – The Sound of Music
 – A Star is Born
 – In Living Color
 – The New Edition Story
 – New Jack City
Podcast: Play in new window | Download