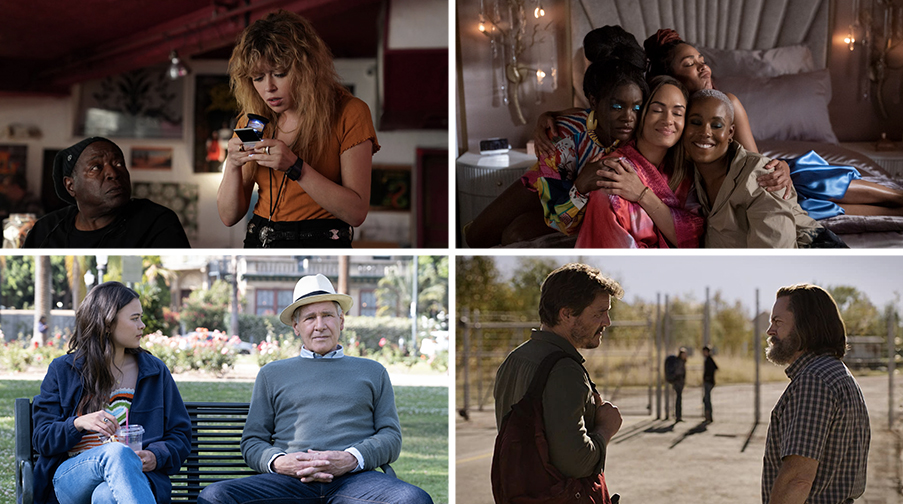 Never fear, your streaming update is here: Geek Girl Riot gives you the lowdown on Poker Face, Harlem, Shrinking, and more new TV—joined by special guest Tim Gordon of Keeping it Reel with FilmGordon.
Poker Face
Cut the bullshit and watch Peacock's new show, Poker Face—starring our beloved Natasha Lyonne as Charlie who can tell when you're lying, making her the perfect person to solve some delicious murder mysteries. Sherin, Julian, and Tim get into the series, tease what to expect, and highlight show creator Rian Johnson's penchant for whodunnit mysteries. Sherin says, "Natasha Lyonne plays quirky like nobody else. Poker Face gives her a psychic gift and takes her on a cross-country ride where murder happens at each stop… I want you to watch."
Harlem
Next up our Rioters head over to Harlem to join the fabulous leading ladies of the Prime Video show for some wine and hot goss—season 2 is heading your way on Friday. Sherin comments, "I felt the characters a lot more. They recognized their shortcomings and their interactions felt more personal. We witness their quest for connection, who they want to be, and how they want to live their lives." Their Harlem talk leads them to a discussion about some of their other fave femme-powered series, including Julian's theory about the OG girl group, Golden Girls. 
"I popped every episode of Harlem S2 like Tic Tacs. The writer's room leveled up on these characters to show so many new sides, so much juiciness, but growth too."
–Sherin Nicole
Shrinking + More TV Goodness
The last segment is a free-for-all, throwing out shows they've been enjoying lately, starting with Shrinking on Apple TV+. Sherin says, "Shrinking is funny but it's also pinpointed to those struggles of being a human; the mistakes you make, how you come back, and how you heal. Also, Harrison Ford being a curmudgeon is never not good." Our Rioters then progress into The Mandalorian's new trailer, via a WWE smackdown detour along the way. 
Peloton Tread:

Peloton may be famous for bikes but they're also stepping up their game with treadmill. The Peloton Tread is a new approach to treadmills—you can seamlessly adjust your speed and it can automatically adjust your incline so you never have to break your stride. To go with it there are on-demand classes, a variety of intructors to keep you motivated, and even playlists with all kinds of genres so you can work out, your way. Try Peloton Tread risk-free with a 30-day home trial. New members only. Not available in remote locations. See additional terms at onepeloton.com/home-trial
–
Zocdoc:

Getting the treatment you need when you're sick shouldn't be difficult—that's why we've teamed up with Zocdoc to connect you right to the care you deserve from trusted professionals. Their free app makes it so easy to find the right doctor that meets your needs and fits your schedule. Go to zocdoc.com/ggriot and download the Zocdoc app for FREE. Then find and book a top-rated doctor today. Many are available within 24 hours.
–
Tune in to Geek Girl Riot on idobi Radio every Tuesday at 11pm ET / 8pm PT for your dose of late-night geekery. 'Til next time, see a list of everything our Rioters talked about below:
LINKS:
 – Poker Face
 – Shrinking
 – Harlem
 – Glass Onion
 – Velma
 – Y: The Last Man
 – Saga
 – SNL
 – Doctor Who
 – Knock at the Cabin
 – Only Murders in the Building
 – The Brothers Bloom
 – Looper
 – Brick
 – Nope
 – The First Wives Club
 – Run the World
 – Golden Girls
 – Living Single
 – Friends
 – Girlfriends
 – The Women
 – Insecure
 – Ugly Betty
 – Hello Tomorrow
 – Truth Be Told
 – Bloodline WWE
 – Succession
 – Billions
 – Yellowstone
 – The Last of Us
 – The Mandalorian
 – The Walking Dead
 – Drug Wars
 – Reacher
Podcast: Play in new window | Download