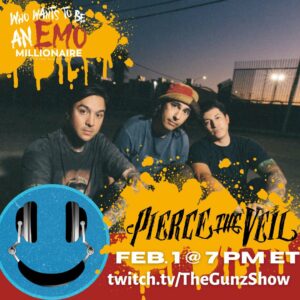 Tony and Jaime from Pierce the Veil joined The Gunz Show this week to talk about their new album, upcoming tour and returning to the stage for live shows.
The guys tell what their favorite songs are on the new album, what the recording process was like, and talk what the band still means to them this day.
But if that wasn't enough – they also answer some emo trivia questions in The Gunz Show: Who Wants to be an Emo Millionaire!
Check it out here and make sure to subscribe to The Gunz Show podcast and The Gunz Show Twitch channel!
Podcast: Play in new window | Download