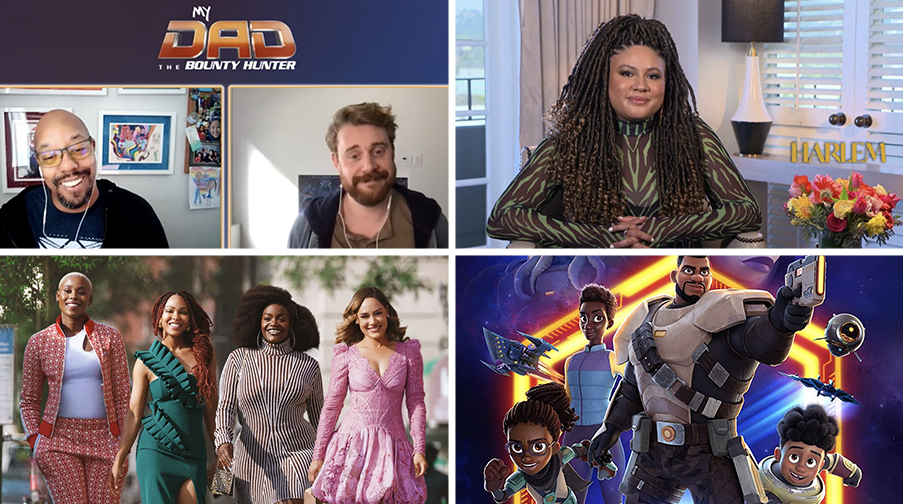 Geek Girl Riot has a double whammy of fabulousness for you: We chat with Everett Downing Jr. and Patrick Harpin about their series My Dad The Bounty Hunter AND we talk with Tracy Oliver about her series Harlem! After that, stay tuned for some throwbacks to House Party and some of our YA faves.
My Dad the Bounty Hunter with Everett Downing Jr. and Patrick Harpin
We've been so hyped for y'all to dive into the cosmos with My Dad the Bounty Hunter—and to celebrate its release on Netflix tomorrow, we're giving you a fantastical teaser! Sherin talks with creators Everett Downing Jr. and Patrick Harpin all about the series, the storytelling and inspirations, and how they make the characters so tangible.
Harlem with Tracy Oliver
Next up Sherin talks with Tracy Oliver, creator of Prime Video's Harlem, which you guys need to go watch right after this (it's so so good—and y'all have two seasons to binge!). Tracy talks about writing the series and how the world informed the storytelling in S2, teases her favorite scenes, and shares what's next for her.
House Party
Sherin and Julian are throwin' a House Party—and throwin' it back—to get you all set up and ready to enjoy the new reboot with a brief history of the hit film series. They also shout out the characters and tease the cameos. Watch the new House Party film in theaters now!
Joy Revolution + Kaleidoscope
Nicola Yoon & David Yoon's YA imprint Joy Revolution is dedicated to BIPOC love stories and we cannot get enough! Sherin tells Alex all about the amazing first two releases, Highly Suspicious and Unfairly Cute by Talia Hibbert and Queen Bee by Amalie Howard. They close out the show by chatting about Kaleidoscope, Netflix's new heist series with a unique jigsaw-style format, and some of the recent streaming news & cancelations.
Tune in to Geek Girl Riot on idobi Radio every Tuesday at 11pm ET / 8pm PT for your dose of late-night geekery. 'Til next time, see a list of everything our Rioters talked about below:
LINKS:
 – Poker Face
 – Found
 – Bel-Air
– Joy Revolution
 – Highly Suspicious & Unfairly Cute – Talia Hibbert
 – Queen Bee – Amalie Howard
 – Bridgerton
 – The Count of Monte Cristo
 – Kaleidoscope
 – Chilling Adventures of Sabrina
 – 1899
 – Wednesday
 – House Party (2023)
 – Do the Right Thing
 – House Party 2
 – House Party 3
 – House Party 4: Down to the Last Minute
 – House Party: Tonight's the Night 
 – Everybody Hates Chris
 – House Party (1990)
 – Batgirl
 – Doctor Who
 – Always Be My Maybe
 – Harold & Kumar
 – The Chi
 – Snowfall
 – Power
 – Black-ish
 – The Last O.G.
 – Sneakerheads
 – Glass Onion
Podcast: Play in new window | Download