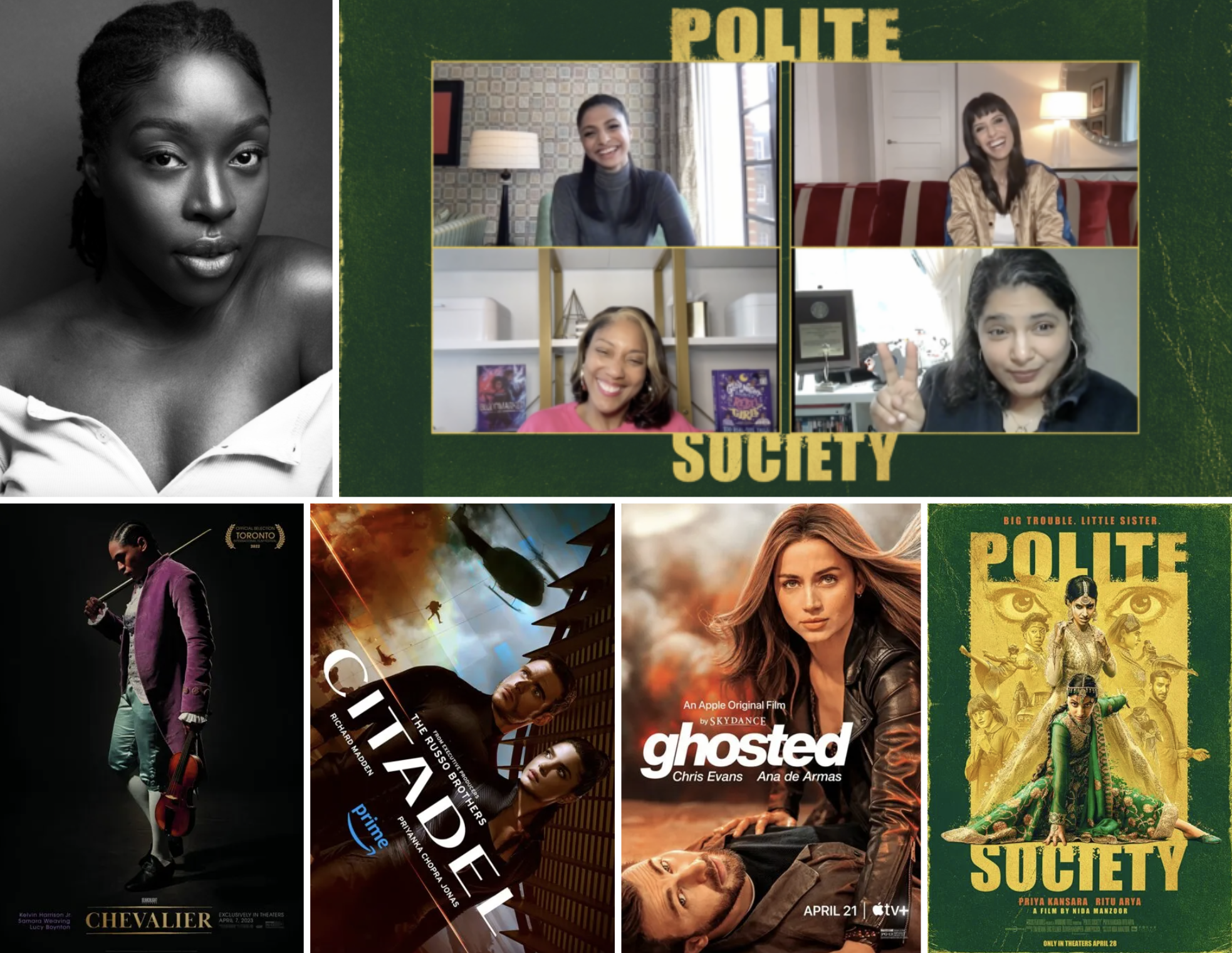 This week's Geek Girl Riot is classified…our Rioters spill some state secrets on romance-tinged spy flicks, including Ghosted and Citadel. They also chat with with Ritu Arya and Priya Kansara about Polite Society, before catching up with Ronkẹ Adékoluẹjo about Chevalier. And don't forget to keep scrolling for reviews of Are you there God?  It's me Margaret, the new YA book That Self-Same Metal, and The Tuba Thieves. You'll also get Julian's thoughts on Carmen, and Peter Pan & Wendy.
Polite Society feat. Ritu Arya and Priya Kansara
Sherin and Day give you a preview of Polite Society, a wedding heist movie with sky-high stakes, before treating you to an interview with the film's stars Ritu Arya and Priya Kansara. They share their excitement about the on-screen sisterhood, cultural cues, and moments they can't wait for you to see. 
Julian adds, "Polite Society is a fun and playful homage to 70s martial arts film that also mixes in Jane Austin-style romance and early 2000s teen comedies. The core sister relationship of Ria and Lena ties this fun remix of styles together to make a great theater experience. (Grade B)"
Mrs & Mr Spy, Ghosted, Citadel
Y'all know how much we love spy movies—especially when some sizzling, sexy, supercharged heat is involved. Sherin, Day, and Renee discuss the Mrs & Mr Spy trope and why it's so compelling. They dive into the history of the genre and how it compares to today's movies, shouting out their faves along the way (so be prepared to update your must-watch lists).
They also review Ghosted, the new Apple TV+ action-adventure film starring Ana de Armas and Chris Evans. Sherin says, "If you can accept it for the lightly seasoned mash-up of action, comedy, and spy craft it is, Ghosted can be entertaining (especially, with stars like these) but if you're looking for True Lies it's an honest deception." 
Their conversation leads into a teaser for Citadel, the Russo brothers' produced, new sci-fi thriller series on Prime Video. Sherin says, "I'm excited to see how people receive this series. It is very different. Prime Video spent a lot of money and it shows. Citadel has the Russo Brothers' traditional what-in-the-actual-hell over-the-top fubar-ness but because Priyanka Chopra and Richard Madden are so good, with such nice chemistry and espionage to deal with—it works."
Chevalier feat. Ronkẹ Adékoluẹjo
If you haven't already fallen in love with Chevalier, we're about to tug at your heartstrings. The biographical drama about the French-Caribbean musician Joseph Bologne, Chevalier de Saint-Georges is simply captivating. Sherin sits down with Ronkẹ Adékoluẹjo to talk about what it was like working on the film, being inspired by the real-life story of Chevalier, and embodying her character Nanon.
Tune in to Geek Girl Riot on idobi Radio every Tuesday at 11pm ET / 8pm PT
for your dose of late-night geekery.
—
Are you there God?  It's me Margaret.
In theaters Friday, April 28
reviewed by N. Renee Brown
Basically: A young girl traverses the pitfalls of adolescence. When Margaret (Abby Ryder Fortson) returns from camp, her whole life is turned upside down.  Her family is moving out of the city to (gasp) New Jersey.  They are leaving everything she knows AND grandma behind to chase the suburban dream.  But for Margaret, it is more of a nightmare. Her first group of friends in the 'burbs are led by Nancy (Elle Graham).  A casually cruel young girl who has already begun to develop (you know, DEVELOP). As Margaret tries to fit in among these new friends she feels as if she has to hide her true self in order to fit in. 
This is a sweet movie.  Just hands down, wholesome and adorable — I mean, it is based on a Judy Blume novel. The writer (Kelly Fremon Craig)  did some real homework on what it is like to be a girl in the 70's (that first bra!!!) and even a little of what it is like to be a girl of color (hot combs!!!). And Abby Ryder Fortson, is just the stuff of legends in this film.  She never flinches from the storm of emotions or the camera watching them.  Honestly, if you have to act opposite Kathy Bates and Rachel McAdams, you'd better be able to hold your own…and this little girl is!  (Although, I'll be honest, Kathy steals every scene she is in as Grandma Sylvia – she is such a gem in this movie.)
In the end: Take your daughter to see this, she'll cringe, you'll laugh and when you are done treat her to some ice cream.  You'll be happy you did.
Sherin adds, "Are You There, God? It's Me Margaret. is sweet and awkward and relatable across generations."
That Self-Same Metal (The Forge & Fracture Saga, Book 1)
by Brittany N. Williams
Reviewed by Sherin Nicole
Shakespeare and the Fae are forever intertwined; now Brittany N. Williams weaves a new tapestry, adding the Orisha and a young Black heroine with a gift for metallurgy. Set primarily at The Globe, The Bard's famous theater, That Self-Same Metal tosses us immediately into danger. The Plague is back in London, but there are worse things afoot. A treaty between the British monarchy and the Fae is fading, and only one person can mend it. When he gets silenced, the walls between worlds crumble, and magical threats overrun the city. 
Joan Sands, the weapons master for Master Shakespeare and a child of the Orisha, is trapped between her personal goal to become a metalsmith, the West African god Ogun, the misogynoir of the time, and the Fairy King Auberon. So, she's less than tickled—but that is where the adventure (and the hardships) begin. 
"I am made of that self-same metal (mettle) as my sister,
And prize me at her worth. In my true heart,"
–King Lear
Brittany N. Williams gives us an imaginative YA fantasy, kicking off a three-book saga. That Self-Same Metal is rich with history, action, and wit but is also pragmatic with characters who make smart choices, even when those choices are doomed. This all means, there'll be no eye-rolling but you'll keep the pages turning.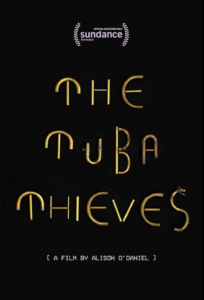 The Tuba Thieves
In theaters Friday, April 14
reviewed by N. Renee Brown
Basically, you get immersed in a world of visions and sounds, supported by a casual investigation of the theft of tubas from schools in California and framed around a relationship between a woman and her partner and her father. 
This creative non-fiction feature is more of an experience and less of a tale.  Don't walk in hoping to find the thieves, that's not the point.  Don't walk in looking for a plot from A to Z.  Walk in expecting blue.  Walk in expecting to experience fantastic captions that make you really understand what good captioning is like.  Walk in expecting to experience a feeling, and walk away with that feeling settling over you for the rest of the day.
This movie delves into hearing or lack thereof, and how sound impacts all of us in ways we don't notice — but that we should.
Nyke (Nyke Prince) is stunning as the main character (or as much of one as there is) who really conveys the normalcy of living in a hearing world as a deaf woman.  Her father Ancey (Wawa Snipe) is just as powerful in the role of her father.  His love for her is clear and the chemistry between them is beautiful.  Add to that his experience in this hearing world (that is just now changing for Nyke) and you see why he was clearly the only person who could play Ancey.
This movie is making the rounds in festivals, if you get a chance take a chance on it.  I would also STRONGLY suggest asking for audio description, as the director (Alison O'Daniel) took just as much time and care on the audio description as she did on the captions. 
In the end: Don't expect this to be a normal movie, expect a soundscape profoundly translated.
MORE FROM JULIAN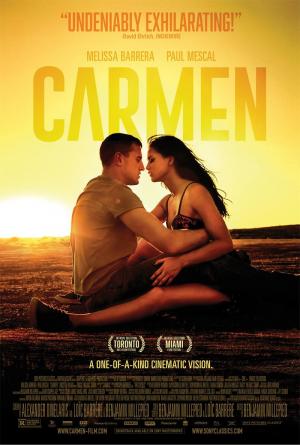 Carmen feels like an interpolation of the classic Opera. While it's not wholly successful in everything it does, this new modern American Carmen does succeed in making an engaging film-watching experience. Grade: C+
Peter Pan & Wendy is purposefully crafted with care and thoughtfulness, and while it succeeds in expanding the ideas of Wendy, Hook, and Tiger Lily, it's at the cost of the character of Peter Pan. Grade: B-
Podcast: Play in new window | Download