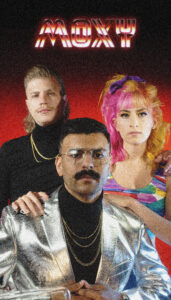 This week we welcome Moxy The Band to discuss their debut album, Dream Feeling. I love the album, and Amber DeLaRosa, Michael Franzino, and Dryw Owens were kind enough to walk me through some of my favorite songs and reflect on the writing process. As veterans in the music industry, it was beautiful to hear how they came together and the special relationship they forged in the process. I can't wait for you all to fall in love with Moxy The Band! Enjoy the episode, and please share it with a friend. 
This episode is brought to you by; 
Wondrey's Even The Rich: Whitney Houston. Whitney Houston's voice defined a generation; even after her death, her talent remains unmatched. But her incredible success hid an intensely private pain. Follow Even The Rich wherever you get your podcasts. You can listen ad-free on the Amazon Music or Wondery app. 
Please don't be shy; email me! [email protected] with any advice, questions, or topics. If you like the show, please rate, subscribe & share with a friend. 
Talk soon! 
<3Sara 
Stay connected
@SaraScoggs
@lets_talk_soon
Theme song produced by Shelby Merry 
Photo courtesy of the artist 
Podcast: Play in new window | Download