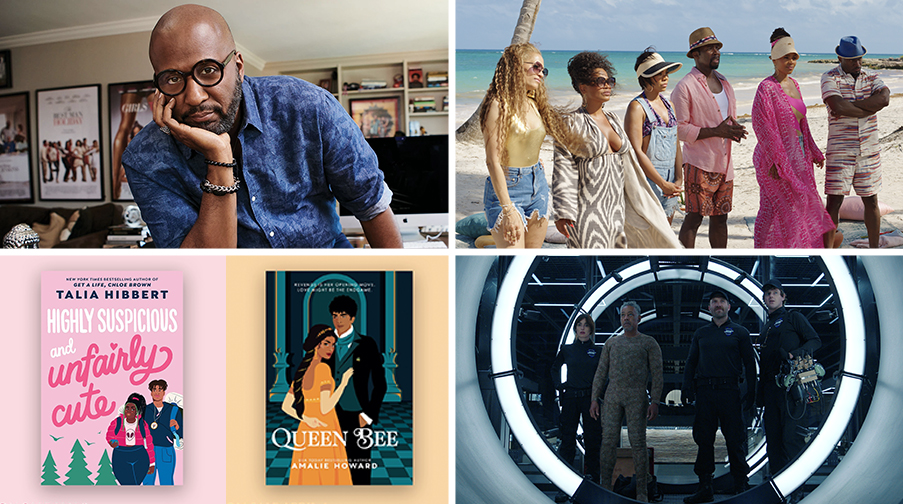 Geek Girl Riot is back! We chat with Malcolm D. Lee all about The Best Man: The Final Chapters, as well as diving into Joy Revolution and some entertainment news.
Joy Revolution + Kaleidoscope
Sherin and Alex ring in the first GGR of 2023 by spreading some joy—specifically Joy Revolution, Nicola Yoon & David Yoon's YA imprint dedicated to BIPOC love stories. Sherin tells Alex all about the first two releases, Highly Suspicious and Unfairly Cute by Talia Hibbert and Queen Bee by Amalie Howard, which should be immediately added to your TBR lists.
"Highly Suspicious and Unfairly Cute is a funny, quirky, mouthy, sparkling Young Adult love story…with an acute observational eye for humanity and our idiosyncrasies—but also for dialogue that's like poppin' champagne. It just sparkles."–Sherin Nicole
They round off the segment by showing some love to Kaleidoscope, Netflix's new heist series with a unique jigsaw-style format. Along the way, they dive into the recent streaming news & cancelations.
Malcolm D. Lee + The Best Man: The Final Chapters
The wonderful writer/director Malcolm D. Lee joins us to talk about The Best Man: The Final Chapters, Peacock's first original project to make it onto Nielsen's Top 10 streaming rankings! He chats with Sherin about the impact of The Best Man franchise, taking the characters through different chapters in their lives, and telling stories that resonate. 
Storytelling + Shenanigans
Sherin and Alex take back over to discuss the bizarre reactions the Internet has been serving up lately and why the art of storytelling has been lost on some audiences. This apparent need for nonsense leads them to discuss the latest chicanery in US politics and why—even if all the memes make you giggle—the current mess is no laughing matter.
Peloton Tread:

We all know Peloton makes bikes but did you know they also make treadmills? The Peloton Tread is your workout, your way—with on-demand classes, a variety of intructors to keep you motivated, and even playlists with all kinds of genres to fit your mood. Try Peloton Tread risk-free with a 30-day home trial. New members only. Not available in remote locations. See additional terms at onepeloton.com/home-trial
–
Zocdoc:

Anyone else fall down the internet rabbit hole when you're feeling sick? Yeah, us too—that's why we've teamed up with Zocdoc to give you the answers you need and the care you deserve from trusted professionals. It'll save you so much energy and stress because you'll be able to find the right doctor that meets your needs and fits your schedule on their free app. Go to zocdoc.com/ggriot and download the Zocdoc app for FREE. Then find and book a top-rated doctor today. Many are available within 24 hours.
–
Tune in to Geek Girl Riot on idobi Radio every Tuesday at 11pm ET / 8pm PT for your dose of late-night geekery. 'Til next time, see a list of everything our Rioters talked about below:
LINKS:
 – Poker Face
 – Found
 – Bel-Air
 – Joy Revolution
 – Highly Suspicious & Unfairly Cute – Talia Hibbert
 – Queen Bee – Amalie Howard
 – Bridgerton
 – The Count of Monte Cristo
 – Kaleidoscope
 – Chilling Adventures of Sabrina
 – 1899
 – Wednesday
 – The Best Man
 – The Best Man Holiday
 – The Best Man: The Final Chapters
 – Black Panther
 – Glass Onion
 – She-Hulk: Attorney at Law
 – Emily in Paris
 – Avatar: The Way of Water
 – Puss in Boots: The Las Wish
 – Will Trent
 – Panhandle
Podcast: Play in new window | Download