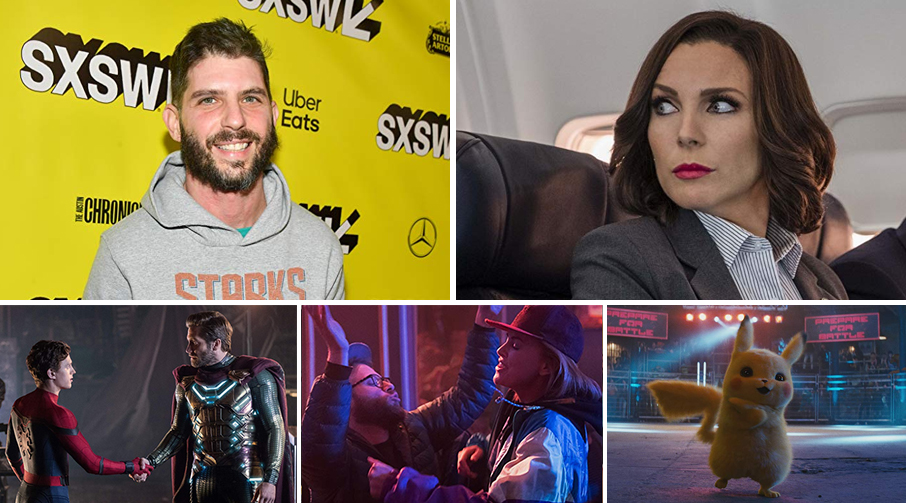 Clockwise from top left: Jonathan Levine (photo by Matt Winkelmeyer - © 2019 Getty Images - 
Image courtesy of gettyimages.com) // June Diane Raphael in Long Shot (photo © STUDIOCANAL) 
// Pokémon Detective Pikachu (photo courtesy of Warner Bros.) // Long Shot (photo © STUDIOCANAL) 
// Spider-Man: Far From Home (photo © Marvel)
Geek Girl Riot's going to the movies: We chat with Long Shot director Jonathan Levine and star June Diane Raphael! Plus hear our take on Detective Pikachu and our breakdown of the new Spider-Man: Far From Home trailer.
Spider-Man: Far From Home's Swinging Into the Multiverse
A new trailer for Spider-Man: Far From Home dropped and it's causing major waves in the MCU. The teaser is hugely spoiler-filled so if you haven't seen Avengers: Endgame yet, go see it before watching the trailer and checking out our breakdown. Sherin teams up with Julian of Ignorant Bliss and idobi.com to talk about the teaser's cool spoiler-ific details and discuss what it means for the current Marvel timeline and universe.
In the Chat Lounge: Long Shot's Jonathan Levine + June Diane Raphael
Long Shot is the new romcom starring Charlize Theron and Seth Rogen as the most oddly appealing duo since Milk + Pepsi. Yup, this is a new cocktail full of surprises, homages to classics, and plenty of good times. Sherin sat down with Long Shot's director Jonathan Levine to talk all about the movie. Levine shares what his personal biggest long shot was, drawing inspiration from classic movies, and what he's working on next.
Then Sherin chats with June Diane Raphael who stars as Long Shot's chief of staff Maggie. She tells us what it was like working with such a funny cast, tackling the problems in romcoms, and throwing shade as Maggie (and how her character ended up the way she did).
We Choose You, Detective Pikachu
Sherin and Julian had a good time seeing Pokémon Detective Pikachu, which hits theaters on Friday. Julian gives a brief history of what this Pokémon story is based on, plus they tell you which cameos you've gotta catch 'em all. They dig into the acting, the production design, and why this is a family movie that Pokémon fans of any age can enjoy.
Tune in to Geek Girl Riot on idobi Radio every Tuesday at 11pm ET / 8pm PT for your dose of late-night geekery from our team of rioters. Til next time, see a list of everything our Rioters talked about below:
LINKS:
– Pretty Woman
– Dave
– There's Something About Mary
– Avengers: Infinity War
– Avengers: Engame
– Spider-Man: Into the Spider-Verse
– X-Men
– Fantastic Four
– Secret Wars
– Laverne & Shirley
– Notting Hill
– Romancing the Stone
– Solange
– Beastie Boys Book
– Beastie Boys Book playlist
– Warm Bodies
– Warm Bodies (TV show)
– The Carrie Diaries
– The Comeback
– Star Wars: Return of the Jedi
– Zodiac
– Year One
– Bride Wars
– Anne of Green Gables
– Deadpool
– Batman
– Sherlock Holmes
– Superman
 – Godzilla
– Wolverine
– Legend of the Eight Samurai
– Fast & Furious 6
Podcast: Play in new window | Download