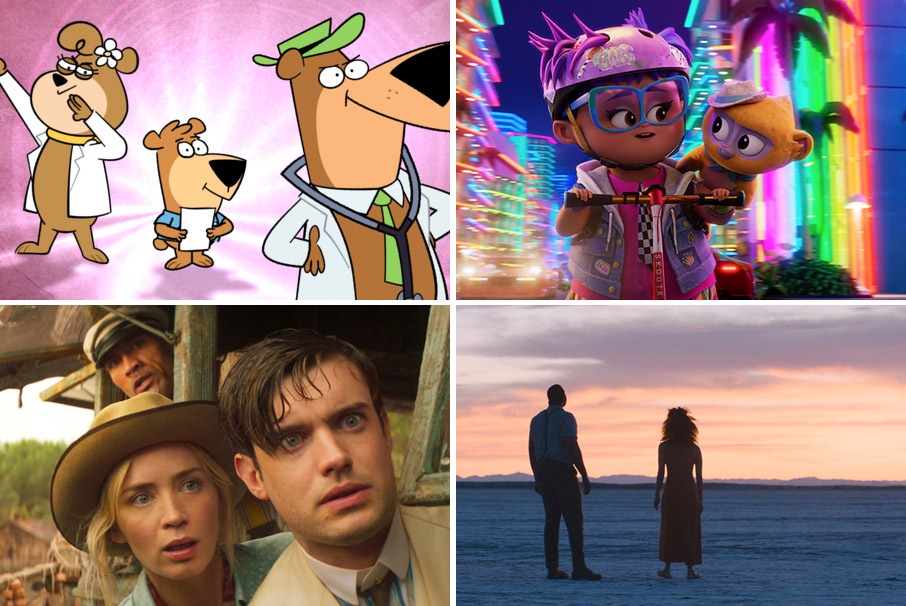 Jellystone (photo courtesy of HBO Max) // Vivo (photo © 2021 SPAI) // Nine Days (photo courtesy of Sony 
Pictures Classics) // Jungle Cruise (photo © 2021 Disney Enterprises, Inc.
There's a whole lotta movie & TV love this week on Geek Girl Riot, from animation goodness in Jellystone! and Vivo, to action adventure in Jungle Cruise, to afterlife storytelling in Nine Days.
Jellystone & Vivo
Julian kicks off the show with his excitement to finally watch Jellystone! and how it fits into the Warner Bros. animated roster. Then Sherin and Julian get into Vivo, Lin-Manuel Miranda's new animated movie about a singing kinkajou (AKA a rainforest mammal known as a "honey bear") who goes on a journey to deliver a message of connection and love. Our Rioters talk about the music, the animation, the attention to detail, and how Vivo further proves Sony's place as one of the big players in animation. Sherin says: "This is a beautifully animated, really lively movie. What I love is the pure variety of Cuban culture the filmmakers share with us. You feel the love letter to Cuba." Watch Vivo on Netflix on August 6!
Jungle Cruise
Jungle Cruise is a new swashbuckling adventure movie based on a popular Disneyland ride. Sherin and Julian have…differing opinions on the movie overall. Hear them get into the performances, production design, the dad jokes, and how Emily Blunt has earned her new name of Action Bae. Jungle Cruise is now in theaters and on Disney+ Premier Access.
Nine Days
Nine Days, written and directed by Edson Oda, follows Will (Winston Duke) in a sort of "middle" realm between worlds, watching subjects live out their lives. When Will has to interview a set of new souls, in order to select who will go to Earth, it takes him on a journey of deep questions about what it means to live. Sherin says: "This is filmmaking. An examination of life and the little moments that make it worth living."
She talks about the beautiful storytelling, the incredible acting (including some secret sauce!), and why you should go into this movie without reading too much into it. This leads Sherin and Julian to close out the show by discussing why so many stories choose to portray both the afterlife and time travel via analogue imagery. Nine Days hits theaters on August 6.
Tune in to Geek Girl Riot on idobi Radio every Tuesday at 11pm ET / 8pm PT for your dose of late-night geekery. 'Til next time, see a list of everything our Rioters talked about below:
LINKS:
 – Vivo
 – Jungle Cruise (read julian's review)
 – Nine Days (read sherin's review)
 – After Life (1998)
 – Jellystone!
 – Scooby Doo
 – Scoob!
 – Space Jam: A New Legacy
 – The Amazing World of Gumball
 – Flapjack
 – The Dick Van Dyke Show
 – Teen Titans
 – Teen Titans Go!
 – The Looney Tunes Show
 – Curb Your Enthusiasm
 – Fast 9
 – In the Heights
 – Frozen
 – The Mitchells vs. the Machines
 – Spider-Man: Into the Spider-Verse
 – The African Queen
 – The Mummy
 – Pirates of the Caribbean
 – Atlantis
 – The Holy Grail
 – Romancing the Stone
 – Saturday Night Live
 – The Mysterious Benedict Society
 – Loki
 – Time Bandits
Podcast: Play in new window | Download