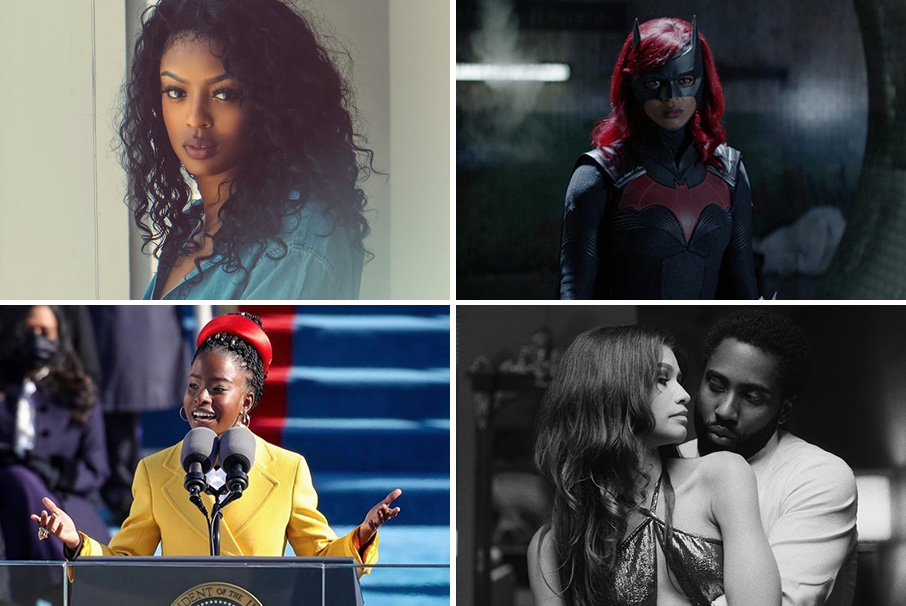 CW from top left: Javicia Leslie (photo via 

website

) // Batwoman (photo © 2020 The CW Network, LLC) 
// Malcolm & Marie (photo: 

Dominic Miller/Netflix © 2021) // Amanda Gorman (photo via 

Instagram

)
This week's Geek Girl Riot is full of #BlackGirlMagic—we share our time talking with Javicia Leslie AKA the new Batwoman, show some love for Malcolm & Marie, and applaud Amanda Gorman.
A Standing Ovation for Amanda Gorman
On Inauguration Day last month, we all fell in love with Amanda Gorman, America's first youth poet laureate. Her performance of her poem 'The Hill We Climb' was captivating. Sherin, Alex, and Monique start off the show by singing her praises.
Get Swept Up in Netflix's Malcolm & Marie
Sam Levinson's new film starring Zendaya and John David Washington is a gorgeous piece of storytelling that captured our Rioters' hearts. Sherin says: "This night of one-on-one conversation is a whirlwind and a dissection of love." She chats with Alex and Monique about the parts of Malcolm & Marie they loved most, breaking down the themes, the cinematography and praising the two leads. Sherin continues: "Zendaya and John David Washington are making a declarative statement, they want all the awards." Our Rioters also dig into why some critics might have had issues with it. We had no such issues, only praise—so watch Malcolm & Marie on Netflix on Friday. 
"Shot like a 1950s thriller, Malcolm & Marie is a romantic duel about the spaces between lovers and how they are widened or filled up, depending on the lovers themselves and how allergic they are to the truth." –Sherin Nicole
Talking Batwoman with Javicia Leslie
We recently attended a Zoom press conference with Javicia Leslie who is our new Batwoman. From taking on the new character of Ryan Wilder to inspiring a new generation, pulling off wild stunts to that kryptonite moment, Javicia gives us fresh and wonderful insight into Batwoman. Catch new episodes of Batwoman every Sunday on The CW!
Tune in to Geek Girl Riot on idobi Radio every Tuesday at 11pm ET / 8pm PT for your dose of late-night geekery from our team of rioters. 'Til next time, see a list of everything our Rioters talked about below:
LINKS:
 – The Hill We Climb – Amanda Gorman
 – Change Sings – Amanda Gorman
 – Malcolm & Marie
 – Diabolique
 – Spider-Man: Homecoming
 – Euphoria
 – Batwoman
Podcast: Play in new window | Download