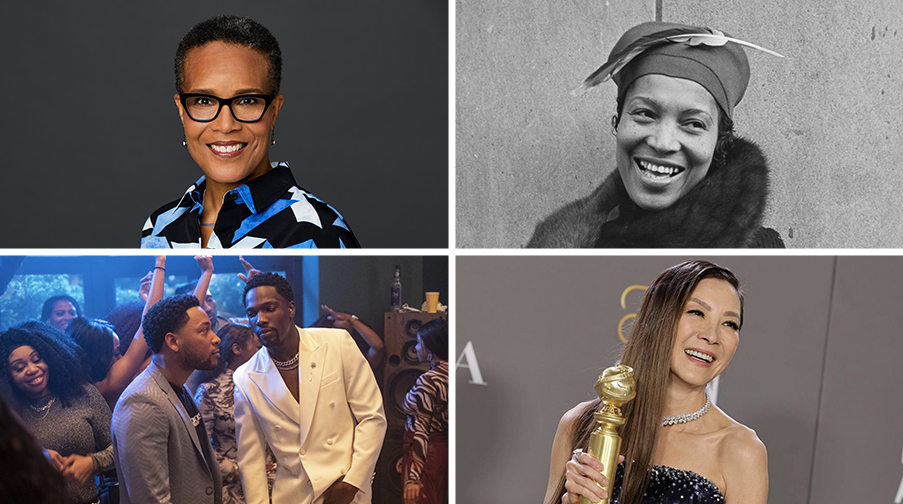 Geek Girl Riot has a lot to celebrate this week: We raise a solo cup to House Party, before getting into Awards Season. We also chat with Tracy Heather Strain all about her film Zora Neale Hurston: Claiming a Space.
House Party
The legendary House Party franchise has a fresh reboot with some familiar faces in 2023—and Sherin and Julian are here to get you hyped for it. Sherin says, "House Party is the movie you watch at a kickback. Gather a big group of friends, get your snacks ready, and prepare to talk back to the movie, but not too much, you don't want to miss the ridiculousness or the cameos." Our Rioters give you a brief history of the film series and why it's such a hit, shout out the characters and tease some excellent cameos, and tell you why you need to call up your besties and watch the new House Party film in theaters now (and read Julian's review)!
Awards Season
In case your feed hasn't been inundated with memes and Best Dressed lists—it's Awards Season! And what better way to spend it than with Geek Girl Riot? Sherin and Julian talk about the Critics Choice Awards and compare their votes to the wins of the night. They also touch on the Golden Globes' big moments and messiness.
Zora Neale Hurston: Claiming a Space with Director Tracy Heather Strain
Sherin sits down with the wonderful Tracy Heather Strain to talk about Zora Neale Hurston, the celebrated author, anthropologist, and filmmaker who was a leading figure in the Harlem Renaissance. They talk about the filmmaking, the research and inspirations that went into honoring Hurston's legacy, and what's next for Strain. Zora Neale Hurston: Claiming a Space is available to stream on PBS.org and the PBS app now. 
Tune in to Geek Girl Riot on idobi Radio every Tuesday at 11pm ET / 8pm PT for your dose of late-night geekery. 'Til next time, see a list of everything our Rioters talked about below:
LINKS:
 – House Party (2023)
 – Do the Right Thing
 – House Party 2
 – House Party 3
 – House Party 4: Down to the Last Minute
 – House Party: Tonight's the Night 
 – Everybody Hates Chris
 – House Party (1990)
 – Batgirl
 – Doctor Who
 – Always Be My Maybe
 – Harold & Kumar
 – The Chi
 – Snowfall
 – Power
 – Black-ish
 – The Last O.G.
 – Sneakerheads
 – Glass Onion
 – Tár
 – Everything Everywhere All at Once
 – Still Breathing
 – Wakanda Forever
 – The Batman
 – RRR
 – Broker
 – Decision to Leave
 – Guillermo del Toro's Pinocchio
 – Avatar: The Way of Water
 – Babylon
 – Top Gun: Maverick
 – Jerrod Carmichael: Rothaniel
 – Their Eyes Were Watching God – Zora Neale Hurston
 – Sighted Eyes/Feeling Heart
 – Dust Tracks on a Road – Zora Neale Hurston
 – Survival Floating (Tracy Heather Strain's upcoming project)
Podcast: Play in new window | Download