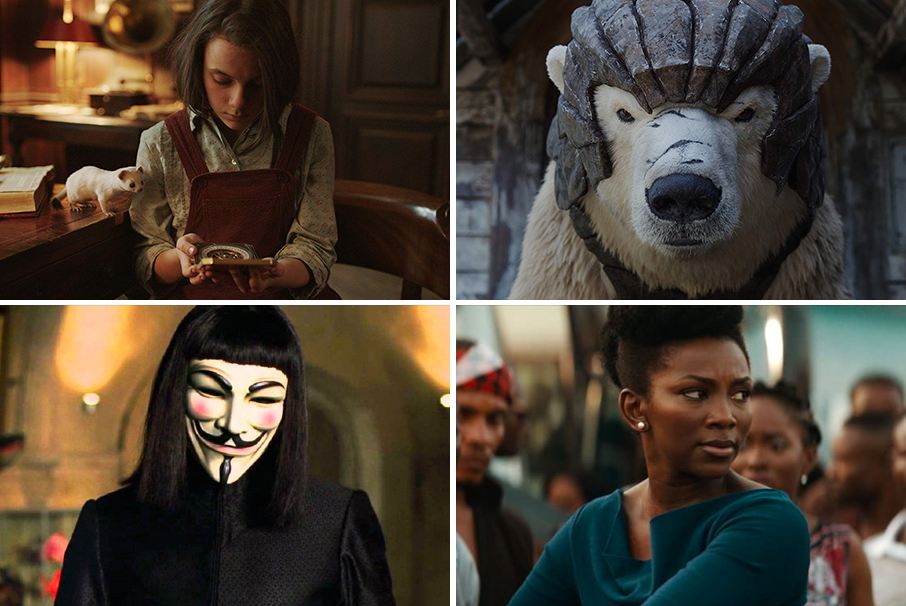 Top row: His Dark Materials (photos courtesy of HBO) // Bottom row L–R: V For Vendetta (photo 
courtesy of Warner Bros.) // Lionheart (photo via Netflix)
Geek Girl Riot's exploring the weird & wonderful world of His Dark Materials. But first, some entertainment news…
Entertainment News
Remember, remember the fifth of November (like it was yesterday). When the show first aired on idobi Radio last night folx were having fun with Guy Fawkes Day…which has been adopted by V For Vendetta fans. Sherin and Philip dig into that along with The Falcon and the Winter Soldier on Disney+ news (what's with all the plus signs lately?). They also talk Lionheart, the Nigerian movie that was disqualified from the Oscars' Best International Feature Film category because the language predominantly spoken in the film is English (AKA Nigeria's national language). Um, what? Our Rioters discuss.
His Dark Materials
Now for the main event: His Dark Materials has enchanted us with its dark world of science, magic, and dust. In this spoiler-free preview, Sherin and Philip break down the new HBO series and share the parts that enthralled them. While they haven't read the novels by Philip Pullman (at least not in a very long time), this segment is about to get you geared up and ready to dive right into His Dark Materials, which airs every Monday at 9pm ET on HBO. (read our [p]review)

Care/of (keep scrolling for an exclusive treat!)
It's important to us that you take care of yourself—and Care/of is making that super easy. The subscription vitamin service delivers personalized vitamin & supplement packs each month right to your door! (And the tailor-made packaging is beyond cute.) Get 25% off your first month of personalized Care/of vitamins with the code GGRIOT at TakeCareOf.com.
Tune in to Geek Girl Riot on idobi Radio every Tuesday at 11pm ET / 8pm PT for your dose of late-night geekery from our team of rioters. Til next time, see a list of everything our Rioters talked about below:
LINKS:
 – His Dark Materials
 – Demon Slayer: Kimetsu no Yaiba
 – Lionheart
 – V For Vendetta – Alan Moore, David Lloyd
 – V For Vendetta
 – The Falcon and The Winter Soldier
 – Tango & Cash
 – Lethal Weapon
 – His Dark Materials – Philip Pullman
 – Logan
 – Game of Thrones
 – Indiana Jones
 – Harry Potter
 – Y: The Last Man
 – Friends
 – Carnival Row
 – Polar Express
Podcast: Play in new window | Download